Maybe it's just me, but have you noticed that bagels have basically become doughy rolls with holes? The iconic bagel in my memory, and the one for which I am always searching, is moist (not dry) and takes a bit of effort to chew. The flavor is slightly sour but also sweet and the texture is DENSE. My mind's eye bagel is smaller than the bagel boats out there now, perhaps 3-4 inches in diameter not the 4-5 you get now and certainly not 2 inches high. Growing up, we mostly had water (plain) bagels and they were enormously satisfying and toothsome. As I got older, my preference shifted to a pumpernickel or multi-grain for the full flavor, texture and density. Looking back, perhaps it was a self-deception; I assumed the whole grains made it a healthy (read not fattening) munch.
As a kid, I was introduced to bagels when visitors from New York would bring us a dozen. The grocery store in the north end of Hartford where my mother shopped occasionally sold bagels, but they were nothing special. When we heard about an actual bagel bakery opening in a neighboring suburb, my adventurous mother drove us over the mountain to a strip mall in Avon to buy a dozen. There we first experienced the warm-from- the-oven bagel – glorious! Eventually our town got its own branch of a bagel chain and we had to settle for convenient over delicious.
Over the years, bagels started to get bigger and airier. I credit (or blame) H & H, the NYC institution whose outpost on the upper west side was where generations of kids grabbed breakfast or an afternoon snack and upper west siders stocked up for Sunday brunch. But, like the growth of restaurant portions and fast food drink servings, their bagels grew larger and larger until they were the size of a kaiser roll. And with size we lost density and chew.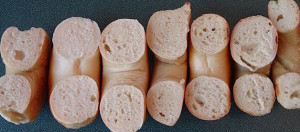 Bagels used to be a bargain bite. My father-in-law loved West Side Market's frugal 5 for a dollar (most recently 3 for $2) and just a few years ago, we could to buy a dozen with 3 free for $8 at Lenny's on 98th street. Now bagels are $1 a piece and you get the classic baker's dozen – one free when you buy 12. Lenny's was home to our favorite variety, the "New Horizon", a rye and whole grain mix with flax seeds and raisins. It was scrumptious, especially toasted. But nothing lasts forever: Their wonderfully dense, hand rolled original gave way to an airy, machine-made version when they got new equipment a year or two ago. It still has a pleasant, even if milder, flavor but no more chewy texture. So, so sad for us. People seem to love Absolute Bagels, up near Columbia: there is often a line out the door on weekends. Their bagels are fairly tasty with a decent chew, especially the whole wheat sesame, but they are still quite rotund. They do make a few varieties, including plain, in a mini size, perfect for kids and the less voracious among us. Zabar's offers one of the best tasting and moistest bagels in the city for 95 cents but it is pretty zaftig, as well.
On a recent trip to Montreal's Mile End neighborhood, we sampled bagels from the 2 famously competing bagel bakeries – Fairmount and St Viateur. Both still hand roll their bagels and bake in wood fired ovens. Montreal bagels have shiny, sweetish crusts from being boiled in water with honey but are drier than the chewier New York style and, for my taste, need a little more salt.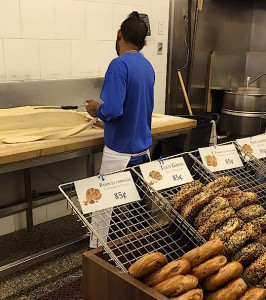 But there is good news in New York. A hand rolling revival is underway! Bagels are rolled in many corners of Brooklyn and Queens, even in downtown Manhattan. Last week, I collected a variety of samples from highly rated bagel sellers all over the city and my husband, a friend and I conducted an unscientific tasting of plain bagels. Prices ranged from 67 cents to $2 apiece, thin to thick, small to huge. I am sorry to report that most were disappointingly dry, cardboardy and tasteless.
The runner up in the plain bagel category is from Zabar's. It has good flavor, moist bite and a decent price. If you like a big bagel, this might be your favorite.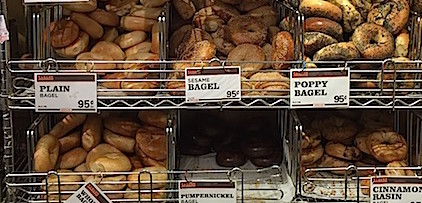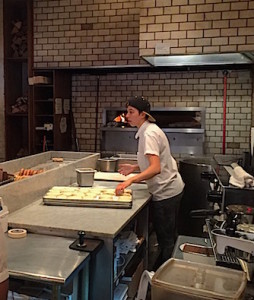 Our unanimous winner is from Black Seed Bagels, a lower east side bagelry (Elizabeth Street between Broome and Grand), where they hand roll and wood fire small, dense, delicious bagels, quite similar to Montreal style but moister and even tastier, even if $1.50 each.  Their web page describes their product as a cross between Montreal and New York styles, a "love bagel" of sorts.  They make good tasting plain and seeded varieties. My favorite is the flavorful rye – a killer toasted with butter.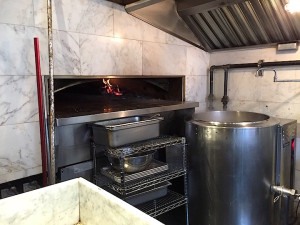 Black Seed recently opened another location in the former home of DeRobertis (a charming old Italian bakery where you could get wonderful pignoli and sfogliatelle but which recently went out of business) and is churning out terrific bagels, which they also sell at a kiosk in Hudson Eats at the World Financial Center.
And more good news – bagels left out over night in a paper bag were still soft enough to cut the next morning. We will happily make the trek downtown to stock up. Lets just hope they don't lose their chew!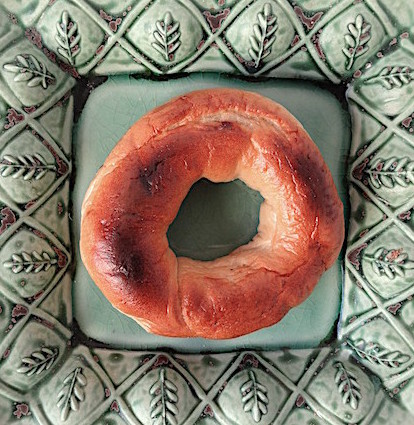 (Note – if you go to the Black Seed on 1st Avenue, remember to stop at 2 venerable New York institutions around the corner on 11th Street between 1st and 2nd Avenues – Russo's Mozzarella and Pasta (est.1908) – wonderful cheese, taralli and sausage – and Veniero's Bakery (est. 1894) – amazing Italian cheesecake).