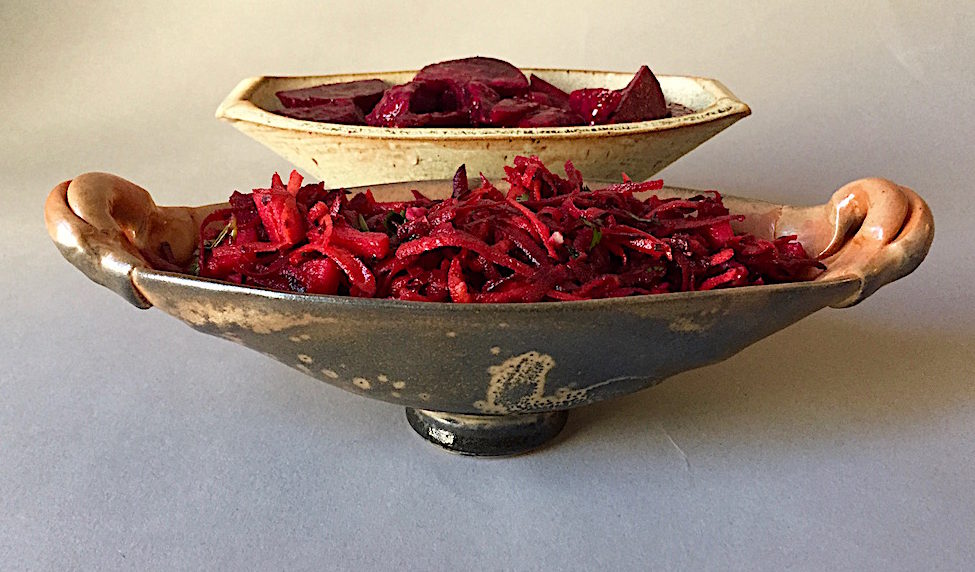 From November until about mid-April, most fresh, local salad greens are absent from our markets. Sure there are the packaged lettuces that have been flown or trucked in from California or Florida or Mexico. We can find local greenhouse grown micro-greens but they are pricey. I do buy and use them but try not to do so everyday. So during the winter we eat different kinds of salads composed primarily of winter storage vegetables – beets, carrots, cabbages, radishes, red onion, parsnips and kale. Fall fruits like apples, pears and pomegranates and winter fruits like grapefruit, persimmons and oranges liven up any of these salads adding needed zest and fresh flavor on dark nights.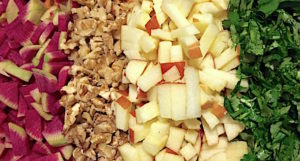 It may not be the first vegetable you might think of but beets make delicious salads when cooked and when raw. Some people find them too earthy (one friend says they taste like dirt!) but well prepared, beets are sweet and flavorful. Additionally, they are nutritious and full of dietary fiber. They are high in natural sugar so should be eaten as part of a meal alongside protein and fat. Beets are now available to buy cooked in supermarkets (I've seen them at Costco, Trader Joe and Shoprite) so composing a cooked beet salad couldn't be easier.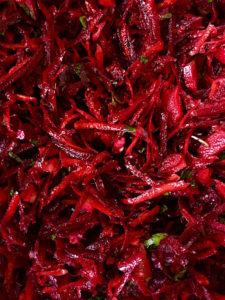 Two of my favorite winter salads are beet based, one made with cooked and one made with raw beets. The dressings are very similar but the outcomes quite different. These hearty salads have the benefit of being able to last in the refrigerator for a few days so I can make a big batch for dinner and eat it again for lunch (travels well) the next day or even the day after. The shredded beet recipe came from a class on reversing inflammation at the Natural Gourmet Cookery School and I have added and subtracted ingredients to suit my taste preferences. There are many possible combinations and optional ingredients. Find the ones that work for you. You can make either a main course by adding a crumbly cheese or hard boiled eggs or upping the amount of nuts. Since a beet salad is my mother-in-law's favorite and it is her birthday this week, I've included 2 (and both easy) recipes. Happy Birthday, Salli!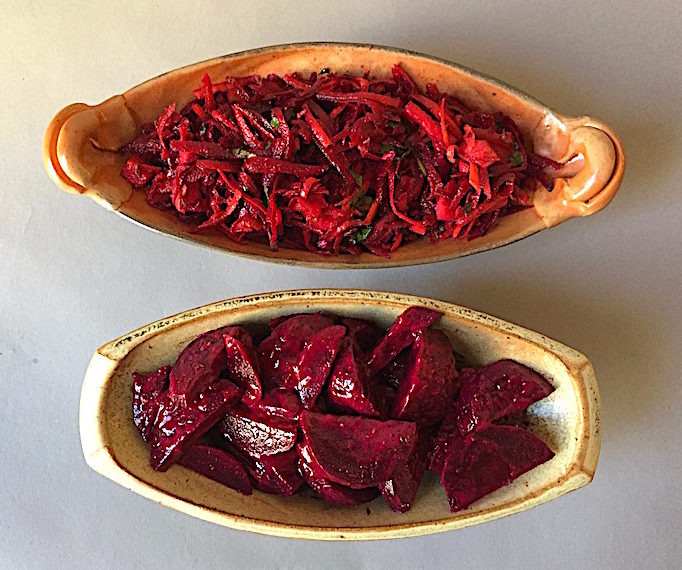 Shredded Raw Beet Salad
2-3 medium-large beets, scrubbed clean and grated (I use the large holes on my box grater) –Use an apron – beet juice stains!
2-3 carrots, likewise scrubbed and grated
A big handful of chopped parsley
A big handful of raw or toasted walnuts, chopped coarsely (or pistachios)
Elective additions:
Fresh cilantro or mint, chopped
Red onion, finely minced
Watermelon or daikon radish, thinly sliced or diced
Celery, thinly sliced
Apple or pear, match-sticked or diced
Orange segments
Orange zest
Cinnamon or a little cayenne pepper
Possible toppings:
Toasted pumpkin or sunflower seeds
Crumbled Feta or chopped hard boiled eggs (if you want to make it a main course)
Dressing (Whisk in a bowl or shake in a jar)
3-4 TBs freshly squeezed lemon (or orange) juice (depending on how citrusy you want it)
2 Tablespoons apple cider vinegar
2 Tablespoons dijon mustard
2-3 Tablespoons olive, avocado, or walnut oil or a blend
A little knob of ginger, about 1 TB grated (optional)
Zest from one lemon (before you juice it) (optional)
Pinch of salt and pinch of black pepper
Toss all together and let sit in the refrigerator at least one hour but longer is better – it gets sweeter!
Note – I don't like a lot of dressing but if you do, simply double the amount of dressing or halve the amount of grated vegetables.
6-8 servings, keeps well in the refrigerator 3-4 days
***
Cooked Beets with Vinaigrette
6-8 small, 4-5 medium, 2-3 large cooked beets, chilled, peeled and sliced or cut in wedges – if you don't want your hands stained with beet juice, wear rubber or latex gloves to handle beets
Optional additions:
Nuts, raw or toasted and coarsely chopped
Parsley, chopped
Lemon or orange zest
Thinly sliced red onion, soaked briefly in water to remove sting, if you like
Raisins or currents
Toasted or raw pumpkin seeds
Hard boiled eggs, quartered or chopped
Whisk together:
2 TBs freshly squeezed lemon (or orange) juice
2 TBs Dijon mustard
1 TB apple cider vinegar
2 TBs olive oil
1 tsp dried dill or 1 TB fresh dill, chopped
A big pinch each of salt and black pepper
Pour vinaigrette over beets (and whatever else you chose to add), toss and chill at least one hour. Lovely served over fresh arugula. Serves 4-6 and keeps well in the refrigerator 3-4 days.