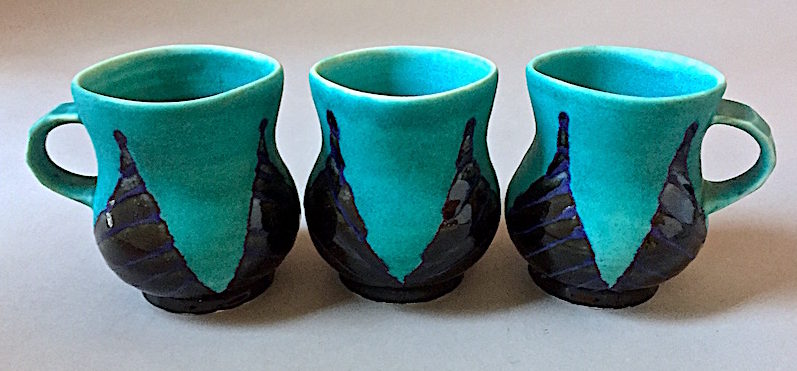 A really well made pot, in my opinion, is one which you want to pick up and use. As I explained in my post on the value of handmade pots a couple of months ago, a skillful potter is one who crafts pieces that heighten your experience of eating and drinking. Larry Bush is such an artist and his pots are among my very favorites to use. Food looks great in them and I never tire of their shapes, surfaces, decoration or inventiveness.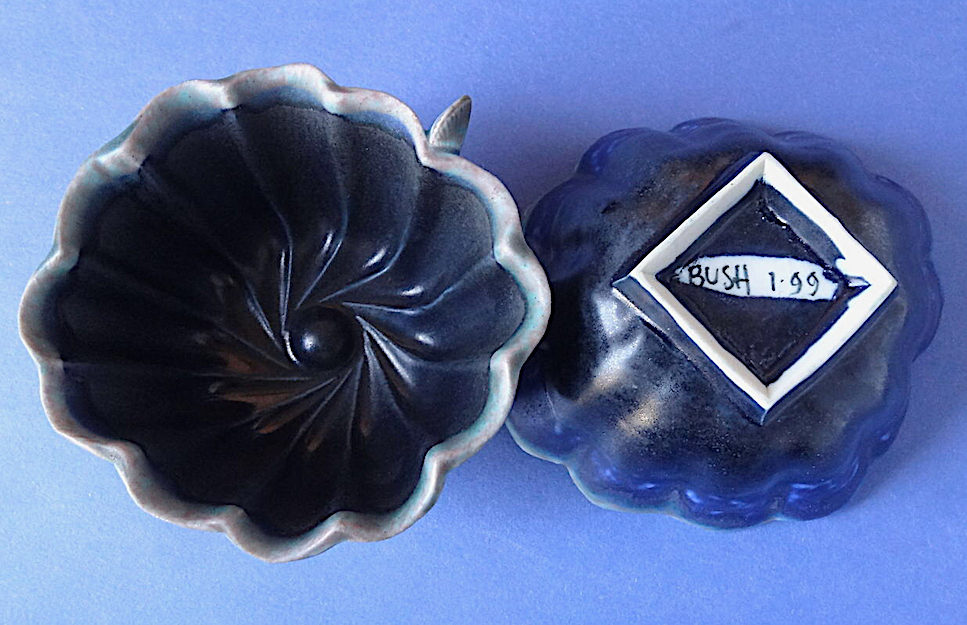 I first saw Bush's work when he was a graduate student in the mid-1980's at Alfred University in upstate New York. At a time when "vessels" and kiln sized clay sculpture were dominating the clay scene, Bush made human scale, useful pots that were artistically and technically sophisticated while being down-to-earth functional. His pots, like the potter himself, were smart, direct, friendly and thoughtful.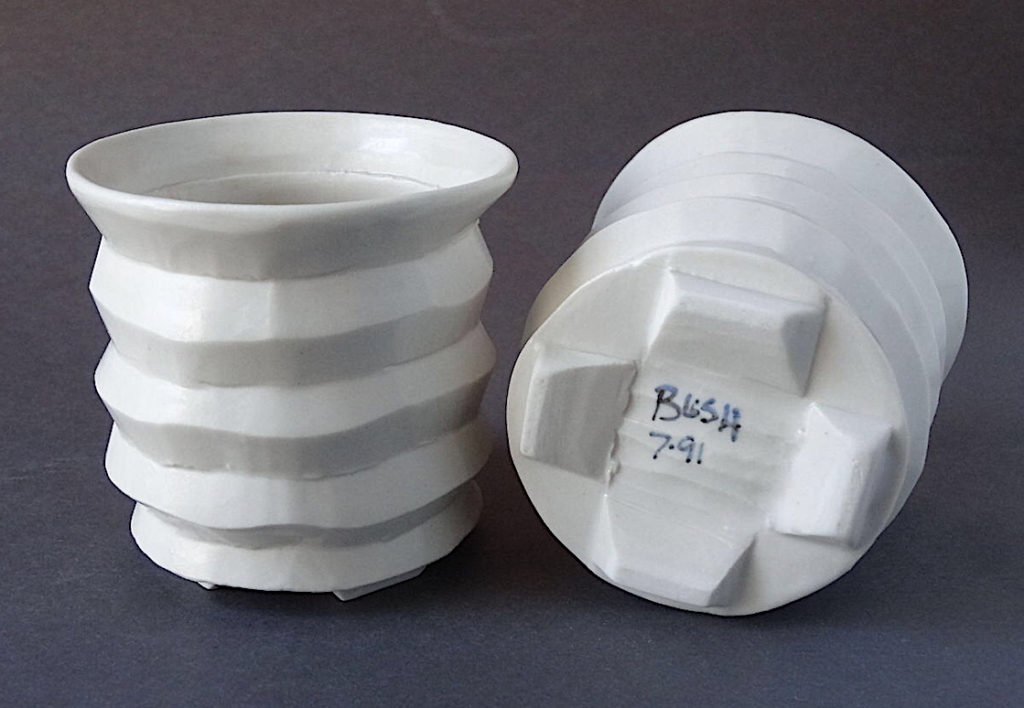 Nature was an early source for Bush, a Seattle native, providing structural and decorative source material that still inspires him decades later. As a professor, and for many years as department chair at RISD in Providence, RI, Bush worked with a mid-temperature porcelain clay, casting a variety of objects to generate forms and then carving to vary the surfaces. His pots became more delicate and deeply textured but retained a distinctly handmade touch. In recent pieces, he continue to use natural sources and historical references, going back and forth between a darker stoneware clay with flowers and vines for forms and/or decoration and carved or whittled porcelain. In either format, his pieces make having a cup of tea or coffee (or a sandwich) a pleasure.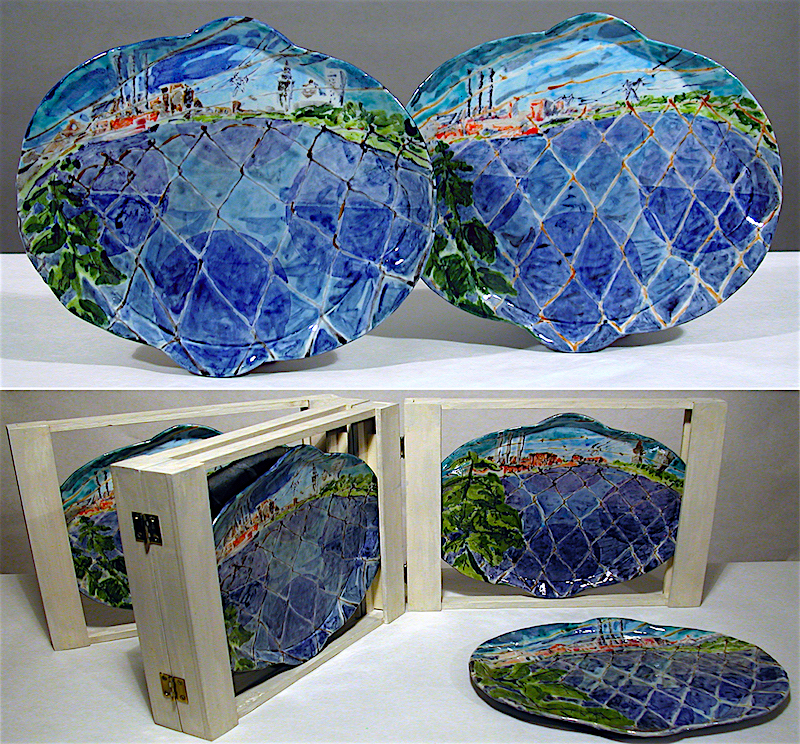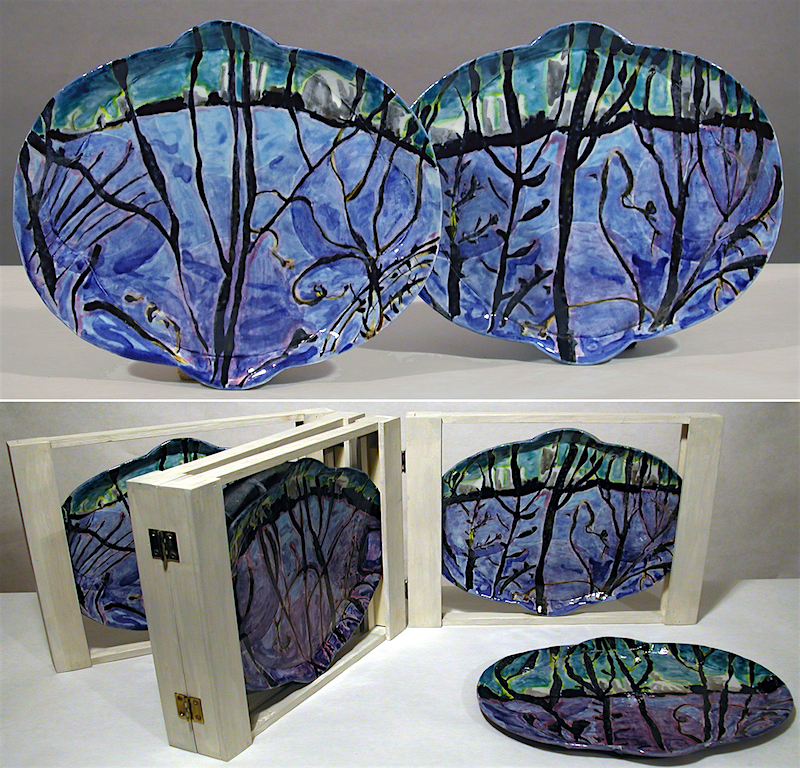 In a 2006 statement, Bush reflected on his inspiration. "Nature is my model, sometimes literally, always conceptually. With clay and glaze I imitate nature. With function and form, color and texture, history and need, I attempt a layering of forces similar to that found in natural things like flowers." He notes that the geological characteristics of a clay can determine how it is used, stylistically and in terms of function. The darker stoneware serves one purpose and the porcelain another and going back and forth between them leaves open more possibilities for him to explore ideas.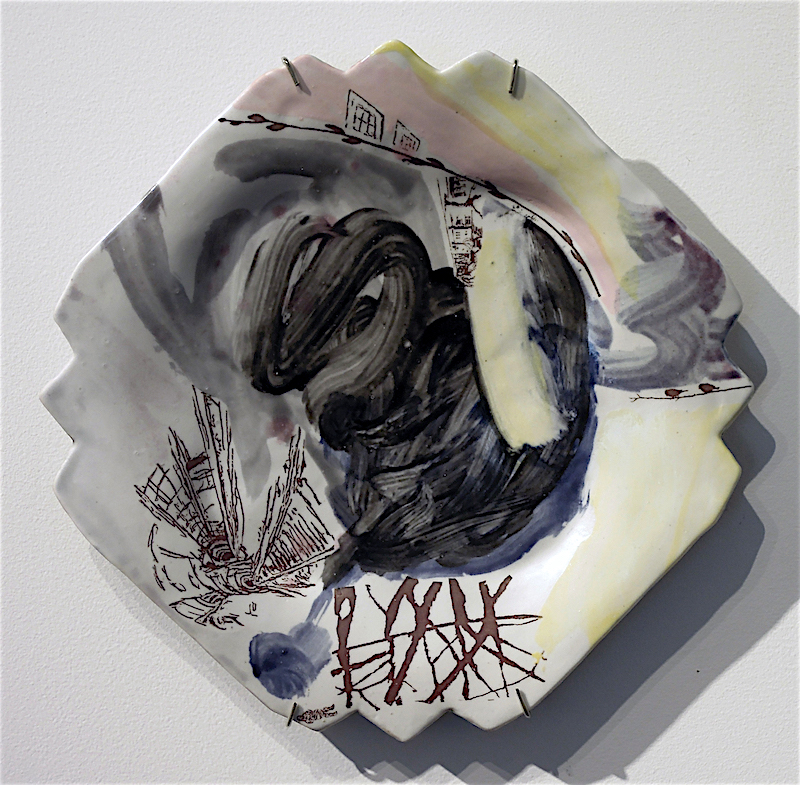 Usefulness is key to Bush's work. In the same statement, he explained how a combination of function, form, color, texture and historical references result in pieces which prompt interaction, requiring touch. "Pottery is a haptic as well as a visual art: it is handled as well as looked at. Like other useful things, pottery can simultaneously be a focus of attention, a facilitator or activity and a background to life. It can be important and familiar…The meaning of my work lies in the way it might shape and give texture to life."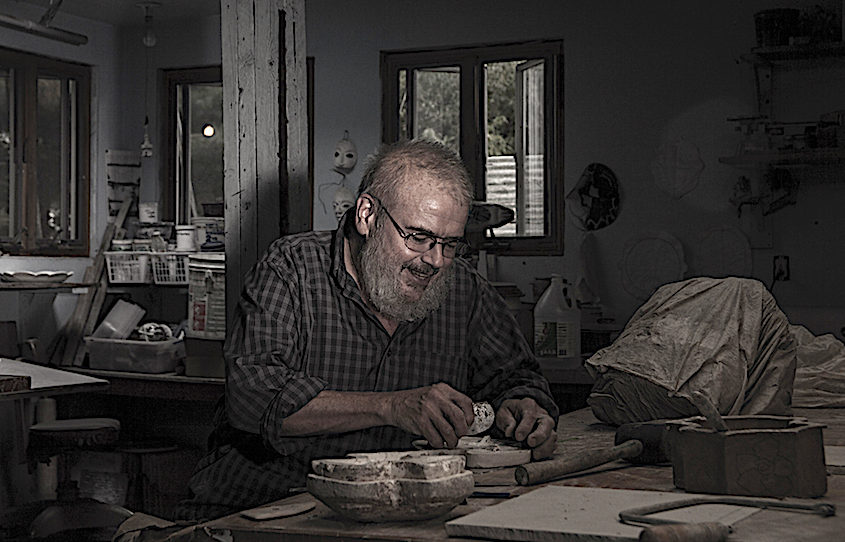 His depth of thought might not be obvious when you first see Bush's work, since it has such immediate visual appeal. But the longer you use his pieces, the more you find yourself repeatedly surprised by the layers of references beneath the skillfully formed surfaces, whether carved or painted or both. The morning glory vines spreading over a generous jar (with proportions like an ancient Iranian prototype) prompt me to think of a sunny summer morning in a garden or a painting by Bonnard or Vuillard. The accordion like ridges of a white porcelain tumbler keep my eye moving up and down the pot while providing a good grip to prevent it from slipping out of my hand. Handles and rims are designed and articulated for maximum comfort in the hand or mouth.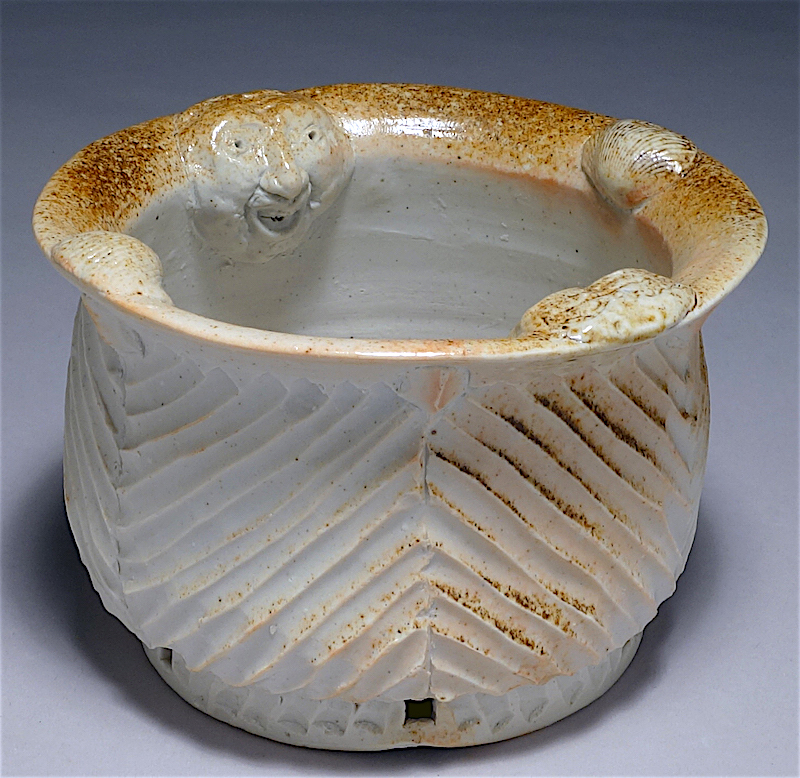 I've used Bush's pots for 30 years, acquiring one or two whenever I had a chance, although it isn't that easy to find them for sale. Because he teaches full time during the school year, the bulk of his own work waits for the free time of summer. Bush always has multiple projects going. When I spoke with him last summer, he was figuring out an in ground watering system for his garden, working on a series of plates (recently shown in art galleries in New York and Philadelphia) he was making as part of a collaboration with printmaker Andrew Raftery, writing student recommendations and configuring new kiln furniture so he could fit more work into each firing.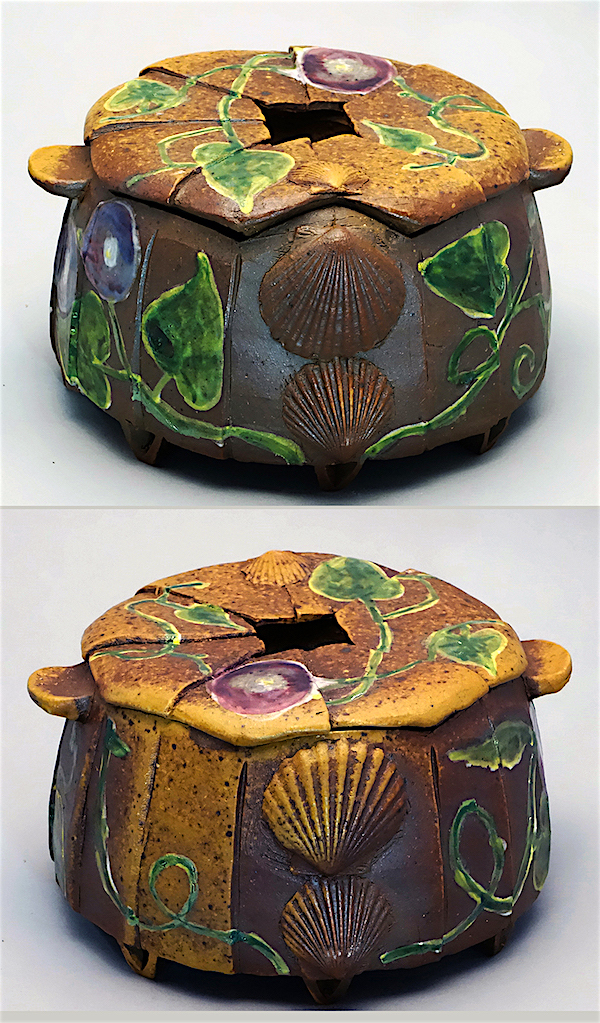 Whether for a cup of coffee, a bowl of cereal or a martini, Bush's pieces are unabashedly functional without any compromise of art or design. His recent food storage jars have recessed knobs so they fit more easily in the refrigerator. His "to go" cups are designed to prevent coffee from splashing out while feeling comfortable for drinking and being aesthetically engaging. In each of his bodies of work, utilitarian and decorative elements reinforce each other, resulting in pots that please the eye and feel good in the hand. These are pots you want to pick up and which you will want to use because they are so well thought through, crafted and artful, heightening our experience of eating and drinking. Lively yet intimate pieces whether on a shelf, in your hand or drying in a dish rack, Bush's pots are a pleasure to use.