I started A Good Dish to simplify planning and preparing meals and to provide resources to make it easier to cook, plate and share those meals. My name is Wendy Dubin and I live in New York City.
By academic training and work experience, I am a potter, teacher, critic, art historian and art advisor.  In each of those jobs, I had a relationship to food – making and teaching how to make pots for use (plates, bowls, cups, teapots, etc.), writing about useful pottery, taking clients out to eat, preparing and hosting cocktail and dinner parties, studying domestic interiors and so on. For more than 30 years,  I have taken dozens of cooking classes, learning to make everything from empanadas to paella. For more than 25 years, I have made daily meals for my family or figured them out while traveling. For twenty years, we have belonged to a CSA (community supported agriculture, i.e. a farm that delivers shares of vegetables and fruit to the city weekly). And I have been shopping at the farmer's markets as long as I can remember.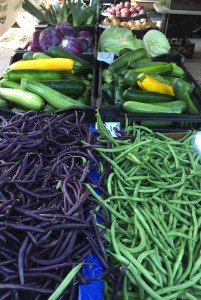 Planning meals, grocery shopping, cooking and feeding my family and friends have been my pleasure and my grounding, almost like meditating. I love it. But you don't have to love cooking to be okay at it. And okay is better than not cooking. Plus, the more you cook, the better you get at it. My goal is to alleviate the stress surrounding cooking by helping you see how easy it can be to make simple and tasty meals.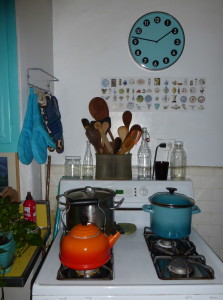 Cooking doesn't have to be complicated to be good.  I only have a few cooking requirements: food has to look and smell appealing, it should be nutritious, it can't be too hard to make or take too much time to prepare and, most of all, it has to taste good.  
Wendy