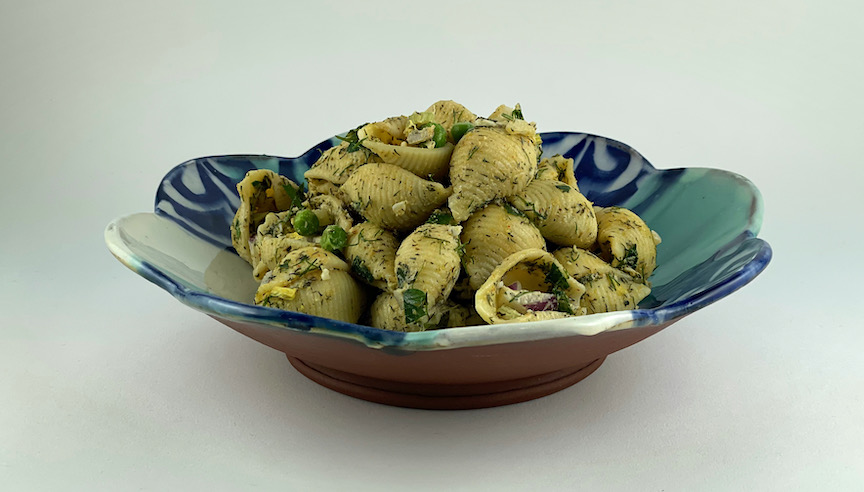 One of my favorite summer foods for a summer barbecue or picnic is a recipe for macaroni salad I learned as a teenager from a cousin's mother-in-law. Long story. I have seven first cousins on my mother's side. Even though we lived in different parts of the country, our families got together at least once a year and sometimes more, depending on vacation schedules and what occasion needed to be celebrated. My gentle, thoughtful cousin Mindy was the first to have a wedding and she married a wonderful guy who is a classical guitarist and one of the most generous people I know. When we gather, for example, Rob is often the first to pick up the bar tab. After a discussion of books we've read, he often gifts copies of titles he thinks our son will enjoy. When he found out I had arthritis in my hands, he sent me a special knife to make chopping easier.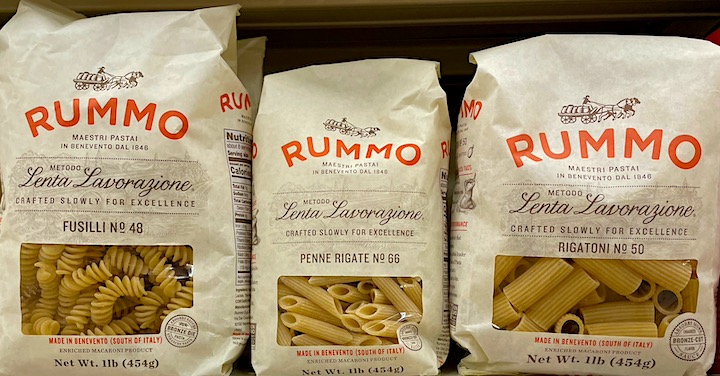 Before Mindy and Rob married, his mother, Connie, moved for work from Cleveland to Hartford, where I lived growing up. She came to our house for social events, never talking down to us, even though we were kids, and often bringing something tasty to eat. The recipe of hers I remember best (and the only one I thought to request—probably one of the first times I ever asked someone for a recipe) is a delicious macaroni salad. I suppose macaroni salad, with it's mayo base, is the Americanized version of what we know as pasta salad, which usually has a vinaigrette or pesto-based dressing.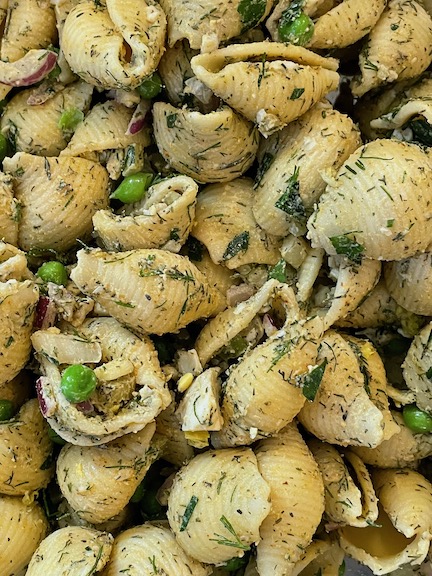 Besides macaroni—use shells, rigatoni, penne, gobetti (large elbows), spirals or even orecchiette, any short pasta, even whole grain or gluten free, that will hold sauce—the recipe lists hard boiled eggs, red onion, dry dill and dry mustard and mayo. I added fresh dill, peas and parsley for more green. When I served it the second day, I added in chopped cooked kale and some extra mayo and salt. Connie's version was made with bacon (I omit it sometimes when we don't want to use meat) which adds another flavor dimension. I used the Hellman's mayonnaise the recipe called for, but your favorite brand mayo will work or try a mixture of yogurt and mustard. I think chopped olives, peppers, hot sauce, beans or even cooked chicken or sausage could be appropriate add-ins. This is a great filling dish if you have to feed a crowd–it can easily be doubled. If  you want to bring it to an outdoor summer picnic, however, please use vegan mayo so you don't run the risk of spoilage. The recipe was Connie's gift to me and now I pass it on to you to enjoy.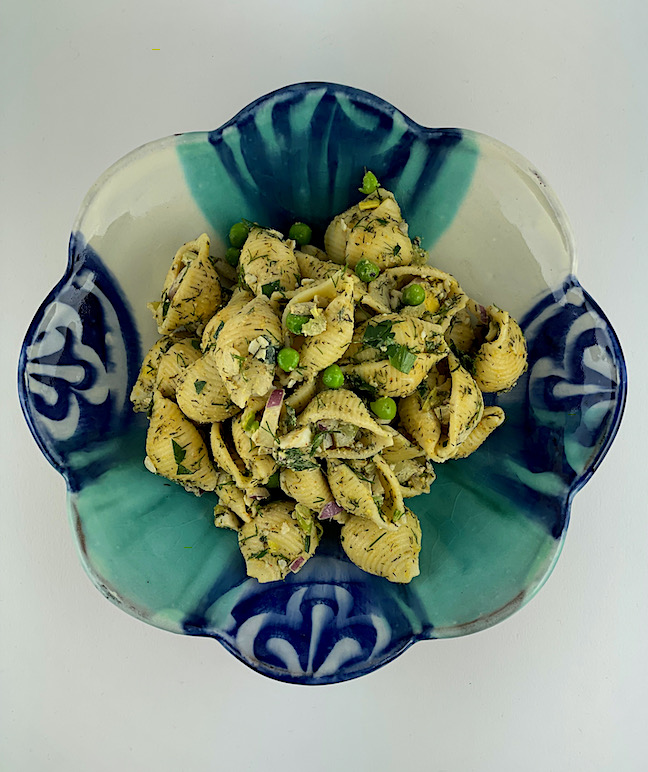 CONNIE"S MACARONI SALAD
Mix together in a large bowl:
1 lb cooked large macaroni shells, drained and room temperature

4 hard cooked eggs, shelled and sliced or chopped

4 strips crisp bacon, crumbled (optional-or use 1/2 tsp smoked paprika or chipotle chili powder)

1 small red onion, finely chopped (heaping 1/2 cup)

4 stalks celery, chopped (about 1 generous cup)

1-2 tsp dry mustard or 1-2 TBs prepared Dijon, or to taste

2 TBs dry dill weed (plus 1-2 TBs fresh dill, if you have it)

1/4 cup chopped fresh parsley

1 cup cooked frozen peas

1-2 tsps salt (taste and adjust before serving)

1-2 tsps black pepper

Hellman's mayonnaise, enough to wet (i used about 3/4 cup plus a little more before serving)
Make the day before you want to serve and store in the refrigerator. Serves 8 as a side dish and keeps 2-3 days in the fridge.
SEAN O"CONNELL
After years of reading about the Watershed Center Salad Days Fundraiser in Newcastle, ME,  I was able to attend for the first time this summer. Among other treasures, I found this plate by Sean O'Connell from the 2010 Salad Days and consider myself lucky! You can see the historical and contemporary inspirations in his work but his pieces are completely personalized twists on those stylistic  precedents. Not only does he make pots but also paintings and wooden utensils. You can read more about Sean's work and find out about sales at seano'connellpottery.com