Black beans and rice were one of our most reliable dining out options when our son was young. He loved eating rice and beans and we were happy to eat something I didn't cook. Our two favorite spots were Café Con Leche, a block away from us, and La Rosita de Broadway, a short walk and a good locale to meet friends. They were casual, neighborhood hang outs (Café Con Leche sponsored Little League teams for years) and liked messy kids and cocktail sipping adults equally, the kind of restaurant we could use more of in our communities. Sadly both those places are long closed. This winter, when we got a yearning for rice and beans, I learned to make them myself.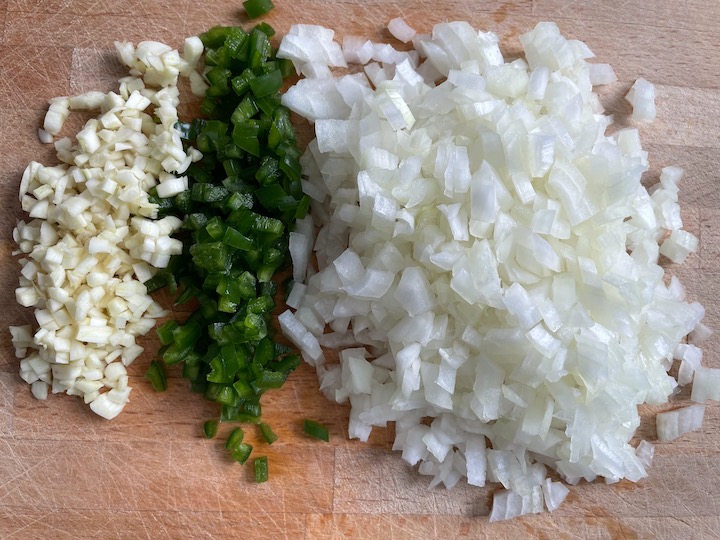 Almost every recipe for black beans and rice I consulted had similar ingredients with a few variants. Beans, onions, garlic, bay leaves, peppers and oregano appeared in all of them. Some used red peppers instead of green, some added cayenne or chili powder and some included tomatoes, cumin, cinnamon or orange juice. One even used rum. I tried the ingredients that sounded good to me and then adjusted the spices to try to recapture the flavor in my memory. I don't remember the beans being spicy but I put out cayenne and hot sauce to suit my family's preferences. Some recipes call for ham hocks or bacon but I think a little smoked paprika does the same job without the extra fat and salt. If you want more vegetables, add some cut up carrots in the last 10 minutes of cooking or parsley, spinach or arugula just a couple of minutes before you serve the beans.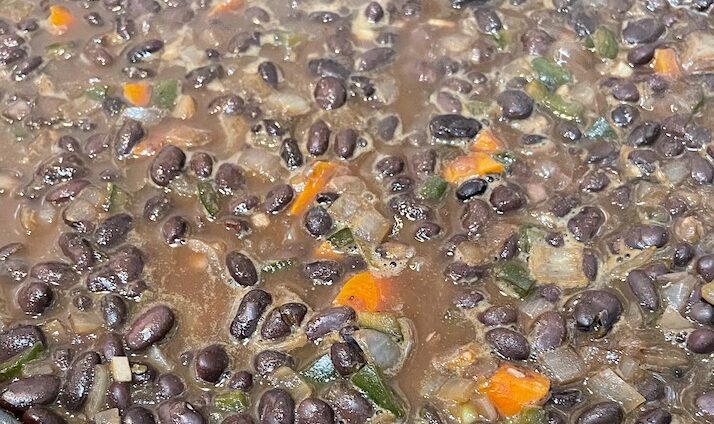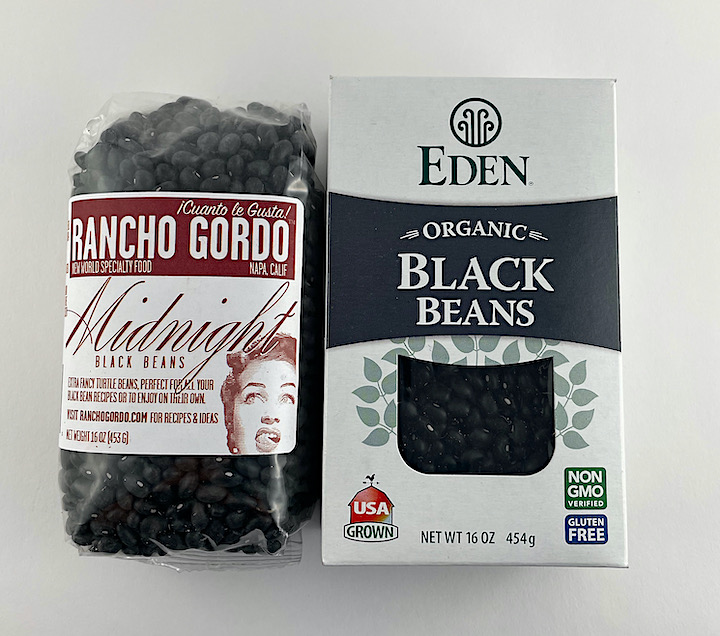 I almost always start with dry beans (unless I am in a hurry) because I like the texture better. They just take soaking and simmering, nothing complicated. But canned beans work fine, too. And if you use a rice cooker, you don't even have to think about your rice cooking while you pay attention to seasoning the beans. My dishwashing husband thanks the day we got our rice cooker and I stopped burning rice into the bottom of our pots! I like either brown (very non-traditional) or white basmati rice for this dish. Rosita (Cuban) and Café Con Leche (Dominican) served a choice of white or yellow rice. I make it both ways, depending on my mood. If you are willing to veer non-traditionally, a little dried celery and mushrooms are really tasty additions to the rice. For white, I add garlic and oil. For yellow, I add some turmeric or saffron to color the rice, not so much for flavor as for the nostalgia. Rosita's and the Café may be gone but when I cook this recipe, I conjure up the savory flavor of those beans and rice and the good times we had eating there.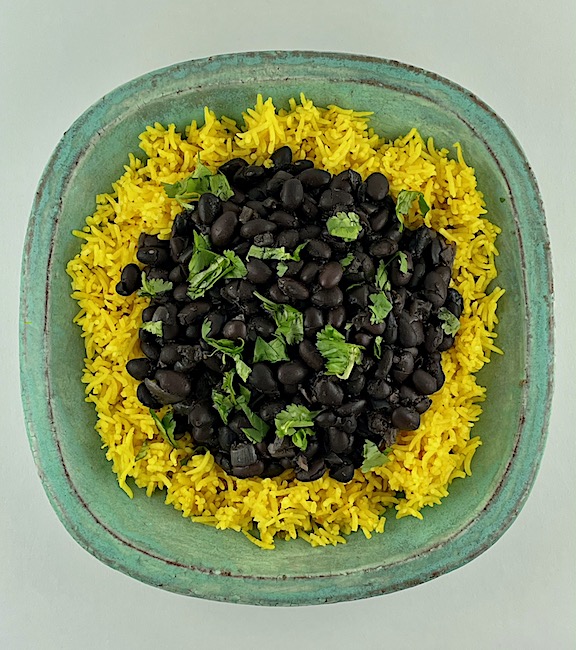 BLACK BEANS AND RICE
1 lb dry black beans, soaked, cooked with bay leaves and drained or four 15oz cans of black beans, rinsed and drained

2 TB olive oil

1 large onion, diced

4-6 cloves garlic, minced

1 pepper (poblano, jalapeño or green bell), diced finely

1 TB ground cumin

1 TB dried oregano

1 TB kosher salt (or a little less or more to your preference)

1 tsp ground black pepper

1 tsp smoked paprika, optional

1 quart broth (chicken, vegetable, bean cooking liquid or some combination)

1 TB cider vinegar

2 carrots, cut in bite sized pieces (optional)

Chopped cilantro to top/garnish
2 cup (dry) basmati rice, rinsed, drained and cooked with broth, smashed garlic, a little oil and salt, according to directions. For white rice, I use 1 1/2 cups liquid for 1 cup dry rice. For brown, 2 cups liquid for 1 cup dry rice. 1/2 tsp turmeric and 1/4 tsp paprika or 1 pinch saffron, optional, to make rice yellow. 
Heat the oil on medium heat in a large skillet or medium stockpot. Add onion and sauté 2-3 minutes, until translucent but not browning. Add green pepper and garlic and sauté 1-2 minutes longer to soften. 
Add cumin, oregano, salt and black pepper, cook about 30 seconds and then add broth. Bring to a boil and reduce to a simmer. 
Add the cooked beans and vinegar and continue to simmer about 20 minutes, until beans are flavorful and the broth has reduced and thickened. Adjust seasonings to taste.
If you want more vegetables, add chopped carrots about 10 minutes before beans are finished or add thin green, like arugula or spinach, in the last minute or two of cooking. 
Serve with prepared rice, lime wedges, chopped cilantro and hot sauce.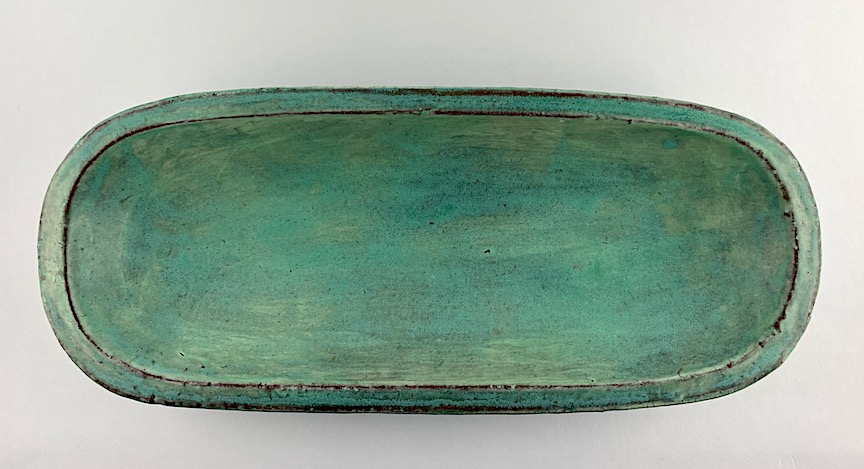 Joe Pintz makes earthenware pots with rich surfaces that remind me of colorfield painting. The forms are simple, elegant, extremely useful and pleasurable to use, the ultimate compliment for pottery, to my mind.