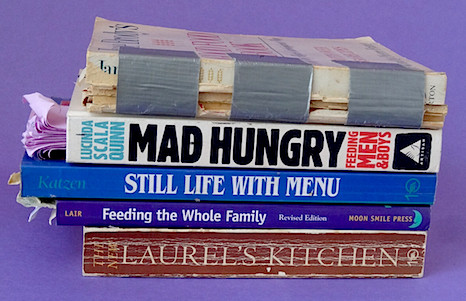 Foundational Cookbooks
When I moved into an apartment after college, I started to cook simple meals and bake uncomplicated desserts. Not knowing much, I used the Joy of Cooking as a reference for ingredients, temperatures, times and recipes. But when I started to take occasional cooking classes, I realized there was another, healthier and more creative world of cooking out there and my resources shifted to Moosewood, Vivian La Place, and Laurel Robertson. As I read the New York Times and Gourmet, my eyes opened to a culinary world I could only have hoped to know when watching Julia as a teenager. I still enjoy reading cookbooks and cooking memoirs, just for the pleasure of the read and I will add to this list from time to time.
There are five cookbooks I use so often that they have broken spines and dog-eared pages. Recipes are well-splashed and, in some cases, torn and worn through in spots. One (the Brody – which I inherited from my husband when he moved in long ago) is held together with duct tape. I came into my own in the kitchen cooking from these books and will be forever indebted to their authors. The last is a more recent publication but I have used it so much that it belongs in this category. Plus my teenage son loved every recipe I made from it – thank you, Lucinda!
The New Laurel's Kitchen by Laurel Robertson, Carol Flinders, and Brian Ruppenthal
Still-Life with Menu by Mollie Katzen
Feeding the Whole Family by Cynthia Lair
Jane Brody's Good Food Book
Mad Hungry: Feeding Men & Boys by Lucinda Scala Quinn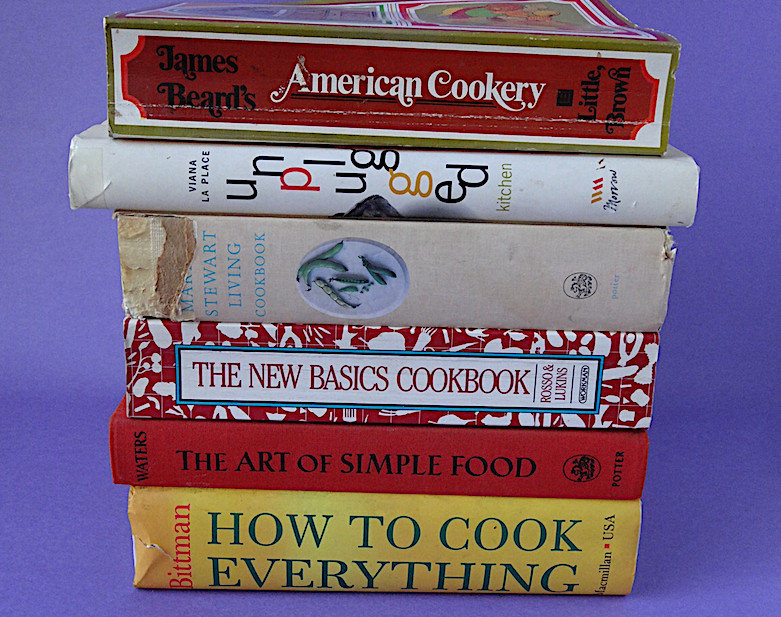 Reference Cookbooks
When I'm not sure or simply don't know how to cook something, these are my go-to books. This is especially true when I want to cook meat – not my strong suit because I didn't eat it for years. These books are my reference library, in addition to the foundational cookbooks I listed above.
These "reference" books contain some my favorite recipes and cooking advice.
The Beard is a compendium of traditional recipes like baked beans, chowders and all kinds of meat and seafood. La Place is my fallback source for a simple, fresh dish with Italian sensibility or flavor. Stewart's "101" recipes are wonderful if you've never made something basic, like roast chicken, and need hand-holding and guidance. I learned to make a very tasty ham from Rosso and Lukins and they have lots of helpful party planning tips, including drinks and menus. Waters cooks many different vegetables, has a great pan-fried pork chop recipe, among others, and is full of charming drawings. And the Bittman is useful whenever you want to check at what temperature to cook a roast or fish or find a simple technique for boning or chopping something with step-by-step illustrations. All make good reading as well as reference.
James Beard's American Cookery
The Unplugged Kitchen by Viana La Place
The Martha Stewart Living Cookbook
The New Basics Cookbook by Julie Rosso and Sheila Lukins
The Art of Simple Food by Alice Waters
How to Cook Everything by Mark Bittman