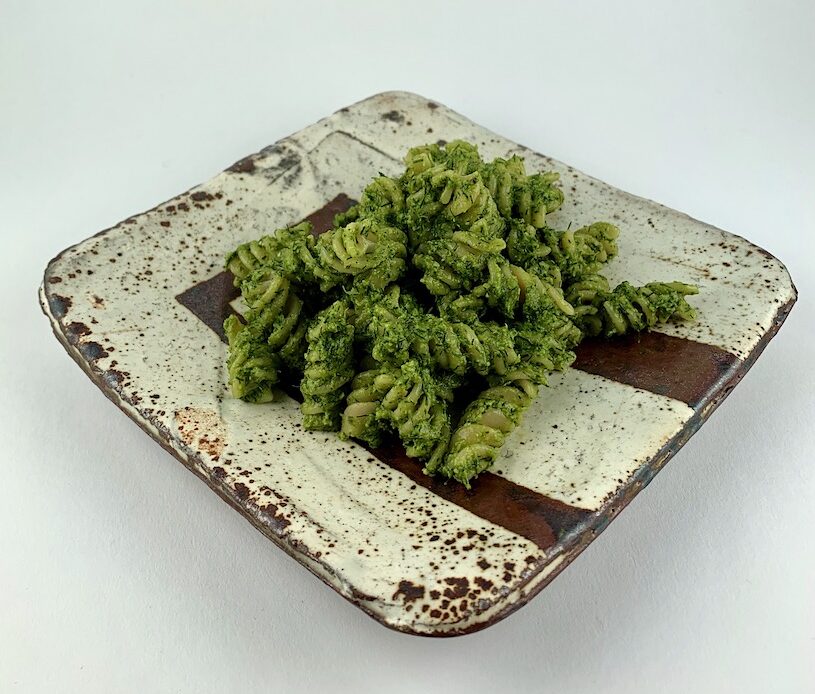 You can make pesto with almost any kind of leafy green or herb from arugula to cilantro to Swiss chard. Although the most common variety is basil, I have tried and liked pesto made with, in descending order, kale, broccoli, garlic scape, parsley and carrot tops. My new favorite – fennel frond –  surprised me. Don't flinch like I did at first, thinking it would be too licorice-like. It isn't. I actually thought I wouldn't like it but I really do! This is a surprisingly tasty pesto and not at all fennel-ly, for those who don't like that anise flavor.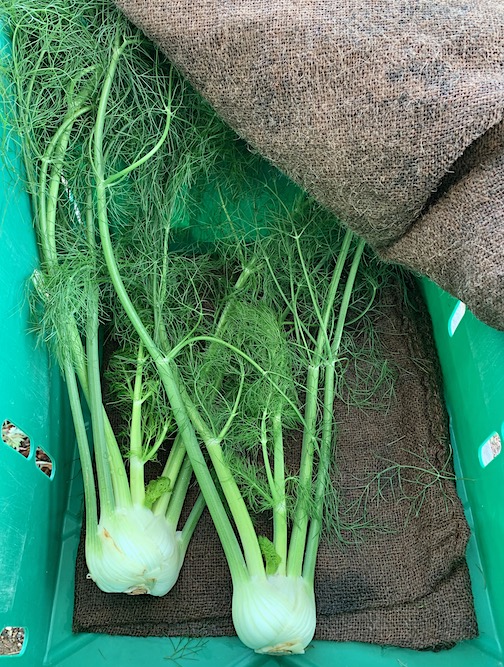 Any pesto is an easy recipe. You blend garlic, some kind of nut, salt, greens or herbs and possibly lemon and then add in cheese (or for vegan pesto, miso or nutritional yeast). Then you stream in oil, usually olive, and there you have it. The whole process takes less than 30 minutes. A traditionalist will use a mortar and pestle but a food processor or blender works efficiently. Conventional basil pesto uses pine nuts, walnuts or almonds. Joshua McFadden's (popular for good reason) kale pesto recipe calls for pistachio nuts. This fennel frond pesto specifies pumpkin seeds. You could certainly make this recipe with walnuts or pistachios if you prefer them. Adding Parmesan or Pecorino creates another layer of flavor but you don't need cheese; it can be both vegan and delicious with just a few spoonfuls of nutritional yeast instead of Parmesan for that umami flavor.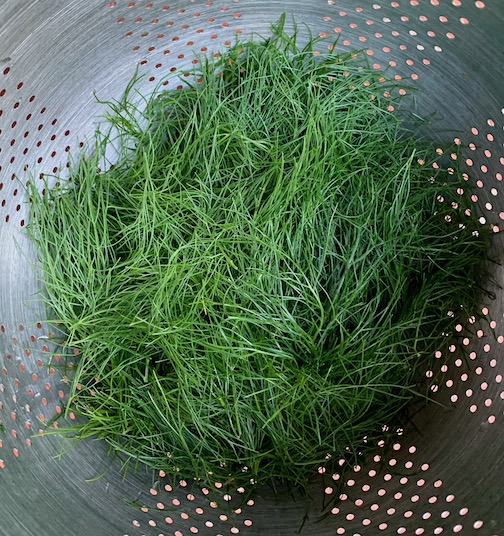 I usually buy fennel to add to a salad or to sauté. The fennel I got last week from a nearby farm was quite frilly and not trimmed the way you find supermarket specimens. There was so much greenery on these two bulbs that I couldn't bear to throw it away so I did an internet search for what to do with fennel fronds. Surprisingly, among suggestions for adding fronds to soups and salads and flavoring aquavit, there were many recipes for fennel frond pesto. My version below is a combination of several I found. You can substitute some other greens or parsley for some of the fronds if your fennel isn't as leafy as mine was. Don't be hesitant – all those fronds along with the lemon make a zesty and very green pesto which would be as good on fish or lamb or tofu as it is on pasta. And did I mention easy?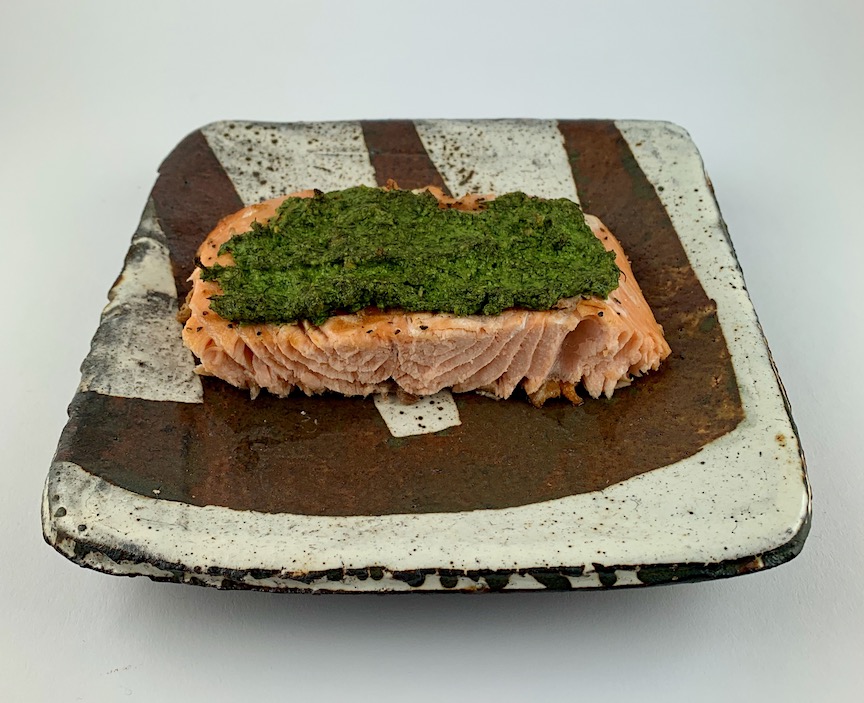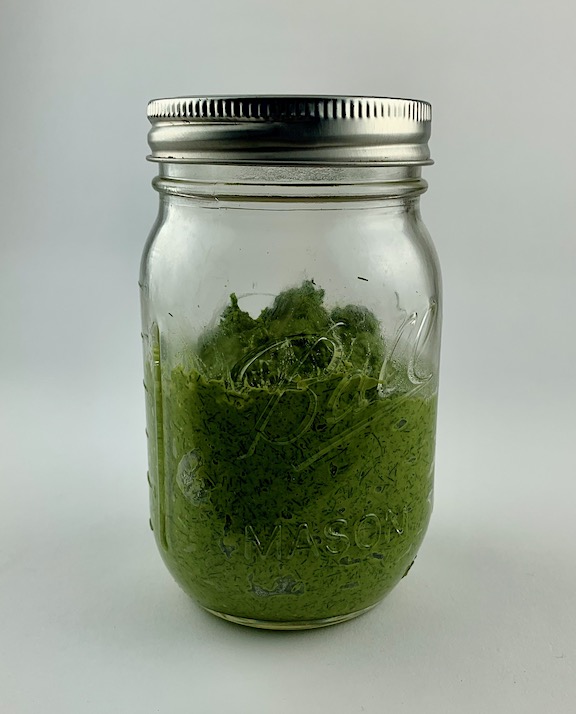 FENNEL FROND PESTO
2-3 cups chopped fennel fronds (from 2 bushy fresh bulbs)

2 cloves garlic, minced

1 tsp kosher or sea salt

1 tsp ground black pepper

1/3 cup raw pumpkin seeds (or walnuts)

2-3 TBs fresh lemon juice (juice of 1 lemon) plus the flesh (discard seeds and peel but if you have an organic lemon, you can include the zest/rind for even more lemon flavor)

1/4 cup grated Parmesan or 2 TBs nutritional yeast

1/4 cup olive oil
In a food processor, pulse together garlic, salt, pepper and lemon juice.
Add lemon flesh (and zest, if using), pumpkin seeds, cheese or nutritional yeast and fennel fronds and pulse and process until well blended.
Stream in oil until the pesto is the consistency you like.
Check for salt and pepper.
Use immediately or store in refrigerator for up to one week.
Freezes well (with a sealing layer of oil) for a blast of green mid-winter.
*Bandana Pottery (Naomi Dalglish and Michael Hunt) will be participating in Pottery On The Hill, an annual sale which will be online this year Nov. 13-15.