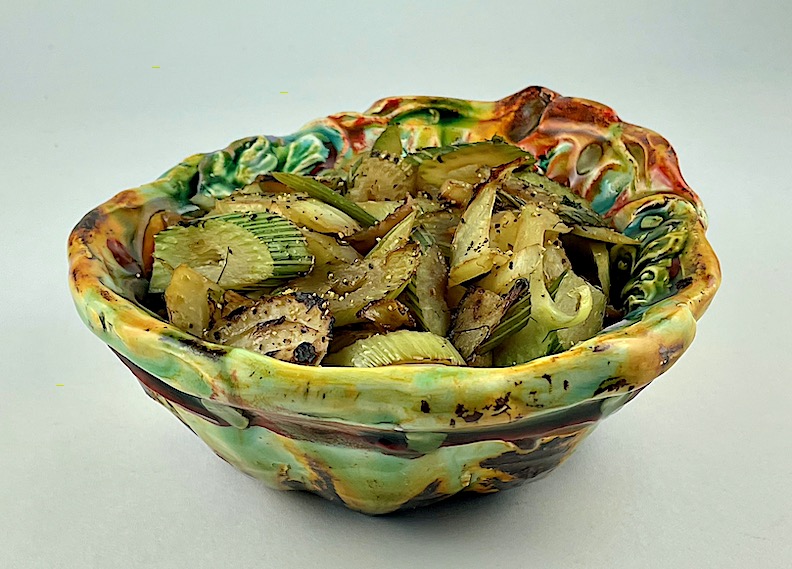 I am always trying to incorporate more vegetables into our meals but never as much as in the dark days of January. Winter food tends to be starch and protein heavy—think potatoes, stews, roasts and gooey pastas. Adding vegetables can lighten these dishes or, at least, create some balance. Root vegetables are the most commonly available in winter but cabbages, kale, collards and mustard greens are abundant, even sweeter in cold weather. One of my favorites is fennel, sometimes mistakenly called anise because of its similar, but milder, flavor, delicious both raw and cooked.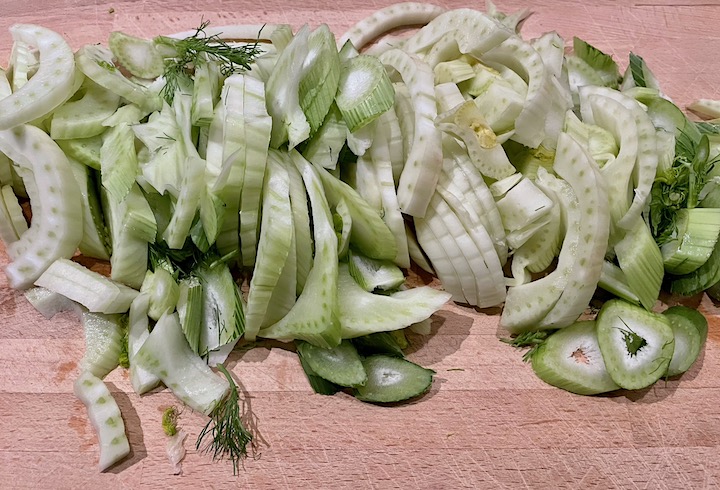 Fennel appears in our Northeast farmers markets in spring, summer and fall but keeps well in storage and is available year round in grocery stores. It can stay crisp for weeks in the refrigerator. It makes a terrific salad when no good lettuces are available and, if you are lucky enough to get a bulb with lots of fronds, it makes a delicious, lemony pesto. Lots of wintery recipes call for braising or roasting fennel. Okay fine, but I think the best (and easiest) way to prepare it is simply sautéed. It can be as basic as oil (or butter) and sliced fennel bulbs, seasoned with a little salt and pepper. You can fancy it up with browned onions, minced garlic, lemons, apples or radicchio, kale or cabbage finished with a splash of sherry, brandy or balsamic vinegar and a sprinkle of your favorite herb.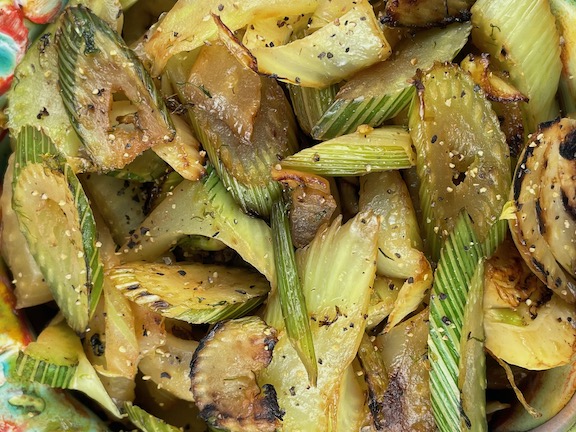 Sautéed fennel is a wonderful side dish. It will keep a couple of days in the fridge so make a big batch and save yourself some cooking time. For those put off by the licorice flavor of raw fennel, it disappears almost completely when sautéed. So start your year off eating more vegetables, including some not in your regular rotation, like sautéed fennel!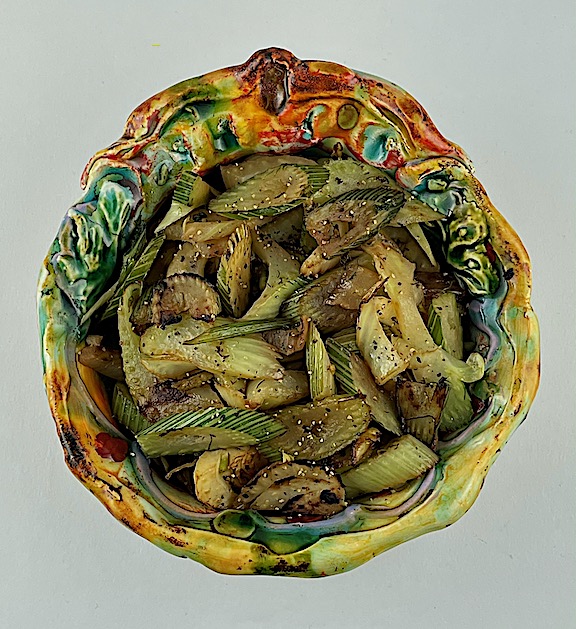 SAUTÉED FENNEL
Wash and cut one to two bulbs of fennel in half lengthwise and slice thinly.
Heat a couple tablespoons of olive, avocado or grapeseed oil in a large skillet and add the sliced fennel. Sauté until beginning to brown, adding a splash of water, if necessary to prevent sticking and burning.
When browned to your liking, turn off heat and sprinkle with salt and pepper.
(Alternatively, start with sliced onions and add fennel when onions begin to brown).
                                                                           *
LISA ORR makes playful, colorful earthenware pots (and street address numbers) which pay homage to lively Mexican pottery. She enhances her wheel-thrown and mold cast pieces with sprigging (applied raised decoration), slip trailing, carving and glaze painting. The resulting pieces are a celebration by themselves! Her work can be found at on etsy, at Schaller Gallery, Clay Akar, Dallas Pottery Invitational and Artstream Nomadic Gallery, among other outlets.