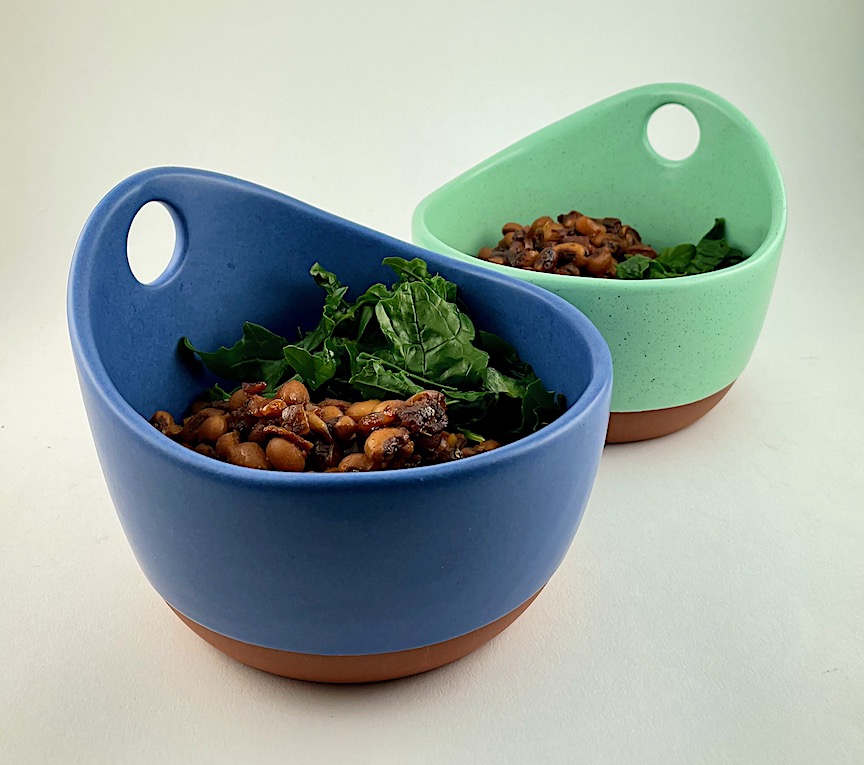 Hoppin' John, a bean dish made with black eyed peas, is traditionally eaten in the Southern United States on New Year's Day to bring good luck and prosperity for the coming year. My husband and I have never been big fans of black eyed peas but we eat them happily when offered on a New Year's buffet because who doesn't need a little prosperity. Given that we need all the luck we can get this year, I was determined to find a way to cook them that we would enjoy.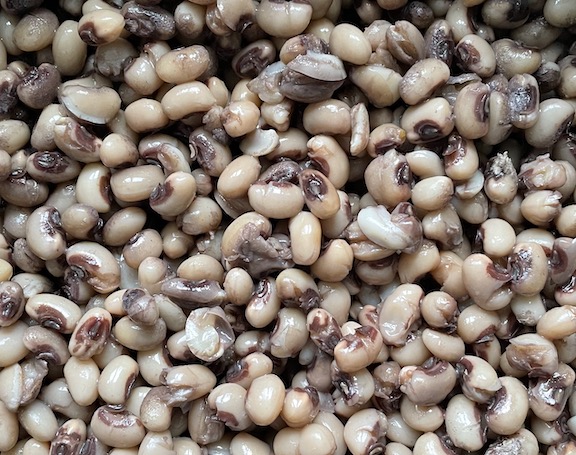 Both of us love baked beans so I prepared them my favorite way but substituted black eyed peas. I am not talking about the anemic Heinz version of tomato-y tinned beans that both our fathers loved. Homemade baked beans can be savory and sweet and really delicious. I spiced up my recipe with ginger and cayenne so it is not only tasty but also warming on these cold days. Lots of substitutions are possible. Prepared yellow mustard can stand in for dry (2 TBs instead of 2 tsps), brown sugar or maple syrup can replace the molasses and ketchup or tomato sauce can be used instead of tomato paste. If you don't like thyme or don't want to use Worcestershire sauce, just leave them out. And if you don't want to soak and cook dried peas, just use canned. In fact, if you don't have or really don't want to use black eyed peas, just use navy peas, Alubia Bianca or any small white beans.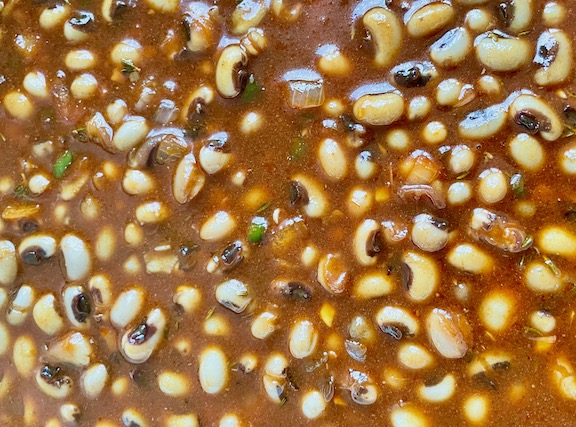 Black eyed peas (also known as cowpeas) are quite nutritious with good amounts of minerals, fiber and folate. When baked as in this recipe, they can last in the refrigerator for 3-4 days or be frozen and reheated weeks later. Cook once and eat several times! Providing warmth, multiple meals and nutrition alongside the hope for prosperity, baked black eyed peas are a pretty great start to the year.
Wishing you all a happier New Year in which, hopefully, we'll be able to gather and be together again!
BAKED BLACK EYED PEAS 
1 lb. dry black eyed peas, soaked, cooked and drained (reserve cooking liquid)

2 TBs olive, avocado or grape seed oil

1 onion, diced (1 heaping cup)

2-3 cloves garlic, minced (1 TBs)

1 small knob of fresh ginger, minced (1 tsp-1 TBs as you prefer)

1 fresh poblano or jalapeño pepper, diced (or just a green pepper will do) – optional

2 tsp dry mustard powder or 2 TBs prepared yellow mustard

1 tsp smoked paprika

1 tsp dried thyme

1/4 tsp cayenne

3 TBs tomato paste or 1/4 cup ketchup

3 TBs apple cider vinegar

2 TBs soy sauce or tamari

3/4 – 1 cup molasses (depending on how sweet you like it. Start with less and add more at the end if you need it)

1 1/2 cup bean cooking liquid (or stock)

1 tsp Worcestershire sauce (optional)

1 cinnamon stick, broken in half (optional)
Preheat oven to 350 F.
Heat oil in a medium-large Dutch oven or bean pot  over medium heat.
Add onion and sauté a few minutes until it starts to wilt.
Add garlic, ginger and pepper, if using, and sauté another 1-2 minutes.
Add mustard powder, paprika, thyme and cayenne and sauté briefly to toast.
Add tomato paste, vinegar, soy sauce, molasses, bean liquid, cinnamon stick and Worcestershire. Stir and bring to a simmer. Turn off heat and add cooked beans. Stir well, cover and bake for 1 hour, removing the lid for the last 10 minutes if still very liquid.
Serve warm. Great with cornbread, polenta or grits, black bread, baked potatoes or toast and greens for a complete meal or serve with sausages for an rib-sticking entree. 
Keep leftovers in the refrigerator for 3-4 days. Freezes well. Serves 6-8 for a main course.