I gave up on electric drip coffee makers a long time ago. After a few uses, the coffee never tasted right, even after cleaning the machine with vinegar. I chalked it up to the plastic plumbing and parts. And then there is the pot sitting over an electric warming burner that leaves the coffee tasting burnt and reheated. Every time we were in Williams Sonoma, my husband and I would ogle the Technivorm, which heats the water to the perfect temperature but, alas, also has plastic tubing, costs too much and takes up way too much room on the counter. Perking coffee was out of the questing since boiling coffee creates a kind of nasty toxicity I didn't want any part of and didn't like the burnt flavor anyway. I liked the ease of a French press and I thought the coffee tasted good but when I read that it was healthier for coffee to run through a paper filter, I moved on. For years, I used either a Melitta drip cone, when it was just one or two of us drinking coffee or a glass Chemex when we were serving a tableful. One problem with the Melitta was that I didn't like using a plastic cone, even if it was lined with paper (my personal paranoia). The other problem was that the coffee often got clogged up in the bottom and when I would stir to release it, the filter would tear and grinds would end up in my cup.
Last summer, my lovely husband did some research online and for my birthday bought me a Kalita Wave drip cone with filters. If you've never seen one, this is a gleaming stainless steel dripper that sits on a cup (or whatever you choose – we use a glass jar so we can make 2 cups). It uses fluted paper filters that look like a condensed mini version of a mr. coffee style filter.
The wave has a flat bottom with 3 holes through which the coffee drips – not just the single melitta hole. There are lots of reasons Kalita says this filter system works so well – the angle, flutes, 3 holes in a triangle, etc. The reasons I like it are also multiple – no plastic, cleans and stores super easily, and the coffee tastes great. Isn't that what you want every morning?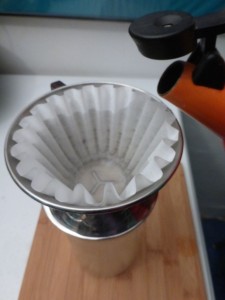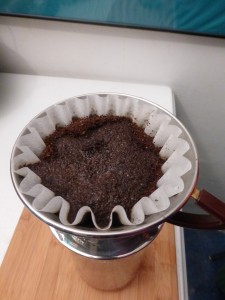 While traveling recently, we ordered coffee in an upscale market hall at a cafe where they used a Kalita wave to make drip coffee. Watching the barista, I had to bite my lip not to laugh or make a snide remark at the fastidiousness of his process (I'm not a usually so snarky but this performance was like a parody you might see on SNL). First, he weighed out the beans. Then he ground the coffee and weighed it again, swiping out a few grains at a time until his measurement was perfect. A tap dispensed boiled water at the perfect temperature and he wet the filter and let the water flow through. Then he set the dripper on a cup, added the perfectly measured coffee, and wet the grounds with a splash of boiled water from one of those long spouted Japanese kettles. (I have eyed them in the stores as they are very beautiful but do I really need another pot in my kitchen?) Once the grounds were sufficiently saturated and had time to bubble and settle, he kept a slow but continuous trickle of hot water pouring into the coffee. A few minutes later, I had my cup. Was it amazing? Not in the least. Although you could weakly taste the flavor, I thought the coffee was swill – way too watery for my taste.  But what do I know?  Only what I like – a strong, bold, wake me up shot of coffee to get me going in the morning and this was not it.
Now we use the Kalita every morning (so should I be laughing at myself?), but in a simpler way. I do grind my coffee in a burr grinder (a Bodum Brooks found on sale in bright orange that cheers my morning), wet the filter (as per the instructions) and give the coffee a moment to "bloom" after the first pour of boiling water (as per the instructions), but I don't weigh or measure and the water comes directly from my tea kettle. The whole process takes about 2 minutes.
How do I like my coffee? Smooth, full bodied and strong, not too acidic and never flavored but flavorful. I use the organic sumatra estate (medium roast but dark and smells amazing) coffee from BJ's warehouse club – 2 1/2 pounds for $16 which lasts us about 4 – 5 weeks. Whatever coffee I make (sometimes I buy the organic Ethiopian or fair trade breakfast blend at Trader Joe's), I always use more than the recommended amount. And I put a little cup hook under one of my kitchen cabinets so now the wave doesn't even take up any room on my counter.
I can't swear that the coffee made in the Kalita actually tastes better than when it is dripped other ways. But it is stainless steel, easy to use and clean, takes up almost no space, and makes delicious coffee – win win all around.