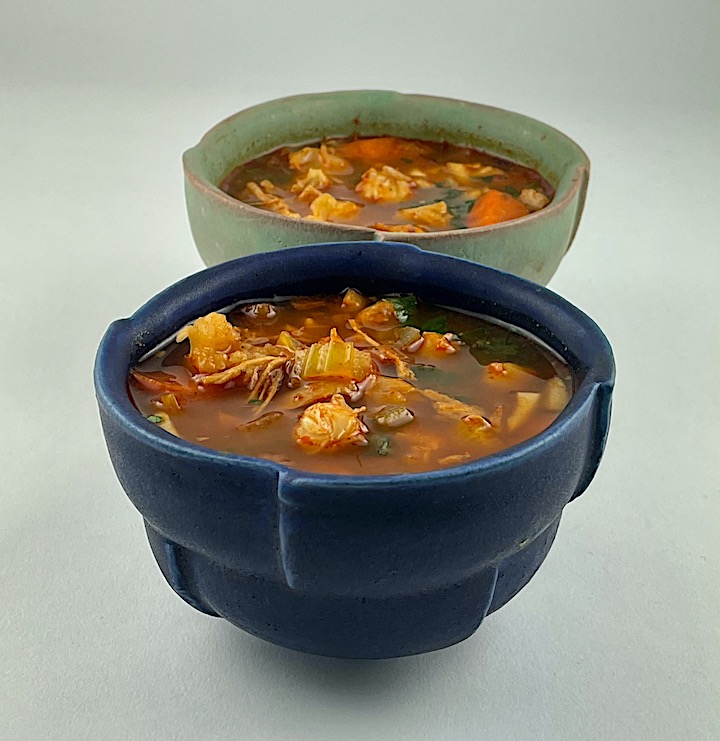 Posole, a spicy Mexican soup made with the alkalinized corn of the same name (also known as hominy), is one of my favorite soups. It is flavorful, spicy to your preference, full of chewy corn and vegetables and can be garnished individually by each eater. Winter may be officially over but there will be plenty of chilly evenings when a bowl of posole will be a welcome meal. A friend told me her husband made a similar spicy Mexican chicken soup but with matzo balls this week. Please report in if you try a variation! 
I received the recently published Rancho Gordo book on Pozole (the Mexican spelling) as a holiday gift and have been trying out some of the many recipes. I prefer the chicken rather than the pork-based broth, which always seems too meaty and fatty for my taste, but some of you may love the richer version. The recipe I landed on is a combination of several of the chicken versions from the book and my old recipe (with cumin and oregano) plus a little whir of the stick blender to thicken the soup.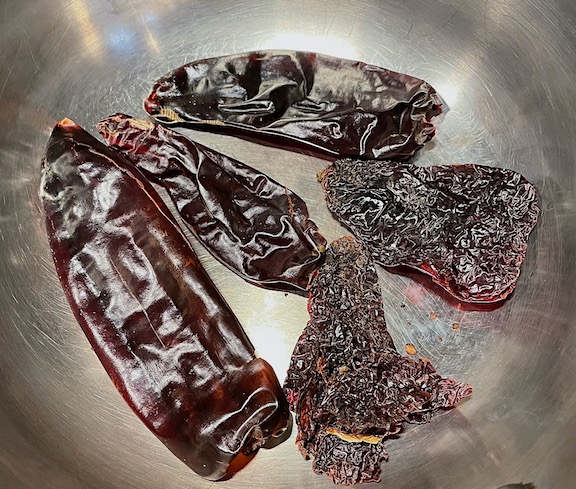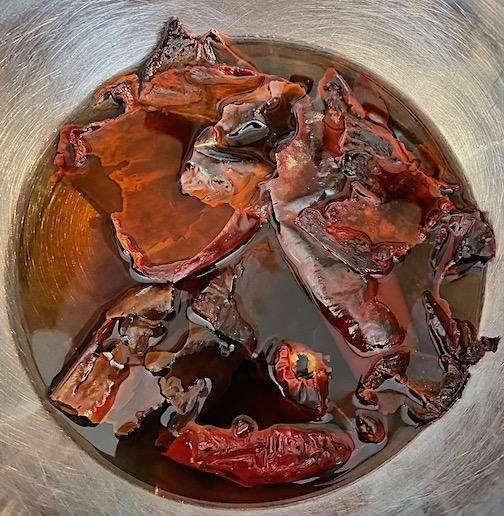 You can buy prepared canned hominy/posole although it is truly better to cook the dried kernels yourself for both flavor and texture and to have the cooking liquid to add to your soup. But if you don't have the time (you do have to soak and cook a few hours) or inclination, buy canned. Just make sure you rinse well to get rid of the salty packing liquid. This canned posole/hominy will be a bit softer and milder than if you cook it yourself but in such flavorful soup, you can get away with it. Some sources for dry, besides Rancho Gordo, are Los Chileros (organic) and Anson Mills (not nixtamalized) and for prepared, options include Goya, Natural Value (organic), La Preferida and Juanita's. Order Rancho Gordo and Anson Mills online while the others are available in urban grocery or health food stores.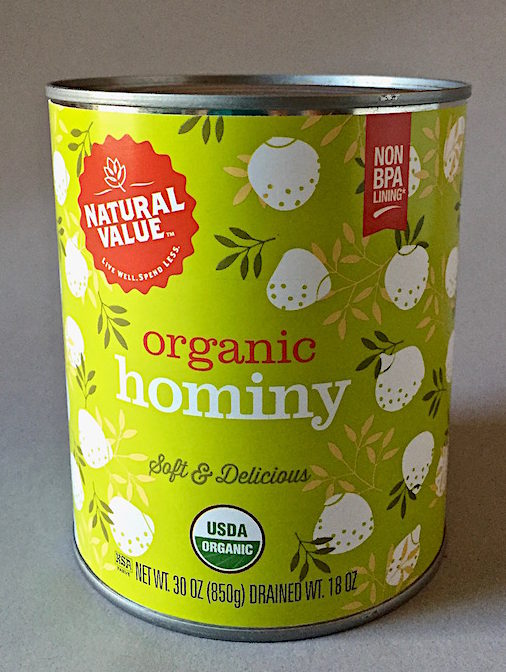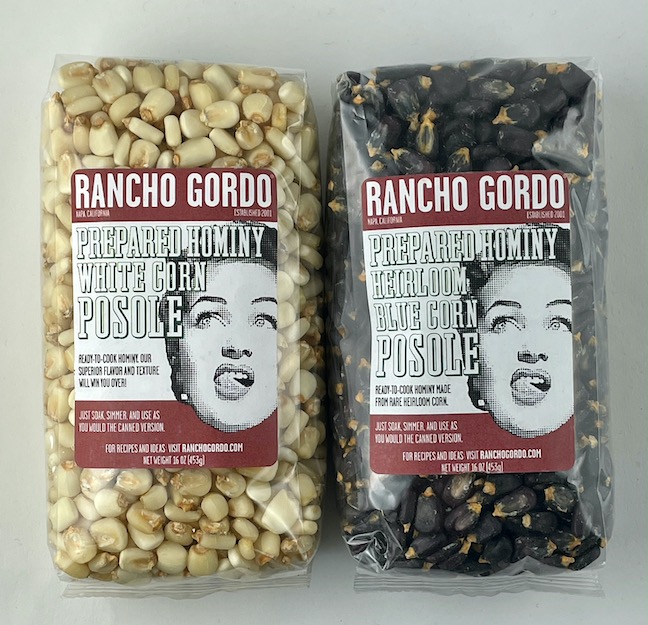 To cook dry posole/hominy, first soak it overnight. Then cover with 1-2" of water or broth, bring to a boil, lower to a simmer and cook 2-2 1/2 hours, partially covered. To add more flavor, cook with a chili pepper or two, some oregano and a few smashed cloves of garlic. Simmer until tender and blossomed (most kernels should "flower" when cooked) and add salt to taste. I think cooked posole kernels with butter and a little salt make a delicious side dish when you want a different starch for a change, comforting like buttered pasta.
I posted a posole recipe the first year I started this blog. I think that recipe (made using leftover Thanksgiving turkey) still holds its own but the posole I have been making recently doesn't use tomatoes or chili powder. Rather, it gets its flavor from toasted, soaked and puréed chili peppers. You can use boxed stock if you don't have homemade or time to make stock but, as with the actual posole/hominy, homemade will be tastier and you'll have cooked chicken to add to the soup. You could even use vegetable stock, leave out the chicken and add a wider variety of vegetables(think chayote, beans, even potatoes) if you wanted a vegetarian version. The amounts of seasonings are adjustable according to your preferences. Each eater can get creative here with which garnishes they choose to add. Put out bowls of chopped cilantro (since not everyone loves it), chopped or sliced avocado, chopped onions, thinly sliced raw cabbage or lettuce, oregano, sliced radishes, finely diced jalapeños or Serrano (more heat) peppers, cut fresh limes and tortilla chips to crumble in. Delicious, flavorful and fun!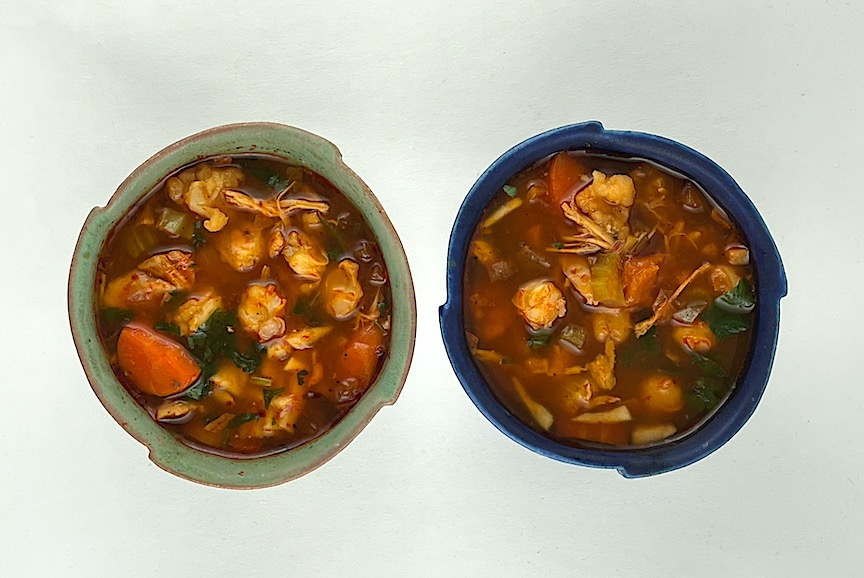 RED (CHICKEN) POSOLE
5 dried chilies, ancho, guajillo or a combination

 

6 large garlic cloves, 3 smashed, 3 minced

2 TBs vegetable oil, preferably olive or avocado

 

1 large onion, chopped

2 fresh green chilies, finely chopped (poblano or jalapeño for mild, Serrano for spicy)

1 TBs ground cumin

1 TBs dry oregano

5-6 cups prepared hominy/posole plus 2 cups cooking water

8 cups chicken broth

2 tsps salt

1 tsp ground black pepper

 

3 carrots, cut into bite sized pieces

3 stalks celery, thinly sliced

2 cups shredded cooked chicken
Garnishes:
Big handful cilantro, stems and leaves chopped separately

Dried oregano

Finely sliced raw cabbage or lettuce

 

Sliced radishes

 

Unsalted tortilla chips

Chopped onion

Sliced or diced avocado

 

Sliced or diced jalapeño

 

Fresh lime wedges
Slice open dried chilies and remove stem, pith and seeds. 
Soak cleaned chilies in what water 10-15 minutes or until soft. 
Purée soaked chilies in blender with 3 cloves garlic, smashed, and about one cup soaking water, or however much needed to blend smoothly. Set aside. 
Heat oil and sauté chopped onion over medium heat until translucent. 
Add minced garlic and green chilies, cumin and oregano and sauté one minute longer. 
Add prepared hominy, cooking water(or plain if you used canned posole) and broth. 
Bring to a boil and reduce to a simmer. 
Add salt, black pepper and vegetables (including cilantro stems) and cook 10 minutes longer. 
Add shredded chicken and continue cooking 5-10 minutes until simmering. Taste for salt and spiciness and adjust accordingly. 
Ladle into bowls and let everyone garnish their own posole.
Serves 8-12. Prepared soup will keep in the refrigerator 3-4 days and 2-3 months in the freezer.
I wish I could tell you more about the work of Hunter Saxton but I can't find him, just his Instagram account. I bought these pieces a couple of years ago from Kansas City Urban Potters. If you find him, please let me know. These bowls/cups are a pleasure to use!