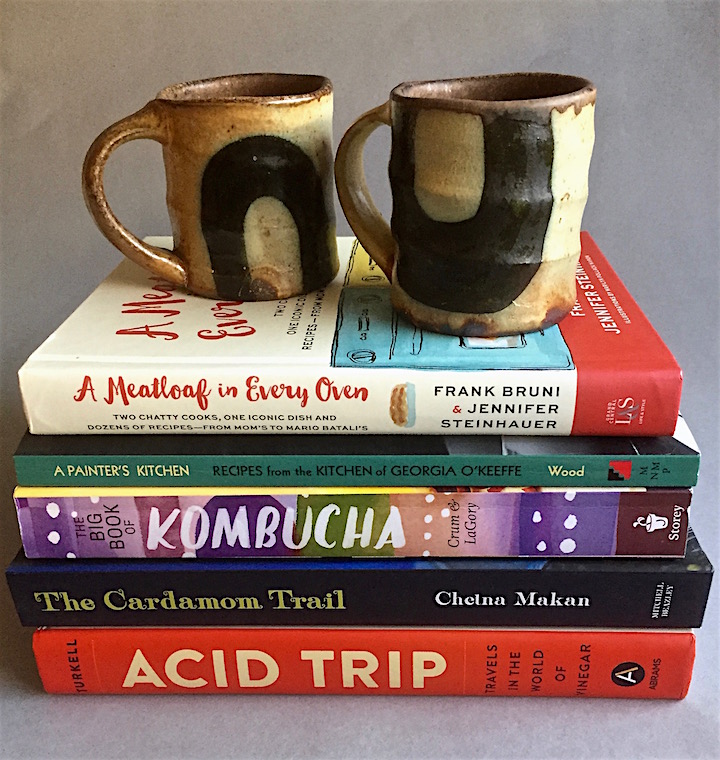 Cookbook buyers are a diverse lot. Some buy for the recipes and the hope that there will be delicious new meals on their tables in the near future. Others buy for the pleasure of reading the cookbooks or just browsing their pages. And still others are like me, a combination of both. When I fall short of ideas for dinner, flipping through a new cookbook often provides inspiration. But I also enjoy reading a well written cookbook just for the joy of stories, ideas and writing alongside the recipes, and this year I tried to find recommendations you might not see elsewhere.
Cookbooks make great gifts and, as I noted last year, are easy to pair with relatively inexpensive and useful kitchen items like a good grater, immersion blender, digital meat thermometer, long oven mitts, cast iron skillet or unbleached waxed and parchment papers. You could include good quality specialty ingredients for a recipe in your gifted book such as saffron, allepo pepper, a braid of local garlic or a jar (or small plant) of fresh bay leaves. Of course, giving handmade pottery in which to serve these recipes goes without saying!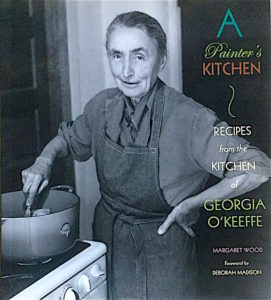 Of the many volumes I perused this year, a few have already become favorites including two based on the cooking of Georgia O'Keefe. These are two completely different books and were published 20 years apart. The first is $14 and the second is $50, although if you shop around, there are better prices to be found. A Painter's Kitchen: Recipes from the Kitchen of Georgia O'Keefe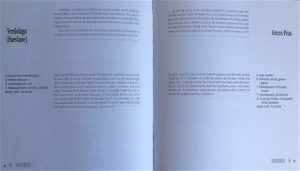 by Margaret Wood was originally published in 1997 but came out in its current edition, with a foreword by Deborah Madison, in 2009. I didn't come across it until last year. Wood worked for O'Keefe for 5 years and prepared much of this food with the artist's guidance. The recipes are quite simple and, for the most part, quite healthy. O'Keefe focused on local and seasonal food and grew much of it in her own garden. Her vegetable recipes are very basic but it is her descriptions and suggestions for how to prepare them that will charm you. Even if you never make anything, although I would guess you would, this book is fun to read as biography.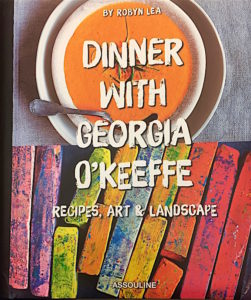 The other volume, Dinner with Georgia O'Keefe: Recipes, Art & Landscape by Robyn Lea, an Australian artist who went to the O'Keefe Foundation to study the artist's recipes, is more of a gorgeous coffee table book. There are fewer recipes and they are primarily the more substantial ones (you won't find O'Keefe's recipe for kale here), but there are glorious color photos of the food, the studio, the art and the landscape of New Mexico.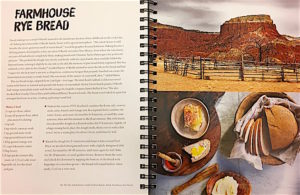 Lea didn't know O'Keefe personally but she did a lot of research and interviewed and quoted many people who did know her, including Margaret Wood, so it, too, makes a very engaging read.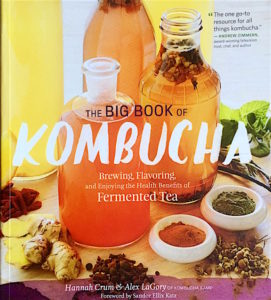 Three of my favorite books this year have specialty topics. Perhaps the quirkiest is The Big Book of Kombucha: Brewing, Flavoring and Enjoying the Health Benefits of Fermented Tea by Hannah Crum and Alex LaGory with a foreword by Sandor Katz, the guru of fermentation. It covers every aspect of making kombucha, from a discussion of what it is to debates over caffeine and sugar levels and alternative to ways to use it beyond simply drinking it. If you know someone interested in probiotics, tea or digestive health, this is the book for them. Reading it may encourage them to get a SCOBY and start brewing!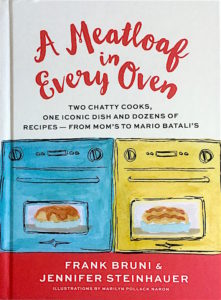 Another special subject book, A Meatloaf in Every Oven by Frank Bruni and Jennifer Steinhauer, two journalists (Bruni a former food critic) from The New York Times, is a small volume but full of appealing recipes. They call it a "love letter to meatloaf" and there are loaves of beef, pork, lamb, chicken, turkey, duck, fish and even a few meatless varieties. It includes recipes from friends, acquaintances, politicians, chefs and their moms, some great sounding side dishes and fun to read commentary on each loaf. This is a compact, easy reading book with sweet illustrations (although I did wish for a photo here and there). I have a favorite meatloaf recipe I've been making for years but this book will encourage me to try some new loaves.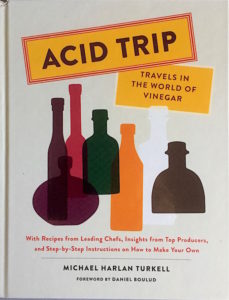 Acid Trip: Travels in the World of Vinegar by food photographer and cookbook author Michael Harlan Turkell is a geographically structured exploration of vinegar with recipes from various countries. Turkell explores different vinegars, his favorites and how to make them, with recipes and suggestions to avoid pitfalls. His passion for his subject is evident in his obsessive quest for information and in his enthusiasm in sharing it. The bulk of the book, however, is comprised of recipes using vinegar (and bar snacks) ranging from the traditional Leeks Vinaigrette (France) and Sushi Rice (Japan) to the more offbeat Scarlet Runner Bean Salad (Austria) and Frittata with Balsamic Onions and Parmesan (Italy). It is organized by country, illustrated with his food and travel photos and reads as much like travelogue as it does cookbook, which I found very enjoyable.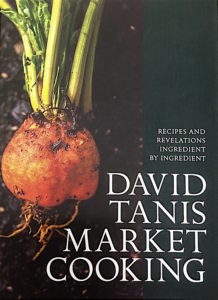 For a general cookbook, I recommend David Tanis' Market Cooking: Recipes and Revelations Ingredient by Ingredient. The recipes are clearly written and explained, organized by ingredient, beautifully photographed and covering a wide range of types of food. Although I enjoy reading all the food writers in our newspaper, it is Tanis' recipes that I prefer. I find his both simpler and more appealing than most of the others and I actually end up making them. In this volume, he shares tips (like reminding us that peeled celery root has to be put in acidulated water or it will turn black) as well as delicious sounding recipes like Indian style Cauliflower and Chicken Legs with Herbs. Market Cooking would be as appropriate a gift for an unskilled novice or a confident cook looking for new ideas.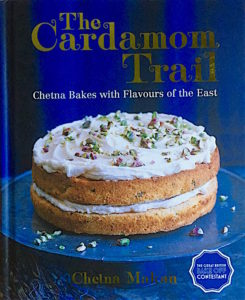 There were many baking books published and acclaimed this year, including those well described in Melissa Clark's recent review in The Times. My favorite is a quirkier volume offered by the very creative Chetna Makan, a 2014 semi-finalist in the engaging "Great British Bake Off" (and my personal favorite in that year's competition). The Cardamom Trail: Chetna Bakes with Flavours of the East gives us both sweet and savory recipes, as well as snacks and breads, with spices and flavorings, like saffron, chai, cardamom and mango, from her native India. Makan includes some traditional British bakes, like Cream Horns and Victoria Sponge, a tower of layers that she makes seems quite doable. Her directions are clearly written and uncomplicated, quite a feat in a somewhat exotic sounding baking book. I'm looking forward to trying the Curry Onion Tart and Black Sesame and Matcha Tuiles next time an occasion arises. Her new cookbook, Chai, Chaat & Chutney, is out but I haven't read it yet so I can't recommend it but I'm hopeful that it will be as good as her baking book.
These are fun books to read as well as to use and as such make terrific gifts. You may very well want to buy two copies of those that appeal to you – one to give and one to keep!