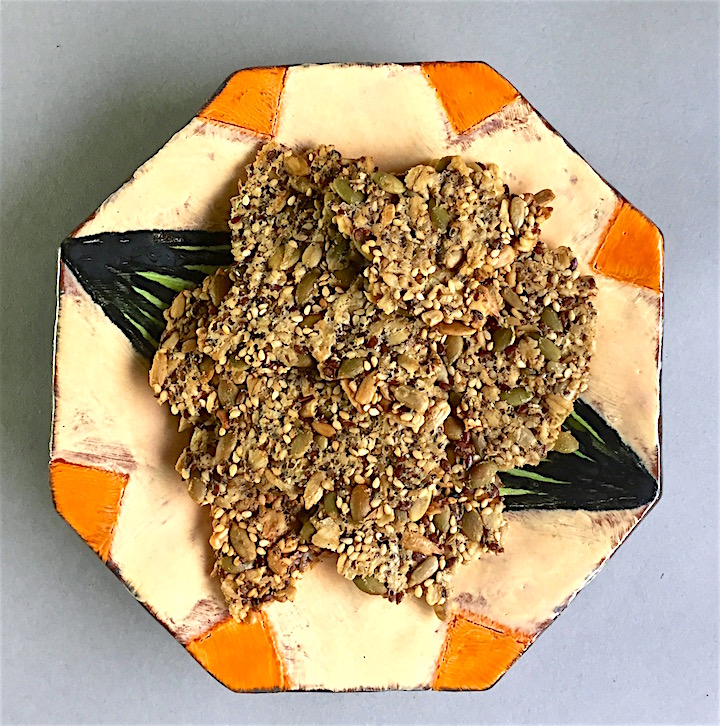 Crackers might not be the kind of food you would think of making yourself but some home made varieties are actually quite easy and delicious. Especially with so many people concerned about gluten and wheat, controlling the content of what you bake has become more of an issue. Many of the commercial gluten free crackers we've tried are either pretty tasteless (read cardboard like), completely made of white and refined flours or full of sugar or corn syrup.
Last year, Anna Jones, a wonderful British cook and protégé of Jamie Oliver, published an easy recipe called "Amazing Seeded Crackers" in A Modern Way to Cook that was widely reprinted. I liked it when I tried it – these are delicious, full of seeds, crunchy no-wheat crackers – but I liked even more a revised version in Bon Appetit that cut in half the amount the recipe made so it is more manageable and reduced the amount of fat. It also made the fennel seeds in the original optional and suggested substitutions of chopped rosemary and black pepper or dried tart cherries and orange zest. All sound good to me although I like my version with 1 teaspoon of fennel seeds so much that I haven't tried anything else. Other possible flavor additions could be herbs like thyme and oregano, curry or cumin, caraway seeds, nutritional yeast or cayenne. I substituted flax seeds for poppy (more nutritious and cheaper) and adjusted the amount of seeds a little.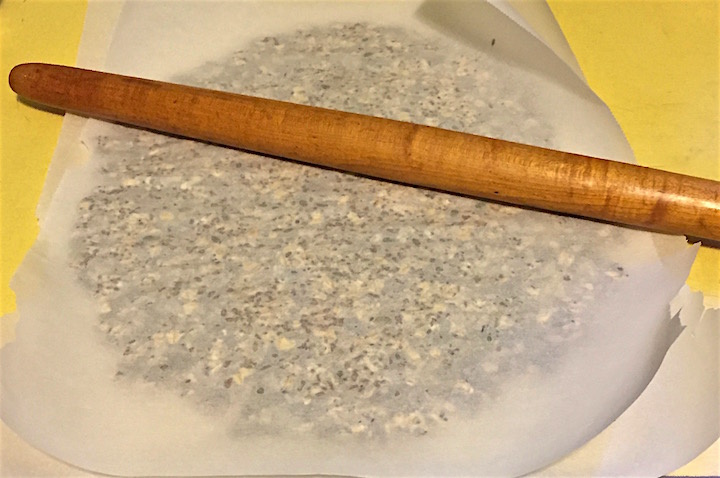 These crackers are vegan, delicious alone or with many kinds of spreads or cheese and highly addictive! They are not an ordinary texture like a crispbread or wheat thins but everyone I have served them to has loved them. Don't be intimidated. If you let the ingredients sit long enough to soak up all the liquid in the recipe, roll them out between sheets of parchment paper and don't let them burn, you really can't go wrong. It takes only a few minutes to mix up and a few more to roll out. When you finally break them up, each piece will be a different shape and you may be left with lots of little bits (those are the cook's bonus). The crackers will keep in a covered container for a week or two, if they stick around that long!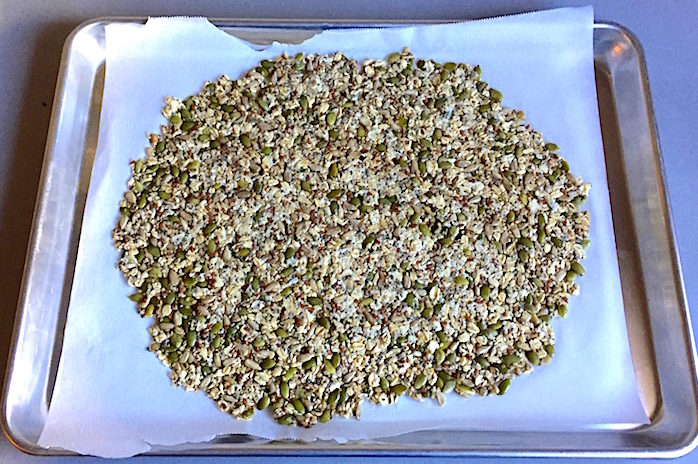 SEED & OAT CRACKERS (adapted from Anna Jones)
1 cup rolled oats (old fashioned not quick or instant)

3/4 cup raw pumpkin seeds

1/2 cup raw sunflower seeds

1/3 cup sesame seeds, natural or black

2 Tablespoons chia seeds

2 Tablespoons flax seeds

1 teaspoon fennel seeds

1 teaspoon kosher salt

2 Tablespoons vegetable oil (I have used sesame, avocado and coconut with success)

1 Tablespoon maple syrup

3/4 cup water
Preheat oven to 375 F.
Mix together all dry ingredients. Mix together oil, syrup and water and stir into dry ingredients until well mixed. Let sit for 15-20 minutes until all the liquid is absorbed.
After it has rested, place 1/2 the mixture on a piece of parchment paper about the size of your baking sheet. I used half sheet pans but cookie sheets will work fine. Cover the seed mixture (I hesitate to call it a dough) with a second sheet of parchment and roll until thin, about 1/8″ thick. It doesn't have to be a perfect rectangle but should be contained by the paper. Peel off the top piece of parchment and transfer the bottom piece with the rolled mixture to a baking sheet. Repeat with the rest of seed mixture.
Bake the two pans of crackers for about 15-20 minutes until they are starting to brown around the edges. Remove the pans from the oven and carefully (and quickly) flip the parchment and rolled mixture over and peel off parchment. (I grab the edge of the paper on the long side to flip the big cracker into the pan). Return pans to the oven and cook for 10-15 minutes longer until the top is turning golden brown but watch that they don't overcook. Remove the pans from the oven and let cool completely in the pans. When cool, break each sheet into 8-10 pieces and store in a covered container.