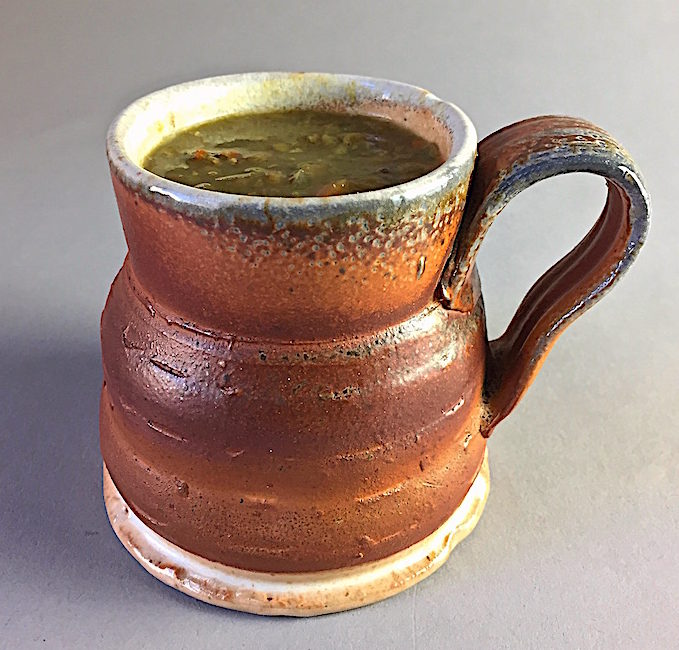 Making soup is a useful activity on a cold afternoon. It takes an hour or two and you have dinner prepared for a couple of nights during the upcoming week and sometimes a lunch, too. You can clean out your fridge at the same time because most soup recipes can handle the addition of leftover vegetables or starches, even proteins. (Mexican posole (my favorite and fallback feel good soup) uses up cooked chicken or turkey and any chicken soup can be enriched with finely cut collards or kale or cooked rice or barley – for example). Beans partner well with any leftover greens, grains, sausage or ham, even crumbled bacon, assuming there ever is any left over.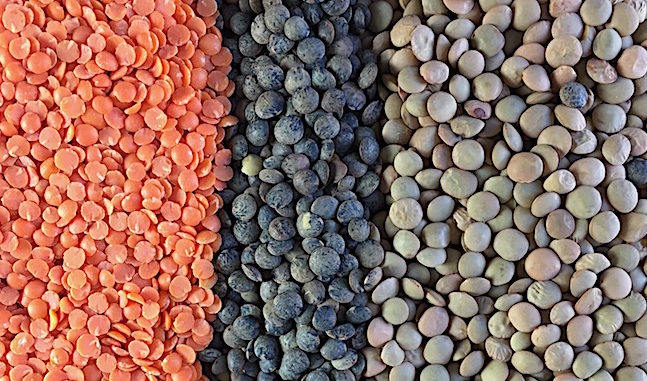 One of the simplest soups to make is lentil – red, green, yellow or brown – start to finish in an hour, although it tastes better if you leave it in the fridge overnight and then reheat. The flavor improves with time so you can make it a day or two before you want to serve it. Many cultures cook with lentils for good reasons. They are inexpensive, nutritious, easy to store and can be seasoned in different ways. Curry, tomatoes, Italian seasonings, dill, ginger or smoked paprika each change the flavor profile of the lentils. This pretty basic recipe has seemingly endless variations.Double it if you have more people to feed or if you want more leftovers to serve over rice with fresh cilantro and hot sauce for another meal. It isn't the most beautiful looking soup you will ever make but it is fragrant, filling, warming and satisfying. You can make it more appealing by adding greens or a sprinkle of parsley and, of course by serving it in a wonderful handmade mug or bowl!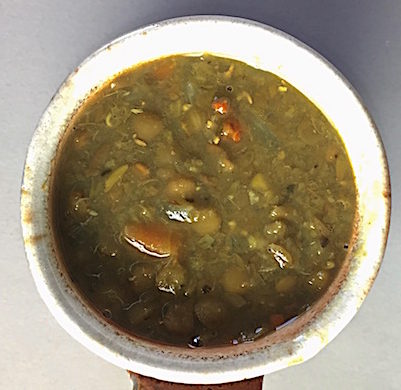 Very Basic Lentil Soup
1 – 2 Tbs. olive or avocado oil

1-2 large (Spanish) or 2-3 medium onions, coarsely diced

1-2 large garlic cloves, minced or grated (or not, if you don't like it)

3 stalks celery, halved lengthwise and then sliced

3 carrots, halved lengthwise and then sliced or diced

2 bay leaves

1-2 tsp cumin (optional but adds depth)

1-2 tsp each oregano and basil

1 tsp black pepper

2 tsp coarse salt

2 cups lentils (brown, green or red), washed and drained

8 cups water (or stock if you like your soup a little richer)

handful of chopped parsley for garnish (and to boost nutrition)
Heat oil in a stock pot until shimmering.
Add onions and turn heat to medium.
Add garlic and cook until onions turn translucent.
Add celery, carrots, bay leaves, herbs, salt and pepper and stir until well combined.
Stir in lentils, add water and turn up the heat.
When it comes to a boil, turn down the heat and gently simmer until lentils are cooked and soup has thickened, about 30 – 60 minutes depending on the kind of lentils you use. If the soup is too thick for your preference, thin it with water. Add more salt, pepper and cumin to taste – it will need it. Remove the bay leaves, sprinkle with parsley and consider adding one or more of the extras listed below.
Extras:
– I think this soup is greatly enhanced by grating in some fresh ginger and turmeric toward the end of cooking plus a 1/2 teaspoon of curry powder or, alternatively, stirring in a heaping tablespoon of pesto before serving.
– If you like tomato in your lentil soup, add a can of diced tomatoes during simmering.
– For a starch, add 1 or 2 cups of cooked rice or cubed leftover (or raw if you add with the lentils) potatoes or sweet potatoes.
A squeeze of lemon juice, a little lemon zest or a splash of vinegar at the end of cooking boosts flavor.

For spicy, add hot sauce, cayenne pepper or salsa.

To boost the protein content, add chopped or crumbled cooked sausage (pork, turkey, chicken or vegetarian all work), diced leftover ham or shredded smoked turkey.
– Instead of thinning with additional water at the end, you can use a cup of coconut milk.
– Freshly Grated Parmesan (added before serving) thickens and adds depth if your soup seems too bland or thin. For vegans, add some smoked paprika or nutritional yeast to boost flavor.
– I think this soup becomes even better with the addition of chopped kale, collards, swiss chard (all blanched or pre-cooked or added 10 minutes before soup finishes cooking), spinach or arugula (added when serving).
To use for a second meal, reheat at low until thickened (stir often so it doesn't burn) and serve over cooked rice or greens and top with chopped cilantro (or parsley if you don't like cilantro) and put out salsa, hot sauce, chopped red onion, grated cheese and diced avocado for people to add as they please. The leftovers make a great box lunch.