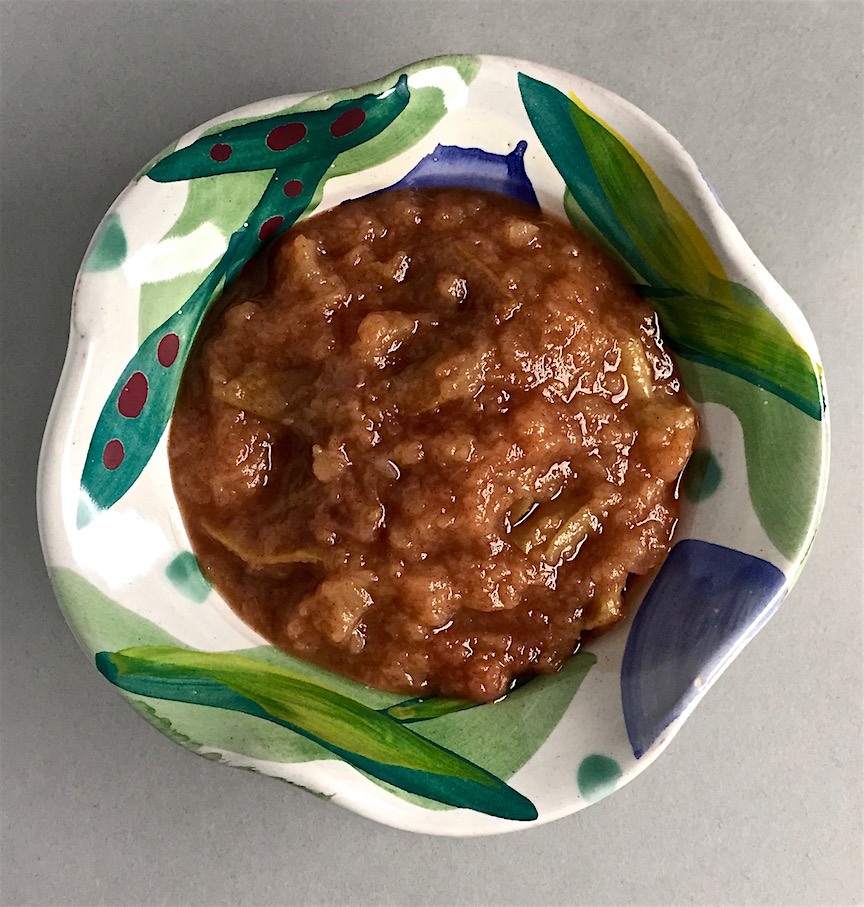 Fall is apple season and right now bins of fresh crisp red, green and yellow apples are ours to buy – the markets are full of them. When you have more than you can eat out of hand, cooking apples is a way to intensify and diversify their flavor. Making applesauce is the simplest means by which to transform apples to another level and doing so will generate wonderfully sweet aromas in your kitchen. Homemade applesauce tastes great served with pork, chicken, potato pancakes, with walnuts, pumpkin and chia seeds or on its own. It can be tailored to your own preferences for spice and consistency and is much more flavorful than the generally bland jarred varieties. You can substitute some applesauce for part of the butter in a muffin or cake recipe and it supplies a healthy amount of fiber, always a positive. I make it because I love to eat it and it is one of the easiest things I know how to cook.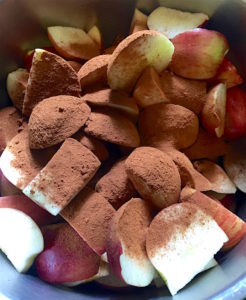 There is almost nothing to it except cutting up the apples. We like to eat applesauce made with the skins (which also adds lovely color) but if you don't, all you have to do is put it through a food mill after cooking or peel the apples before cutting (although the peels add color and flavor). I usually buy the 2 bags for $5 of sometimes bruised and sometimes perfect apples that one of the farmers at our market offers but any variety you like will work. Just cut up an assortment of apples (composting the cores), add 1/2 cup of water to get things cooking, toss in a cinnamon stick, sprinkle liberally with cinnamon, cover and simmer until mushy (about 20-30 minutes), stirring occasionally. Really – that is it!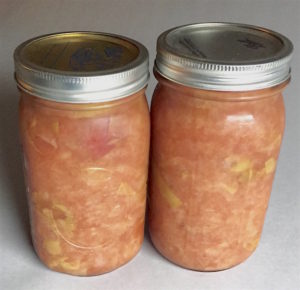 If you like ginger or cardamom or nutmeg, add some. If you like the consistency thinner, add more water or a little apple juice or cider. If you have a ripe pear, plum or a handful of cranberries or raspberries, toss them in to cook along with the apples. Apples and cinnamon together are sweet enough that I never add sugar of any kind. The finished applesauce keeps for weeks in a covered glass jar in the refrigerator or you can process it in a water bath like jam and keep it on a shelf until summer. If you make it now, I'll bet it will be gone long before we even get to winter!