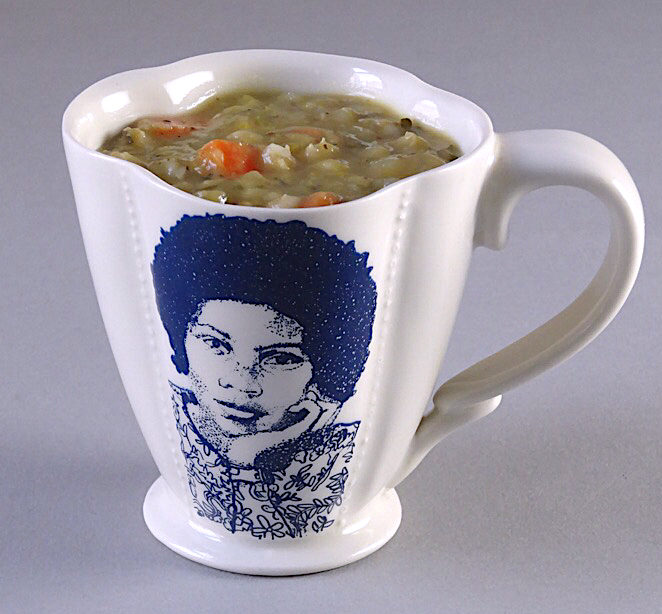 One of my favorite winter meals is a bowl of split pea soup. There are good reasons it is part of the food culture of so many northern countries with cold winters (think Sweden, Norway, Finland, Poland, Great Britain, Netherlands, Germany, Canada and the northeastern US). It is easy and inexpensive to make, warming, filling, nutritious and tastes even better after a day in the fridge. You probably have all or most of the ingredients already in your kitchen. The recipe I prefer is not the super smooth pea puree that you would get in both a diner and an upscale restaurant in this country. Rather, it is a chunky style, full of vegetables, herbs and barley. If you prefer pureed, you can easily accomplish it with longer cooking and a regular or an immersion blender.
This recipe originated in the wonderful Laurel's Kitchen cookbook (see the book section of the blog) and I have modified it to suit my tastes. You should do the same when you make it. My version is vegetarian but if you like yours with meat, add a ham hock with the peas or some diced leftover ham or crumbled bacon with the vegetables. If you like a richer soup, use vegetable or chicken broth instead of water. And take liberties with the vegetables and grains. If you like a lot of celery or carrot, add more. If you have leeks you want to use up, chop and substitute them for part of the onions. If you love garlic, add more and if you hate garlic, omit it. If you prefer less starch, leave out the barley and/or the potato and use a little less water. If you want the soup heartier, add some baby limas with the barley or throw in some leftover cooked or canned white beans toward the end of cooking. If you don't like Italian herbs, use dill. If you want your soup spicy, add some cayenne or a dash or two of hot sauce. And if you like a little more green, add a handful of frozen green peas and/or fresh arugula or baby spinach leaves to each bowl before you ladle in the soup.
Make sure your split peas aren't old or they will never soften properly. I used to buy big quantities of beans and grains so they would be on hand when I wanted them. But I have learned to buy them, especially split peas, more frequently and in smaller amounts from a source or market with a big turnover so they are fresher. You don't want to cook and cook and cook your soup and still find it crunchy.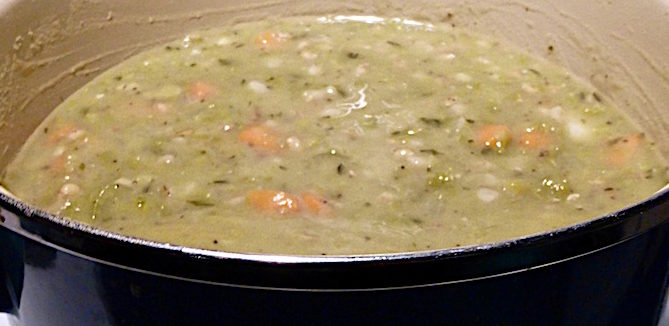 There are two ways to prepare the same ingredients. If you are in a hurry or avoiding fats, you can just put all the ingredients minus the oil and parsley, in a stockpot and cook for an hour, adding the parsley close to the end of cooking. But the soup gains flavor with a short sauté to start and then you add the bulk of vegetables in the second half of cooking. You can serve it chunky the first night and purée it later in the week to serve for a second meal.
A note about the folks who made the cups in which the split pea soup is pictured here – The Democratic Cup is a group of artists who are trying to generate "positive political discourse" through their collaborative creation and production of cups with political content. Check them out at thedemocraticcup.com where you can order your own cup!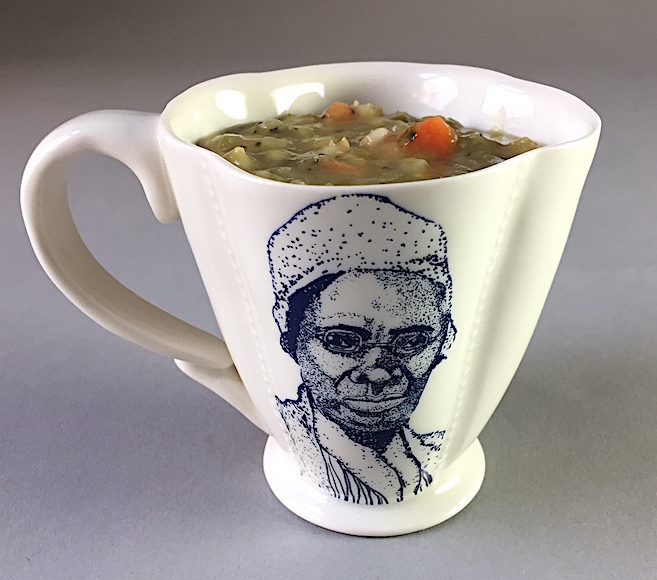 Split Pea Soup with Barley and Vegetables
1 TBs olive oil
2 cups chopped onion (1 large)
1 TBs minced garlic (about 2 cloves, depending on size)
1 generous tsp celery seed
Heat oil in a stock pot and add onions, garlic and celery seed. Cook until onions begin to turn translucent.
Add:
2 level cups dried green split peas
1/2 cup uncooked barley (I like hulled but pearled is okay)
2 bay leaves
14 cups water
Bring to a boil and then reduce heat and simmer 1 hour, stirring occasionally.
Then add:
1 heaping cup (or more) chopped celery (about 2 big stalks)
1 heaping cup (or more) diced or sliced carrots (2-3 carrots)
1 cup potato, diced
1/2 cup chopped parsley (this can also be added close to the end of cooking)
2 tsps salt
1/2-1 tsp. black pepper
1 tsp dried basil
1 tsp dried thyme
1/2 tsp smoked paprika (optional but flavorful)
Gently simmer 45 minutes longer, stirring often to avoid scorching, adding water if necessary. Taste and adjust seasonings as needed. As it cools, the soup should thicken. If you want an even heartier dish, add some croutons (you can make these easily by sautéing bread or cornbread cubes in butter or oil) when serving, but I think the barley hefts it up sufficiently. And, like many soups, this one tastes better if made the day before and reheated slowly. Use low head so it doesn't scorch, and stir often. I think it is particularly good served with something crunchy, like toast or crackers.
(To halve the recipe, simply cut the amount of split peas to 1 cup, barley to 1/4 cup, water to 8 cups and salt to 1 tsp. Adjust amounts of vegetables or not).
Serves 6-10, depending on serving size (big bowl or mug), and freezes well.