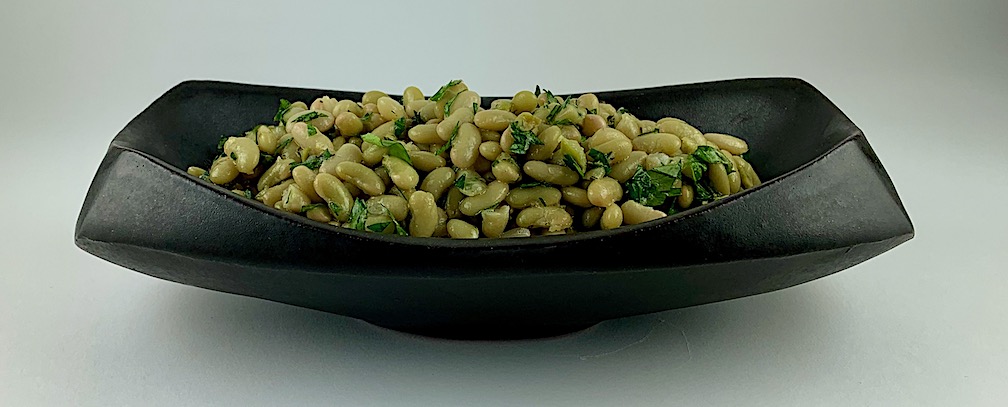 When it is really hot out, as it has been and is likely to be for some weeks, I try to plan ahead and stock my refrigerator with cold bean salads. Why beans? Not only are they nutritious, inexpensive, full of fiber and shelf stable but they take on the flavor of whatever vinaigrette you use on them. My new favorite beans, flageolet, are a beautiful pale green and, although best known as a French side dish to lamb, they make a delicious bean salad. When soaked and simmered, flageolets hold their shape, probably the same reason they work so well in cassoulet-type dishes. I love their nearly celadon color before cooking, the creamy texture of the cooked beans and their ability to take on the flavor of almost any herb. They are sturdy enough to soak in a vinaigrette for a couple of days, after which they are most flavorful. And when you tire of the beans, which I never do, you can simply purée them, with their dressing, to make a dip.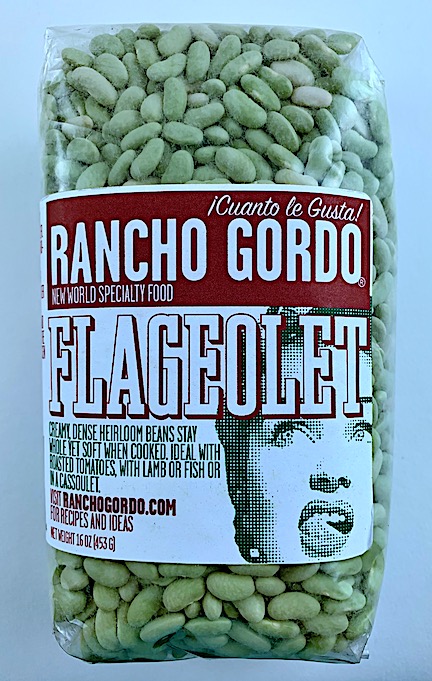 To make my first flageolet salad, I followed the recipe from Rancho Gordo (one of the best things about ordering from them, besides how really fresh the beans are, is that they offer recipes for each ingredient they sell)) for a lemon vinaigrette with fresh thyme and garlic and ramped it up, using more garlic and juice plus the zest, adding chopped rosemary and fresh basil. If you are a lover of tarragon, you could use it for the herb, but not me, never. I added green olives for salinity, and to keep to the color scheme, but black olives would work fine.  If you can't find flageolet beans, any white bean, like navy, great northern or even cannellini, could substitute, even if they won't be as creamy. When we ate the beans the second day, I tossed in some chopped roasted red pepper to add volume and sweetness. I served it with a grain and balsamic tomatoes and cucumbers but just a green salad would have been sufficient.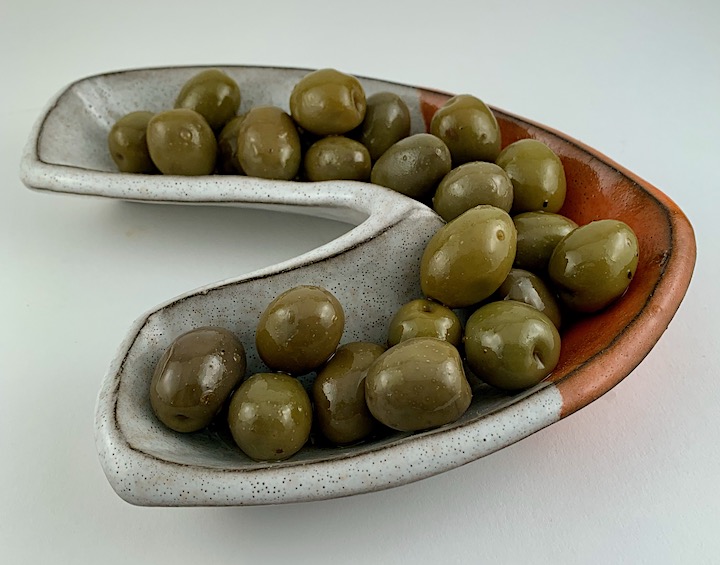 Like most bean dishes, this one is adaptable to your preferences and the ingredients you have available. If you see a cooler day in the forecast, soak the beans the night before and cook the beans in the morning, before it gets too hot. Then you can make the rest of the salad the next day to keep in the fridge for a couple of days for when it is too hot to cook. We had this salad on a day in the nineties and it was cool, filling and flavorful, a winning trifecta in my home. If you just can't bear turning on your stove at all, open a couple of cans of white beans for this recipe and you'll have a main course to chill in your fridge in no time.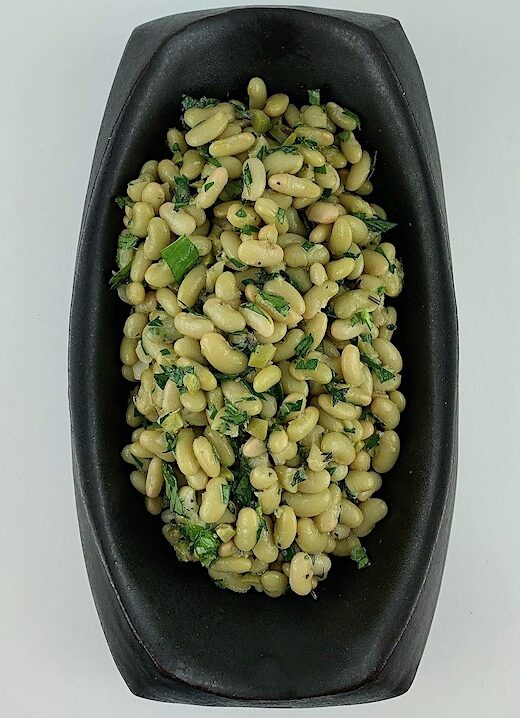 FLAGEOLET SALAD
Whisk together:
2 cloves garlic, grated or pressed

Zest of one lemon, about 1TBs

1/4 cup fresh lemon juice

2-3 TBs bean cooking liquid, optional

1/4 cup olive oil

1TBs rice vinegar (ume plum or sherry vinegar would work, too)

1TBs fresh thyme leaves (stripped off stems) or 1 tsp dried

1/2 tsp chopped rosemary leaves

1 tsp kosher salt

1 tsp ground black pepper
Place in a large bowl:
6 cups cooked flageolet beans (about 1 lb dry)

1/4 cup green olives, chopped

1/2 cup chopped flat leaf parsley

Handful of fresh basil leaves, torn or cut in ribbons
Pour vinaigrette over bean mixture and gently toss. Serve or refrigerator until ready to use. Serves 6.
Optional add-ins:
Roasted red pepper, chopped

Fresh bell or Jalapeno pepper, diced

Fresh radish, finely diced

Cherry tomatoes, halved or quartered

Grated Parmesan

Celery, diced or very thinly sliced

Capers