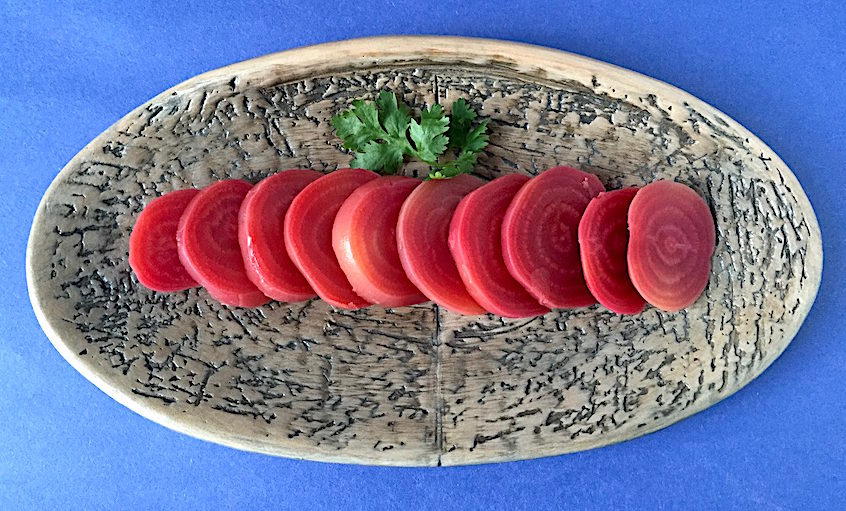 Although I love certain things about summer in New York – looser schedules and clothing, the way our neighborhood empties out and how weekends are much quieter, even peaceful at times – I can't stand the heat and humidity here and aging only seems to make me less tolerant. (I really should live somewhere near the Arctic Circle). There are, however, a few things about city summers I think of happily and gratefully – more frequent and welcome visits from out-of-towners, outdoor music all over the city, a drink on a rooftop terrace or on a pier by the river, a drive to Maine to visit friends or a weekend with Mom in Connecticut, either of which might include a swim or blueberry picking. Beyond these highlights, one steady and really bright spot of the week – in my constant search for a cool, shady spot – is our local Friday farmers' market.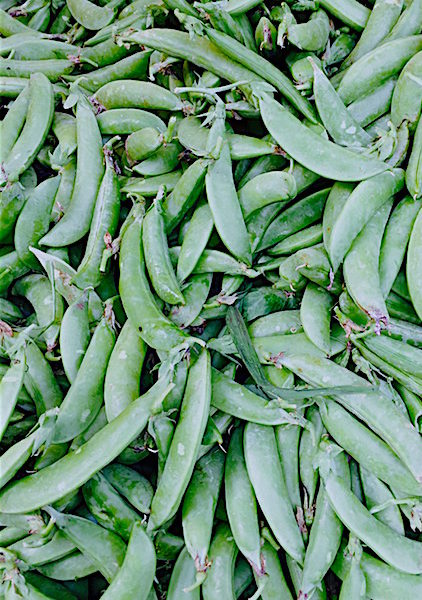 Just walking through the 97th Street Greenmarket early on a July morning is enough to make me forget I am hot. Not only are the overflowing farm stands gorgeous in their reds, yellows, and all shades of green but they are incredibly fragrant in a good way. I can't often say that about any part of New York, which is frequently fragrant but certainly not in any way we would choose! This market is perfumed with ripe peaches and sweet basil and makes me heady just breathing normally.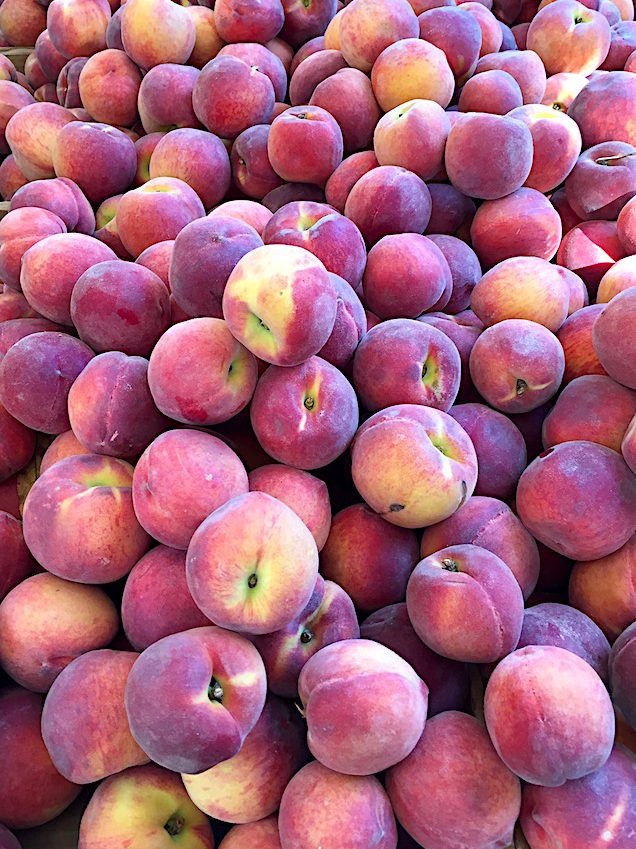 Sometimes it's all so tantalizing that I can't restrain myself and I get home with more than I can fit in my refrigerator. Yellow, green and purple beans, yellow, red, green, purple and even white tomatoes, obscenely large heads of lettuce and broccoli, the first tiny kerneled white corn, mild garlic scapes and freshly picked garlic bulbs, not yet dried, all fill my bags. I am no longer embarrassed to bring what I used to consider an "old lady" shopping cart, as it means I can get more home without hurting my back! And I feel virtuous because I can drop off textile recycling as well as all of our food scraps into bins to be composted, a simple act that has reduced our trash by more than half.
Besides vegetables, our market also provides me with cage free eggs (from chickens who actually run around and scratch and eat bugs), pork chops, slab bacon and pork roasts from a chef turned farmer who now farms and raises pigs upstate – Ray Bradley. Ray is also my source for tender fennel, all kinds of herbs, squashes, Italian pole beans, haricots vert, juicy, extremely flavorful heirloom tomatoes, yellow potatoes, onions, garlic, paprika, pickles, and occasional flowers. You will read about him in a future post.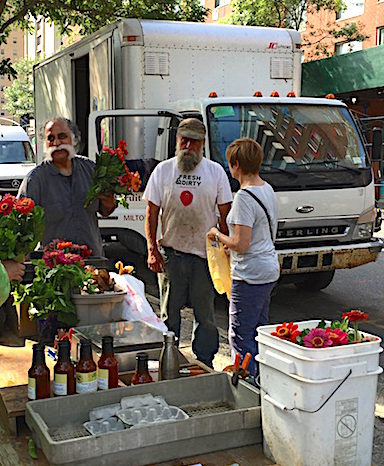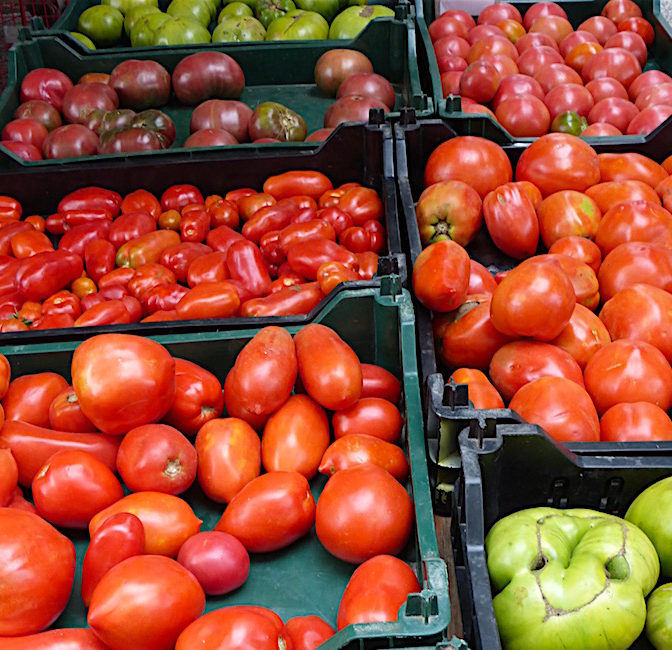 New York State grass fed beef is hawked by jaunty, usually bearded and mustachioed young guys, while spicy turkey sausage, necks and backs for soup, and my Thanksgiving bird are supplied by a family-run, New Jersey-based turkey farm. We get milk, yogurt and unsalted butter from grass fed cows from Pam, who lives nearby but sells for Ronnybrook every week very dependably no matter the weather. I buy every variety of local berry one could imagine as well as musk and watermelons from Jorge, transplanted from Colombia to Pennsylvania and who, thankfully, eschews pesticides. He grows all kinds of leafy greens, sweet cucumbers, snow peas, hot peppers and purslane (which I had previously thought was just a weed but adds a lemony flavor to a salad), eggs, pumpkins, corn, and yellow, red, and purple potatoes that will keep, like his winter squashes, for months.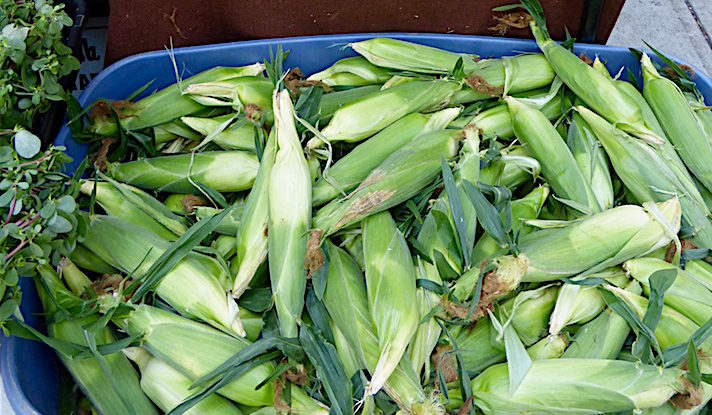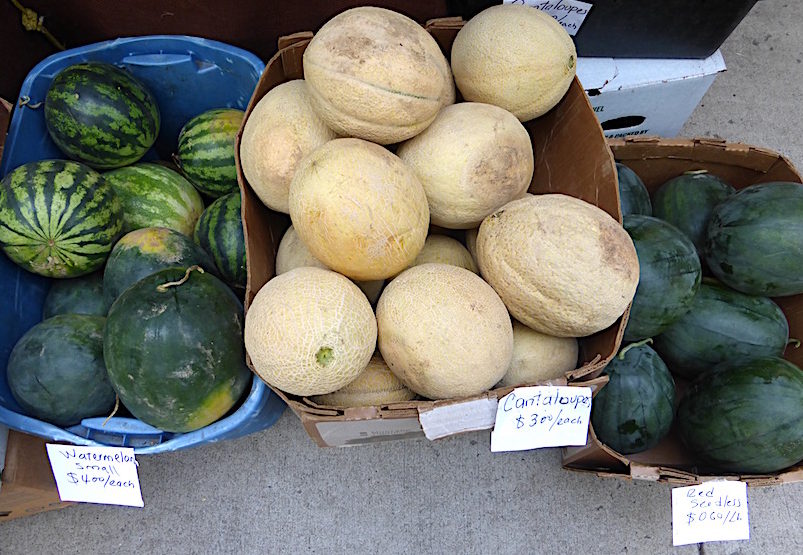 When this local Greenmarket began years ago, before every neighborhood food store had fresh sourdough and ciabatta, we could buy great bread from the Tribeca Oven stall manned by Alan Cohen, whose son Keith trained at Tribeca and went on to buy Orwasher's, an old time bakery still putting out a delicious seeded rye and Russian pumpernickel with a new west side store opening soon on Amsterdam Avenue. Now we can buy exotic loaves (baked by immigrant women who have been trained uptown to make the breads of their home countries) at the Hot Bread Kitchen stand and toothsome and tasty whole grain sourdoughs from She Wolf Bakery. We get our choice of every type of apple and pear I can imagine, along with cherries, berries, plums and other stone fruit, even into the winter months from Locust Grove Farm, now run by brothers I have watched grow from teenagers at the nascent Union Square market into middle age to take over their farm and broaden its market sales. Jeff Bialas, who grew up in a traditional farming family but started the J & A Farms in 2010 to farm organically, grows many kinds of greens, like tatsoi, bok choy, mustard and dandelion greens, arugula, purslane and sorrel, along with the more widely available but flavorful beans, lettuces, turnips, fennel and many types of herbs.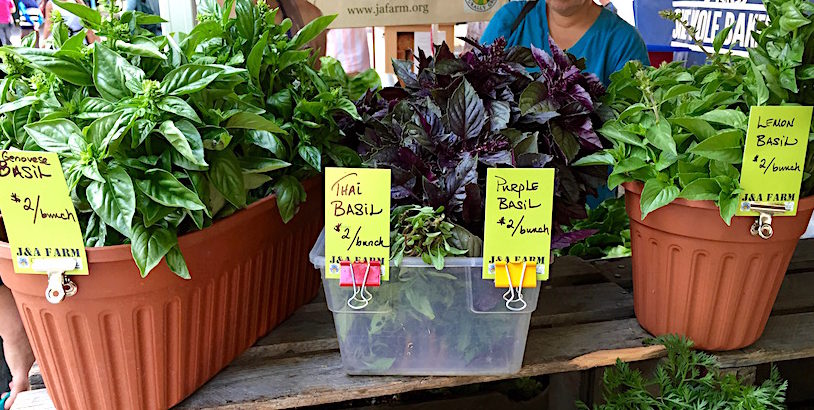 Buying directly from markets reminds us of all the work involved in producing and delivering our food. When I see groups of pre-school and kindergarten kids talking with the farmers and sellers, I feel happy that they are learning that their vegetables don't just grow on supermarket shelves. Plus this market takes food stamp vouchers so it is accessible to a wider range of residents. Most of the farmers or sellers are set up before 8, when the market officially opens, so it is possible to shop and still get somewhere by 9. I run into friends and acquaintances from the neighborhood, parents and teachers from my son's various schools and sports teams, other artists who live nearby, even people who live in nearby buildings who I don't know well but chat with at the market, finding a connection amidst the fruits and vegetables. With all this gorgeous, fragrant and healthy produce and community, it is easy to forget the heat and appreciate the abundant bounty of summer.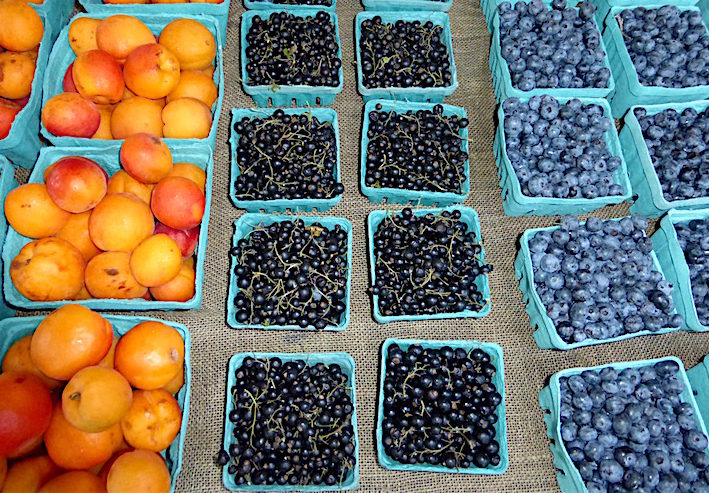 To find a Greenmarket in New York near you, check their website at grownyc.org/Greenmarket.
With the explosion of farm-to-table eating, farmers' markets have sprung up across the country. Surely, wherever you live, there is bound to be one nearby. Tell us about your favorite!
(Happy Birthday, Frida Kahlo!)