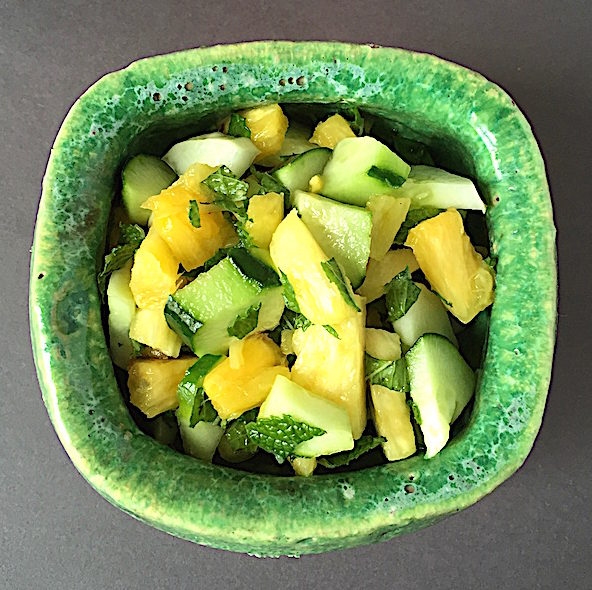 Now that it is summer and it's hot, the last thing you want to do is prepare a cooked meal that will heat up your kitchen. Over the next few weeks, while temperatures are high, I will post some suggestions for cold, easy to assemble recipes that don't require turning on your oven or stove at all. The first is a simple, refreshing salad. It has only a handful of ingredients but is surprisingly tasty and cooling, just what you want on a hot summer day. It travels well for lunch or a picnic and is easily multiplied for a large group.
Cucumber and Pineapple Salad
1/2 pineapple, peeled, cored and diced, with any juice that collects when you cut it

4 Kirby cucumbers, sliced (1 hothouse or 2 regular cukes would work)

Large handful of fresh mint leaves, chopped

1/4 cup of fresh lime juice

Pinch salt
Toss all ingredients together and refrigerate until cold. If leaving in the refrigerator overnight, don't add the mint until about an hour before plating, if you don't want it wilted. Serves 4 people.
If you want to add some protein, chopped leftover chicken, ham, roast pork, fried tofu, Marcona almonds or cooked shrimp would make a complete dinner salad, nicely served in lettuce leaves or with tortilla chips or crackers. Sprinkle with a couple of chopped scallion or some diced red onion and a sprinkle of cayenne to zest it all up.