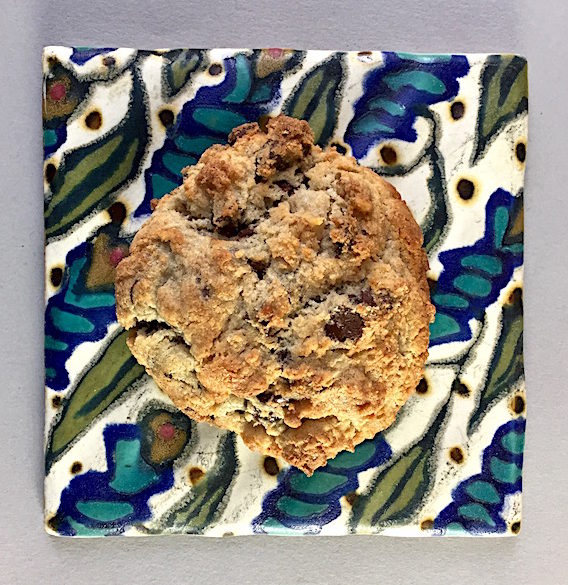 There is often a line to get into the Levain Bakery on west 74th Street (near Amsterdam Avenue). And not just a couple of people – a long line – one that oddly rivals the line outside our local soup kitchen! It is so long, in fact, that they have a "cookie line-cam" on their website so you can see how long it is at any moment. Although they sell, among other items, a good sourdough boule, tasty walnut raisin loaves, rustic ciabatta and a decent cup of coffee, Levain is known for their fist sized cookies. They sell 4 varieties – chocolate walnut chip, oatmeal raisin, dark chocolate chocolate chip and dark chocolate peanut butter chip. So when I passed by and there was no line, I stopped in to see if their famous $4 cookie could be worth it.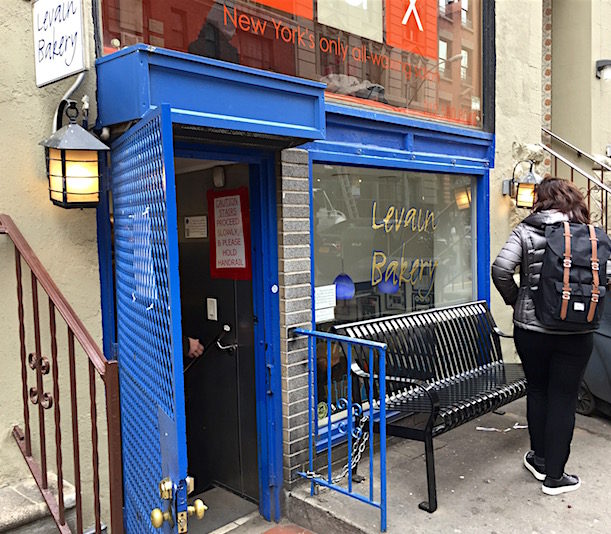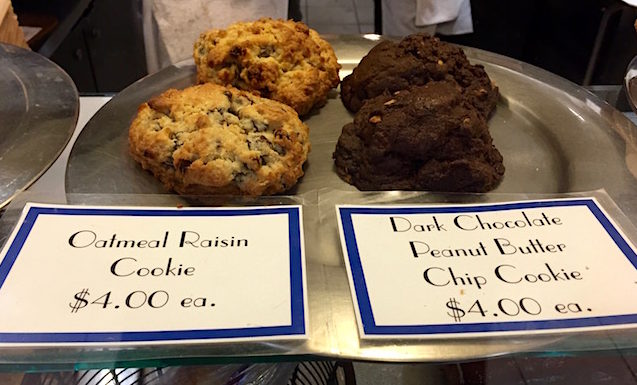 The chocolate walnut chip, which won a throw down with Bobby Flay, by the way, was developed to satisfy the appetites of the 2 female owners of the bakery when they were training for an Ironman competition. This is a big, dense mountain of a cookie but slightly wet inside and very sweet. If you like eating raw cookie dough, you will probably like this cookie. My husband, who prefers dark chocolate and drinks his coffee black, stopped eating after 2 bites, declaring it to be cloyingly sweet. I agreed but somehow managed to finish mine. I thought it was dense and flavorful but too sweet even for my taste. I don't buy cookies much anymore or even eat much sugar so I may be out of practice. And I pay more than $4 for plenty of things so, although it seems like a lot, it is a huge cookie and price is relative. If you have a very sweet tooth, this is the cookie for you, except it would be best shared. According to myfitnesspal.com, each cookie is a whopping 563 calories. And, of course, taste is personal – there are gazillions of people who love this cookie so much they are willing to wait on line for it or pay to have it shipped.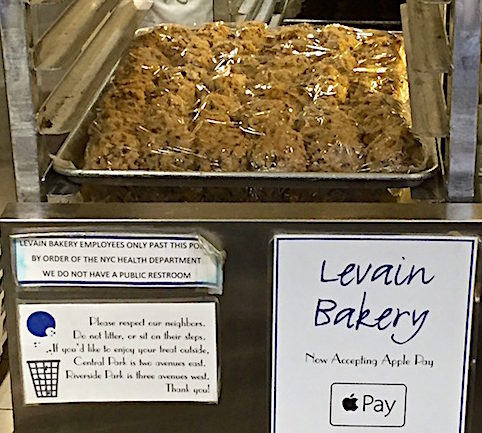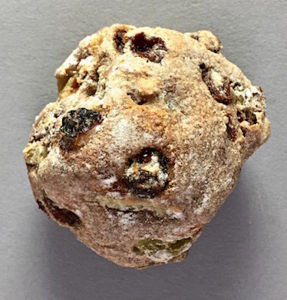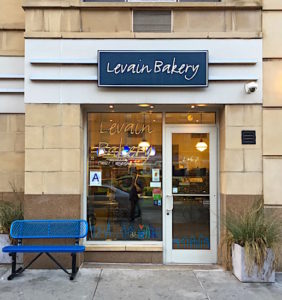 I wouldn't necessarily buy the chocolate chip walnut again, or the dark chocolate chip, which although darker chocolate tasting, is still super sweet. But I will patronize the bakery both because they bake good bread, are a local business and they donate whatever doesn't sell each day to City Harvest to feed the hungry, a mission we can all appreciate and support. I might, however, choose to shop at their location on Frederick Douglas Boulevard and 116th Street, as there was no line whatsoever when we walked by last weekend. Levain isn't revealing its secret method anytime soon but if you love their cookie and search online, there are plenty of copycat recipes out there. And those whole wheat walnut raisin rolls toasted – yum!