I am not going to turn on the oven or the stove – just not going to do it. With another week of over 90F and humid, with the heat index over 100, I am not going to add to the temperature in the kitchen. But we still need to eat, so I have to prepare meals without straining the groaning AC any more than I am already. And in this kind of weather, we all prefer a lighter meal.
In my mind, summer dinners should be fun, cooling and a bit hodgepodge. If you don't have access to a grill, salads are a way to go. A few weeks ago, I shared the cucumber and pineapple salad with lime and mint that is fresh and zingy. And the tomato salads and variations (the caprese with mozzarella, the tomato and cuke with basil, the watermelon with feta, mint and lime) are another solution. Cold soup is one more direction, essentially being a liquid salad. Gazpacho, cold cucumber soup with yogurt or buttermilk or a fruit soup, like blueberry or melon are all light, cooling lunches or suppers. Or simply put out a cheese or charcuterie board with some fig jam or pepper jelly, nuts, cold grapes or sliced fruit and a green salad and be done.
One more idea, and one you probably already have in your fridge, is hummus. Boring, you are thinking? Doesn't have to be. And doesn't have to be served with pita or chips – carrots, celery, green and red pepper, cucumber, jicama and radishes all make excellent dipping vehicles and, when well arranged, make a lovely mezze platter. You can even start with store bought hummus and doctor it up, although homemade takes so very little time and effort it is really worth it – plus you know what is in it! Blend in avocado, pieces of black or green olives, jalapeños, roasted peppers, cooked beets or carrots, toasted walnuts, chopped chives, parsley or dill or, my favorite, smoked paprika. Pretty much anything goes. Lighten it all up by mixing in some plain yogurt or enrich it by drizzling with plain or chili infused olive oil. If you don't eat legumes, make the recipe without the chickpeas only add a little less water and use it as a tahini dip.
The best hummus I ever ate was at Zahav, Michael Solomonov's restaurant in Philadelphia. It was creamy, lemony and altogether full of sesame flavor. The recipe I have provided below is based on his, with a few modifications. If it were a cold weather month, I would cook my own chickpeas but with this heat, I am happy to use canned. Solomonov recommends Soom Tahini (sold on Amazon) but I've used a local brand (Sahadi from Brooklyn), Trader Joe's (which happens to be organic) and several health food brands (all in glass, not a tin) with good results. Err on the side of more garlic, salt and lemon rather than too little and blend it all longer than you would think for super creaminess.
Plate your hummus in a beautiful shallow bowl (easier for dipping), drizzle with olive oil, sprinkle with paprika or sesame seeds and surround it generously with all kinds of colorful vegetables on a large platter or wooden board. To make a mezze platter, serve it with or without some stuffed grape leaves (as easy as opening a can), small bowls of olives, cherry tomatoes, those yummy peppadew or cherry peppers, sliced melon, tabbouleh or a parsley salad and an accompanying bread – focaccia, ciabatta, baguette or pita, or your favorite gluten-free crackers (try the Mary's pretzel-like sticks with the hummus – very crunchy) – add a cold beer or glass of wine and dinner is served.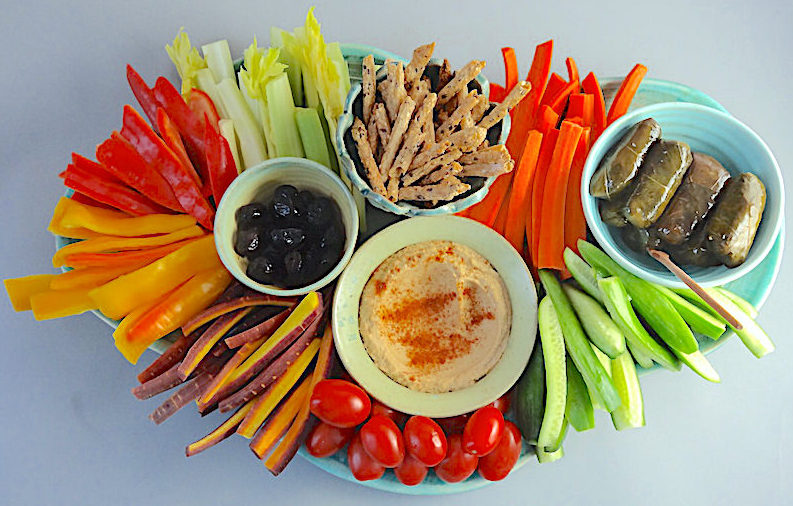 Homemade Hummus
1 can (15.5 oz.) organic chickpeas, rinsed and drained
1/2 cup tahini
2-3 garlic cloves
1/3 cup fresh lemon juice
1 heaping teaspoon kosher salt
1/2 tsp ground cumin
1/2 cup water or more, as needed
Combine garlic, salt and cumin and pulse until minced well.
Add lemon juice and pulse, then add tahini and pulse until it seizes up.
Add water, more if needed, and blend until smooth.
Add chickpeas and pulse until completely smooth.
Taste for seasoning and add more salt if you think it needs it – probably will.
Hummus keeps well for days in the refrigerator.
Optional add-ins:
1 tsp smoked paprika
1/4 cup toasted sesame seeds (reserve 1 tsp for sprinkling on top)
1-2 roasted red peppers (I use jarred)
2 green jalapeños and a big handful of cilantro with juice of 1/2 lime
1 roasted beet
1-2 TBs olive oil
1/2-1 cup plain yogurt
1/2-1 peeled and pitted avocado
1/2 cup black or green pitted olives
A handful of parsley and chives
1/2 cup sautéed onions or several cloves of roasted garlic
If you take out half of the hummus before putting in an add-in, you can make 2 flavors out of one recipe.
Whatever else you can imagine – hummus is a good vehicle for adding your favorite ingredient