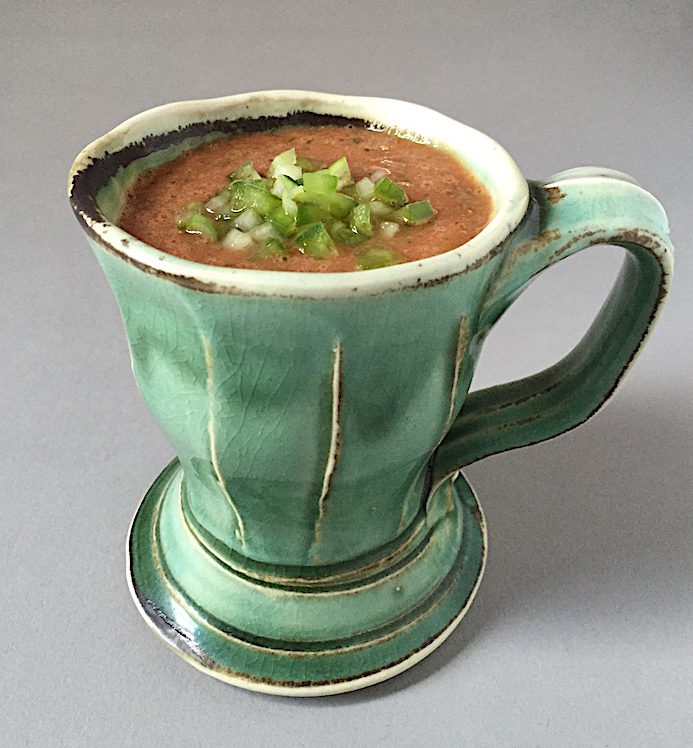 August is upon us and that means my kitchen counter is laden with a rainbow of tomatoes, waiting to be blended into gazpacho. Tomatoes and cucumbers are finally local and plentiful – so plentiful, in fact, that sometimes a salsa, sauce or a soup is the fastest way to use up a load of them. When it is too hot to cook, however, gazpacho is not only a good solution for too many quickly ripening tomatoes but a light and cool meal, prepared without heating your kitchen. I'll save the sauce and hot soup making for September.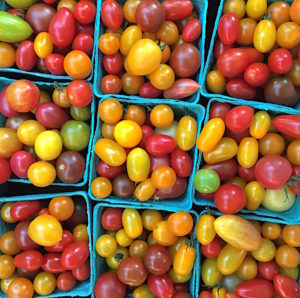 Gazpacho is essentially a liquid salad and the variations are many. The basics are tomato, cucumber, onion and garlic but some people add bread, others zucchini, and still others lots of olive oil. Traditional Spanish gazpacho includes both bread and quite a bit of oil and is almost orange, not the vibrant tomato juice red we see in this country most of the time. Even people who don't like tomatoes often like gazpacho, perhaps because all the other flavors change the taste and texture.
When making gazpacho, I prefer no bread and plenty of vegetables. The version I make adds green pepper and watermelon, some oil, vinegar and a green herb, either cilantro or basil or both. If you don't like or don't have one ingredient, use another. As long as you have the basics, the optional items are quite flexible. Sometimes I toss in leftover salsa or incorporate the remainder of a caprese salad, minus any cheese, since the components are essentially the same. My family doesn't like zucchini but a little in a gazpacho gets by unnoticed – shh! If you like your gazpacho with more liquid, add some tomato or vegetable juice. If you like it spicier, add hot sauce, jalapeño or cayenne. If you like it chunkier, blend it less or add some finely chopped hard boiled egg or vegetables  before serving. If you like it richer, add a dollop of guacamole, creme fraiche or drizzle it with an herbal olive oil. You can vary the color by the variety of tomatoes you use. When traveling last week, I had a strikingly beautiful gazpacho made with only yellow and orange tomatoes and topped with fresh basil – very refreshing and visually appealing!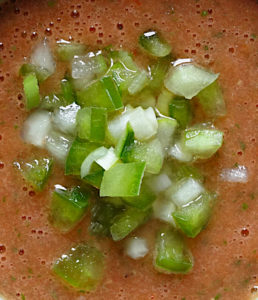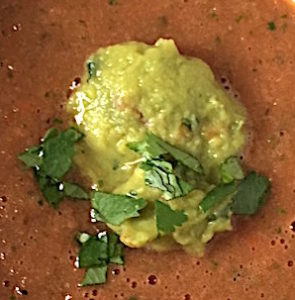 Apart from the traditional tomato gazpacho, there are scores of fruity versions using melons, peaches and berries, often using mint as the herbal component. I saw a mouth-watering version recently that would also make the base of a delicious cocktail. I am more of a gazpacho traditionalist, preferring mine with tomatoes and cucumbers, especially when the tomato season is as bountiful as it is this year.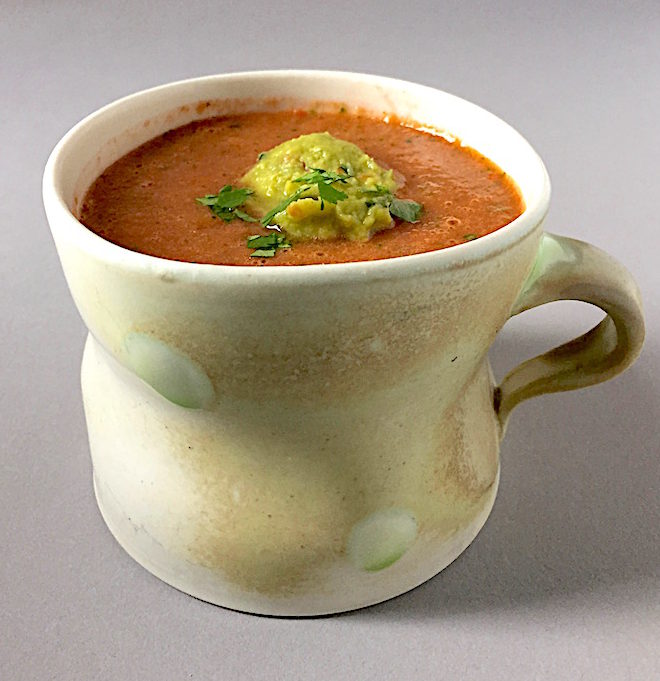 SUMMER GAZPACHO
Blend together:
2 large ripe tomatoes, cut up – about 2 heaping cups

1-1 1/2 cup cut up watermelon
Add and blend well:
1/2 large green pepper, cut up – about 1 cup

1/2 large red pepper (optional)

1/2 large cucumber, cut up – about 1 cup (skin on or off as you please – if seeds are large, remove them)

1/2 medium onion, cut up – about 1 cup

2 cloves garlic, peeled and halved (if you don't like garlic, omit it and use some scallions or shallots)

5-6 fresh basil leaves

Generous handful of fresh cilantro

2 TBs vinegar – red wine or balsamic or a blend

1-2 TBs olive oil

2 large pinches of sea salt

1 pinch black pepper
If you want your gazpacho spicy, add some chopped jalapeño.
Chill well and taste before serving to see if seasoning needs adjusting.
Serve in cups, glasses or mugs so it is easy to drink.
Garnish with chopped cucumber, green and/or red pepper and scallions or a dollop of guacamole and a sprig of cilantro.
Serves 4. Keep in a glass jar in the refrigerator up to 2 days.