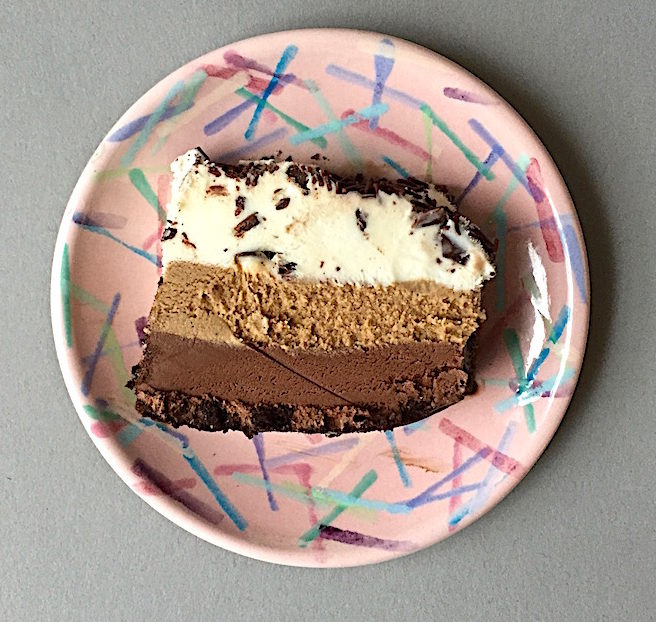 Our son was never much of a cake eater growing up. Now, of course, he eats it occasionally but for a long time, his favorite sweets were ice cream and cookies. Thus, when birthdays rolled around, I had to be creative. For years I made elaborate iced cookies or stacks of colorful Rice Krispie treats. When he was in high school, I started making layered ice cream "cakes" and they have become his birthday desert of choice. I don't make a lot of sugary deserts anymore but birthdays still seem to demand something sweet. I could be satisfied with a big bowl of berries but this wasn't for me.
Ice cream cake is a bit of a misnomer. This desert is essential layers of different flavors of ice cream on top of a crust of crumbled cookies with some sprinkles or chocolate chips on top. It's almost too easy to even call it a recipe. You could use any kind of cookie (I imagine ginger would be delicious) and if you don't want to crumble them, simply lay them in the bottom of the cake pan – the ice cream will soften them. The only essential item is a spring form pan. I bought my big rectangular spring form at a restaurant supply store but got the smaller square one at Home Goods for almost nothing. You could make this "cake" in a regular pan but it would be hard to get out. You would have to serve it more like pie, which might not be so bad!
Ice Cream "Cake"
Place one container of ice cream in the refrigerator for a couple of hours to soften. The flavors of ice cream are up to you – chocolate, coffee and mint chocolate chip is the favorite combo in our home but fruit flavors layered with vanilla could be good or go wild and experiment – if you would like them in a bowl together, you will like them in cake form. The amounts you use depend on the size of your pan. For an 8″ round pan, I would probably use pints. For half sheet size, go for half gallons. In between, I'd use quarts.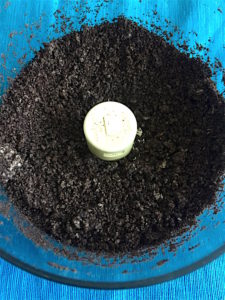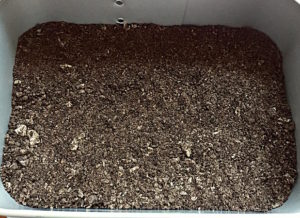 Make cookie crumbs by pulsing your chosen cookie in a food processor. I used half a box of Oreos (actually the Trader Joe version) but almost any cookie should work. (In past years, I've used a bag of Tate's chocolate chip cookies with good results). Lay the crumbs in an even layer in the bottom of a springform pan. If you like, sprinkle with chocolate chips or pieces. When the ice cream is soft, pour it on the crumbs and spread as evenly as you can with a spatula without disturbing the crumbs. Place the whole pan in the freezer and put another quart of ice cream in the fridge.
When the ice cream you spread in the pan is firm (about 2 hours), take the spring form out of the freezer and spread another layer of softened ice cream over the first. Continue in this way until there are 3 or 4 layers or your pan is full. You can add chocolate chips, crushed peppermints, nuts or whatever you prefer in between layers, ending with a layer of ice cream. Top with sprinkles, chocolate chips, melted chocolate or more crumbled cookies.. If you don't want more chocolate or sugar, you could top with berries when unmolded. Keep in the freezer until ready to use.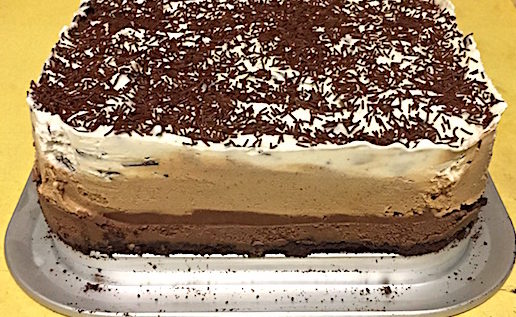 Just before serving, take the cake out of the freezer, dip a knife in hot water and run it around the inside of the pan before releasing the springform. Dip the knife in hot water to make cutting slices easier. If you want to gild the lily, you can dollop some whipped cream on each slice and top with chopped nuts. Whichever way you choose, the cake will disappear rapidly!