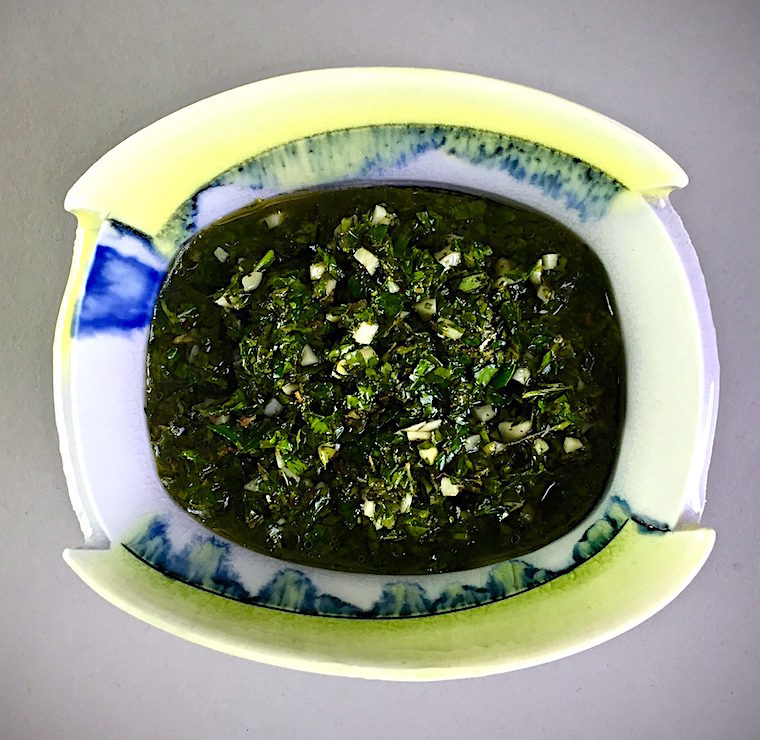 When it's too hot to do much cooking, Chimichurri, the deep green Argentinean sauce will brighten even the most boring rotisserie chicken. Typically served as an accompaniment to grilled steaks, Chimichurri can enliven not only beef and chicken but also fish, pork, eggs and vegetables. It is quick and easy to make and so delicious that in our home we consider it more of a side dish than a condiment. My husband, usually quite moderate in his eating habits, has been known to empty entire jars in restaurants spoonful by spoonful! I secretly fear it was this consumption that caused the demise of our beloved local Argentinean cafe some years ago.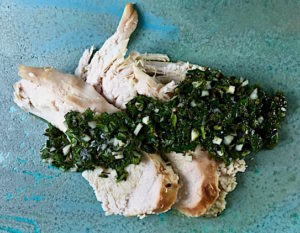 Chimichurri recipes vary by type and amount of greens but the constant ingredients in all of them are parsley, oregano, garlic, olive oil and salt. Some call for cilantro while others prefer mint. Most list red wine or white vinegar but you might see lemon or lime juice or zest in others. I've read recipes that call for red onion, crushed red pepper, regular or smoked paprika, roasted garlic, scallions or onion powder. They are probably all delicious.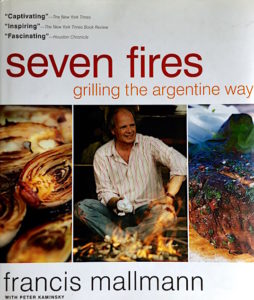 The simple recipe I follow most often is based on the one in Seven Fires: Grilling the Argentine Way by the grill master Francis Mallmann. He doesn't use cilantro but I add some because we love it. Use a flavorful green olive oil and you will notice the difference. If you like it spicy, add 1-2 teaspoons of red chili flakes. Mallmann's recipe calls for an entire head of garlic so if you find that shocking, try using less. If you don't have fresh oregano (it is plentiful in farmers' markets right now), you can use a smaller amount of dried. The amounts are flexible and the Chimichurri lasts a few weeks in the refrigerator. You can use a blender or food processor but I like to chop the herbs with a knife to keep them from getting mushy. It is best made a day or so ahead for the flavors to merge but it will be delicious on the day you make it, as well. Just make sure to prepare a large enough batch so you have some left to refrigerate!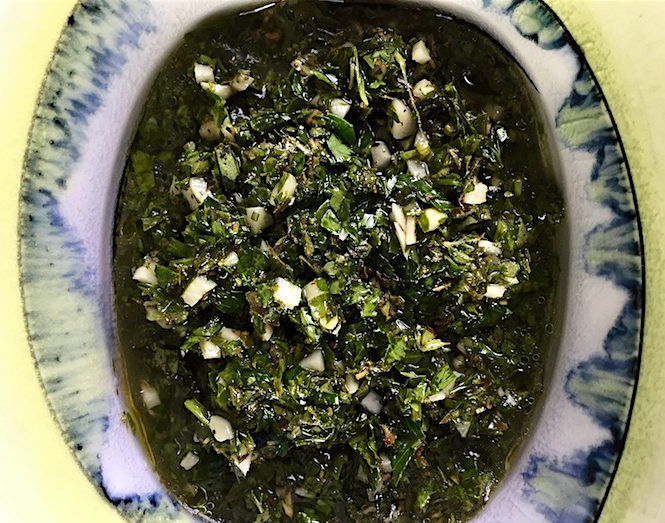 CHIMICHURRI
1 cup boiling water
1 T kosher or sea salt
6-8 cloves garlic, peeled and finely minced
1 heaping cup fresh flat leaf parsley, mostly leaves with some tender stems included
1 cup fresh oregano, leaves only (or 1/4 cup dried), or substitute half with fresh cilantro, leaves and fine stems
Big pinch of black pepper or 1-2 t crushed red chili flakes
1/4 cup red wine vinegar
1/3 cup extra virgin olive oil
Dissolve the salt in the boiling water and let cool.
Put the minced garlic in a quart jar.
Chop finely the green herbs and add to the garlic.
Add black pepper or red pepper flakes.
Pour in the vinegar, oil and cooled salted water.
Screw on the lid tightly and shake well.
Let sit at least a couple of hours, preferably overnight, before using.
Store in the refrigerator.