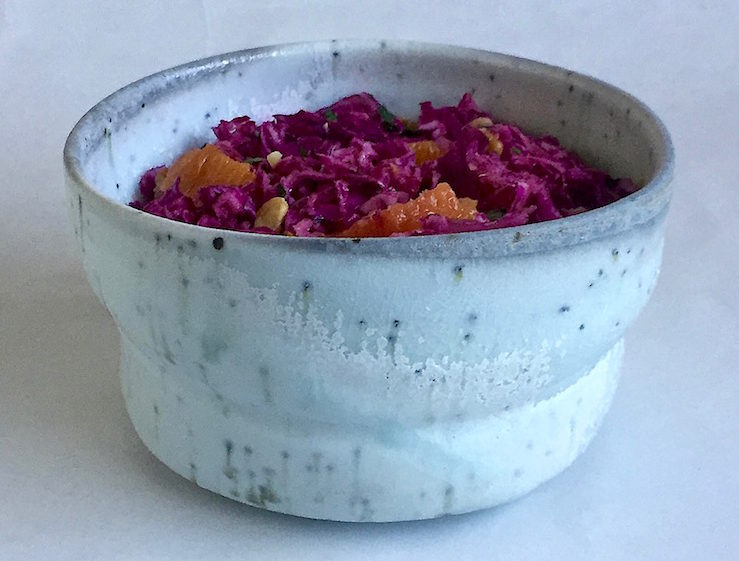 Cabbage may not be the first thing you think of when planning a meal but it is your friend when it comes to making a winter salad. Especially at this time of year, when you are tired of shredded beets or carrots or kale but you still want some crunch, reach for cabbage instead. Cabbages last remarkably well in cold storage through the winter, providing vitamins C and K and a good amount of fiber when other green (or purple vegetables) are wilted and well past use.
Cabbage is delicious sautéed and fermented but can also make a remarkably fresh salad in these early spring months. Cole Slaw is a typical use but shredded cabbage with a vinaigrette is preferable, in my opinion, since it eliminates the use of mayonnaise. There are wonderful recipes for Indian and Thai cabbage salads with coconut and spices but my perennial favorite is made with orange juice and umeboshi paste, mashed pickled plums found at markets that carry Japanese products.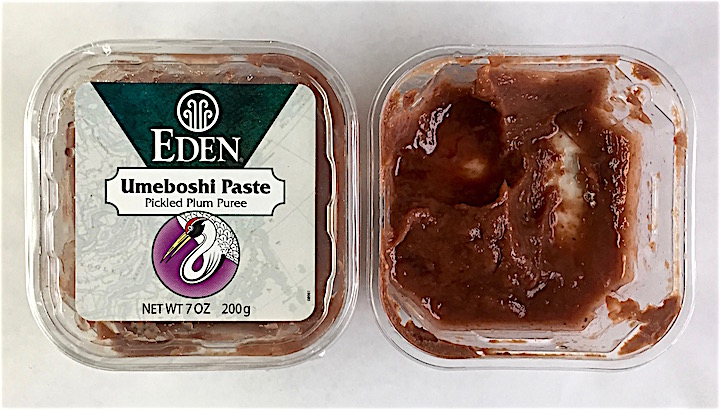 This salad is the decendant of a recipe I learned in one of the first cooking classes I ever took. It was created by Minx Boren, who taught at the Natural Gourmet Cookery School in it's early years and is now a life coach in Palm Beach. Natural Gourmet is a cooking school with a chef-training program focused on healthy eating. It is where I learned basic knife skills, a focus on nutritional balance and how to prepare global specialties from tamales to nori rolls to dosas. When learning to cook, I thought umeboshi paste and avocado oil were such exotic ingredients and, at that time, you really did have to search them out. Now even Costco sells avocado oil and Whole Foods and Fairway carry Umeboshi plums. If you really don't like cabbage or don't want to use it for some reason, this salad would also be good made with kale (massage it first) or shaved brussel sprouts, fennel or even blanched broccoli, carrots and cauliflower.
I have adjusted the original recipe only slightly in proportions, deleted and added a few ingredients. You can adjust it to suit your tastes. If you don't want to add parley or cilantro, don't. If you prefer cucumbers or red peppers to carrots, please use them. If you want to add some toasted sesame seeds instead of pumpkin, go ahead. Combining some purple cabbage with the green, or going all purple, will make the salad even more appealing. One of the beauties of this salad is that it tastes even better the second day, after the flavors have melded in the refrigerator, and it holds up well in a lunch box. If you find your cabbage tasting too strong or a little sharp or wilted after a winter in the fridge, just soak the shredded cabbage in cold water (before dressing) and it will sweeten and plump up.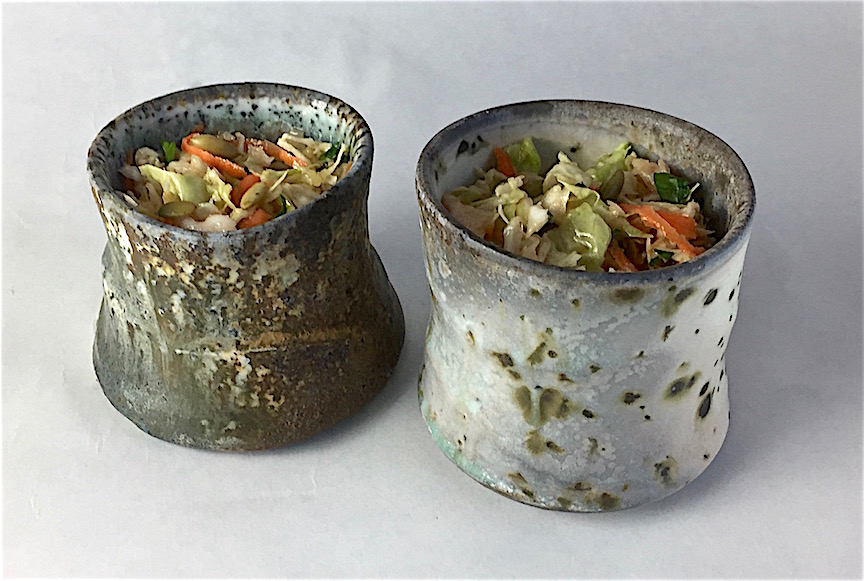 CABBAGE SALAD with UMEBOSHI DRESSING
Toss together in a large bowl:
1 head cabbage, shredded

2 carrots, shredded

1 cup parsley or cilantro, chopped

1/4 cup toasted pumpkin seeds (add when serving)
     Optional alternatives or add-ins: red or green pepper pieces, sliced red radish, orange segments (cara cara or blood oranges look great), chopped apple, chopped cucumber, toasted sesame seeds, walnuts, thinly sliced celery 
Dressing:
1 TBs minced red onion

2 TBs umeboshi plum paste

2 TBs Dijon mustard

2 TBs avocado oil

1 cup freshly squeezed orange juice
Toss vegetables with dressing and let marinate in the refrigerator at least 2 hours or overnight. Top with seeds before serving.