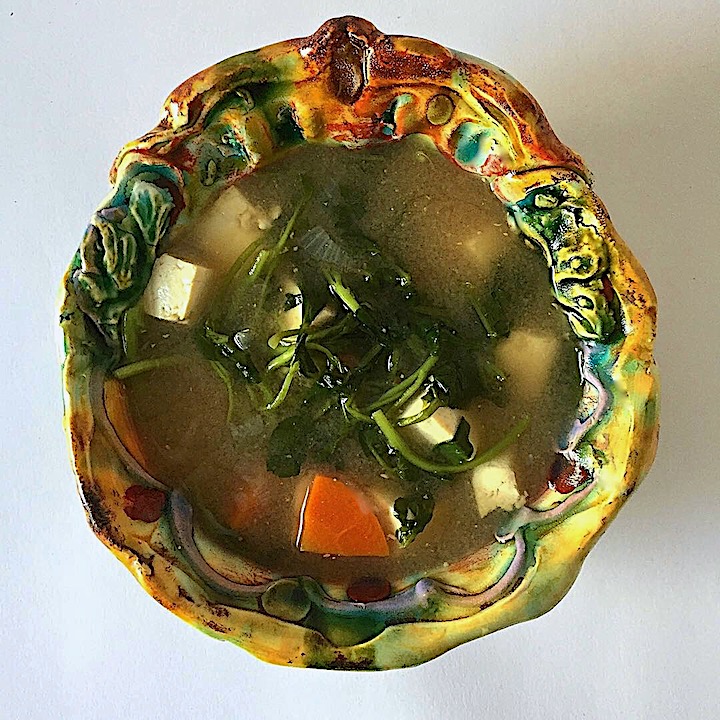 Miso soup is one of the simplest and one of the most soothing soups out there – both easy to make and satisfying to eat. It may contain vegetables and tofu or it may be broth alone. I think of it as the vegetarian version of chicken soup when you need something comforting or healing. Even when the weather is warm and another hot soup would be too heavy, miso is light but substantial enough to make a healthy meal. A typical Japanese breakfast includes miso soup – it is a tasty option on a cool morning and an easy way to add more veggies to your diet.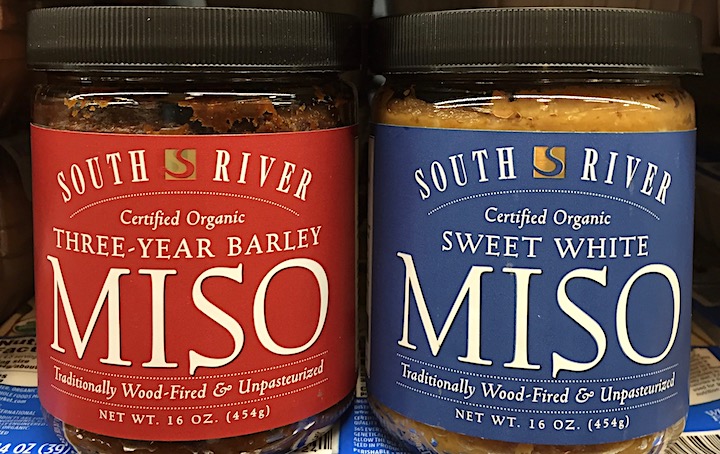 Technically, miso is fermented soybean paste and ranges in varieties from light to dark, from delicate to robust. It adds umami, that extra dimension to a taste profile, both salty and savory. Miso can live in your refrigerator almost indefinitely so it is always there when you don't know what else to cook. I learned to use miso right out of college when the Kushi Institute offered an introductory macrobiotic cooking class in my neighborhood. It was a moment when Japanese cooking was taking over Manhattan and beginning to replace Chinese as the major Asian restaurant trend. Miso soup in a little lacquer bowl started every Japanese restaurant meal and I was happy to learn how to make it at home. Our son loves it so much he orders two bowls to start his meal in a Japanese restaurant! Not just flavorful but also healthy, Annamarie Colbin, the founder of the Natural Gourmet Cookery School, recommended eating miso immediately following surgery because of its contractive, healing power.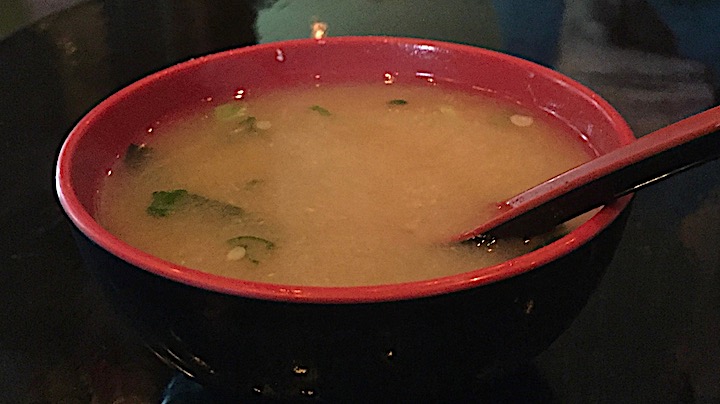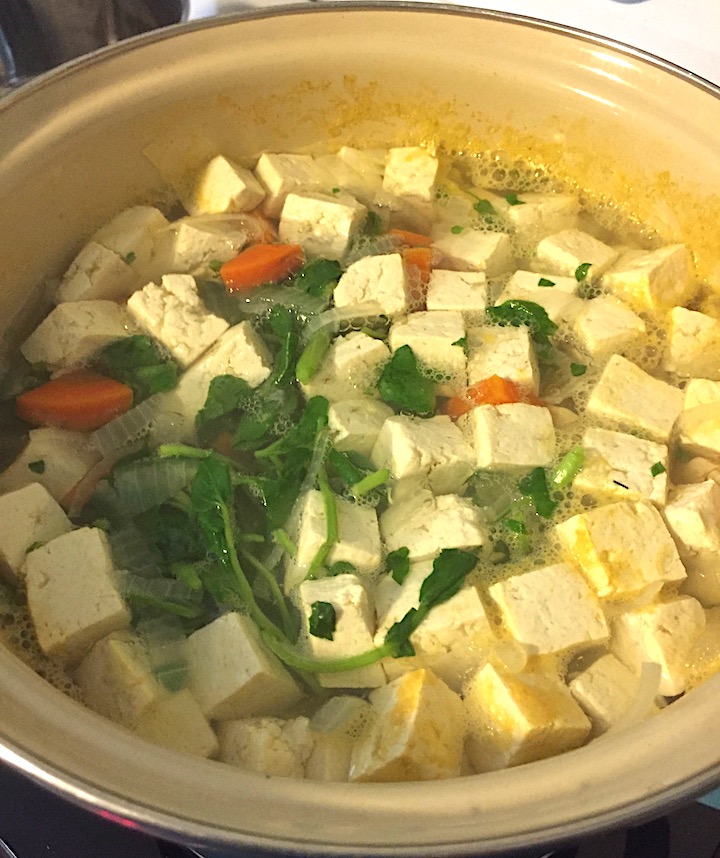 The simplest soup is made by just dissolving some miso paste in water. The next level adds that dissolved paste to dashi, a broth made by boiling kombu (seaweed) in water. And in a third version, you add vegetables and tofu to dashi and then add the dissolved miso (never boil miso – it will lose its probiotic nutrients). If you have leftover rice, you can add some at the end of cooking. There are plenty of instant miso soup packets out there and they are adequate if you just need something for a lunchbox or travel. But for a real bowlful, take just a few minutes and make the real deal.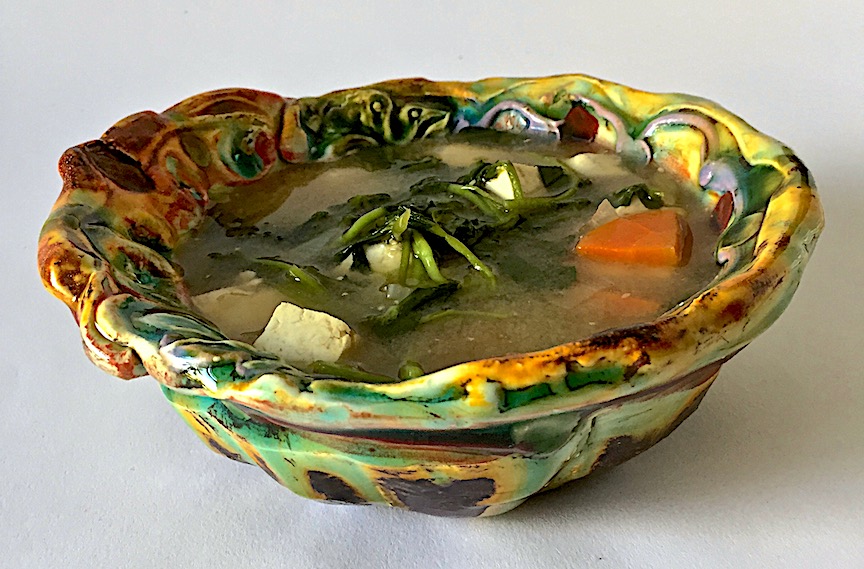 MISO SOUP WITH VEGETABLES AND TOFU
8 cups cold water

1 6″ strip kombu or kelp

1 medium onion, peeled, halved and sliced thinly

3 carrots, cut in half coins

1 lb. tofu (I like firm but the choice is yours) cut in small squares

1 bunch watercress, washed and cut in thirds (or a cup or two of broccoli or cauliflower florets or if you are out of fresh vegetables, add a cup or so of frozen peas)

4  TBsps miso paste (I usually use 1 TB barley(darker/stronger) and 3-4 TBs sweet white(lighter) but see what you like)
Put the water and kombu in a small stockpot and bring to a boil.
Add the sliced onions, return to a boil and simmer for 3 minutes.
Add the carrots, return to a boil and simmer about 5 minutes.
Add the tofu, return to a boil until the tofu floats to the surface.
Add the watercress, return to a boil and turn off the heat.
Remove the kombu and cut into bite sized pieces and return to the pot. If you don't like the flavor or the texture, just toss it in your compost pail.
Put the miso paste in a soup or small mixing bowl and add 1 or 2 ladles of the soup liquid.
Stir until the miso is dissolved. It doesn't have to be liquid, just loosened.
Add the loosened miso to the pot, stir and taste. If it isn't strong enough for you, dissolve another TBsp or 2 of miso paste and add to the pot.
Ladle soup with vegetables and tofu into bowls, top with a little chopped scallion, chives or dill, if desired, and serve.
Makes 6 dinner sized servings. If you have leftovers, store in the refrigerator up to 3 days. When re-heating, don't boil, just warm. Add fresh greens, mushrooms or rice, if you like.