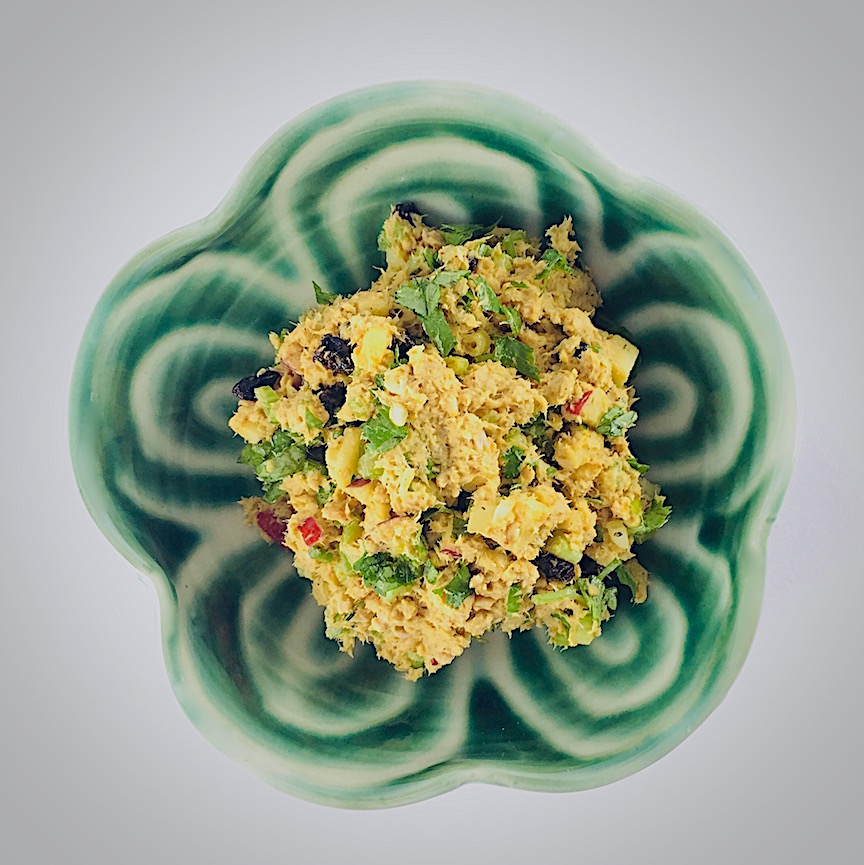 I like tuna but I don't eat it. It simply has too much mercury for me. Same goes for swordfish and tilefish but there are plenty of other fish to eat that are healthier. According to the Environmental Defense Fund, mercury is toxic to our nervous systems (which are already under attack from stress) so it is important to avoid ingesting it when we are able. (I have a particularly high mercury level because we used to play with liquid mercury as kids – so much fun and who knew it was dangerous but now we know to keep kids safe from it). Fortunately canned wild salmon is a great substitute for canned tuna.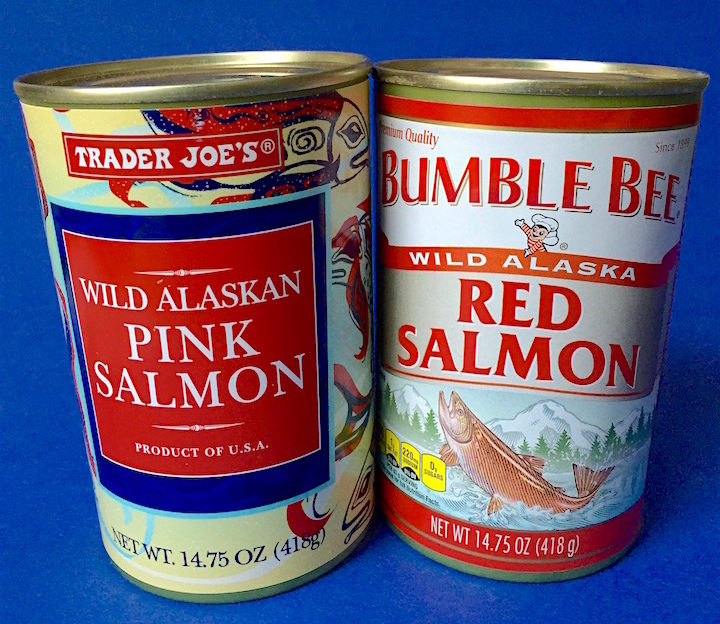 Some time ago, we had a terrific curried tuna sandwich at the wonderful Flour Bakery (our go-to spot for grabbing something delicious to eat when taking the train at nearby South Station) in the seaport district of Boston (which includes the Institute of Contemporary Art, Society of Arts and Crafts and the fabulous Trillium Brewery). I like curried chicken salad but had never had curried tuna. Recently, browsing through Joanna Chang's flour cookbook, I came across her curried tuna recipe decided to try re-creating it using salmon. I use canned salmon for salmon burgers and make a salmon salad with it but I had never tried it with curry. It actually tasted great! We don't use mayo so I moistened it with lime juice (you could use lemon) and kefir (you could use plain yogurt or mayo depending on your preferences) and I added currants where I think the Flour sandwich had raisins. I like a lot of vegetables to lighten the density of most foods I make so I added scallions (you could use red onions), celery and cilantro (or try parsley). Other add-ins could be radish, jicama, green or red pepper, hard boiled eggs, almonds or chilis, all cut in small pieces.
You could serve the curried salmon just like you would tuna – on a bed of greens, stuffed into celery, baked in hollowed out peppers or rolled up in cabbage leaves or in a pita, wrap or bread with grated carrots, sliced tomatoes and arugula, watercress, sunflower sprouts or lettuce for a deliciously different sandwich.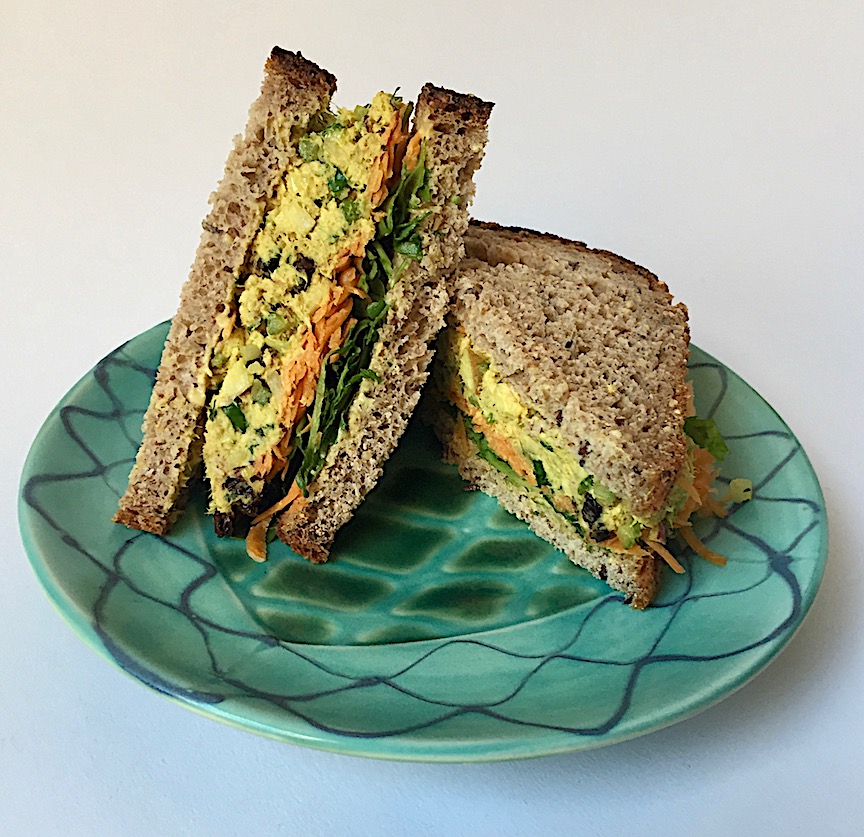 CURRIED SALMON SALAD
Mix together:
1 can salmon (14.75 oz, preferably wild), skin removed if you like, mashed with a fork

2 stalks celery, cut in a tiny dice

2-3 scallions, finely chopped

A big handful fresh cilantro or parsley, finely chopped (about 1/2 cup)

1 small apple, halved, cored and cut in a fine dice

2 heaping TBs dried currants

1 generous TBs curry powder

1 tsp ground cumin

2 TBs freshly squeezed lime juice

3 TBs plain kefir or yogurt

Pinch salt and pepper
Serves 4. Can be refrigerated for a couple of days in a covered container.