While our son was away at college this year, Brooks and I ate mostly vegetables, beans, whole grains, fruit and some fish and seafood with an occasional grass-fed burger or free-range turkey or chicken, piece of cheese or yogurt and lots and lots of salad. It suited us just fine and we were feeling pretty virtuous. When Alex came home and snapped out of his exam-induced, lack of sleep stupor and finished his seemingly endless loads of laundry, he looked up one day and asked "Couldn't we eat something fun for a change?" My heart sank but I put on a smile and replied "sure!"
I actually enjoy cooking for my family, especially when they enjoy what I make. I thought I was making appealing meals but they were not satisfying my flavor-craving son. We don't want to eat the salty, fatty, white flour way he wishes, but could I find a compromise? Our boy had thrown down the gauntlet and I wanted to rise to the challenge. I needed time to think so when it was time for lunch, we walked down Amsterdam Avenue and got a lobster roll at Luke's – delicious every time but a temporary fix that didn't solve the problem.
I knew seasoning and spice factored into his ideas of flavor so I began there. I bought some fresh black pepper linguini with the zip already in the pasta and added some veggies Alex likes – peas and arugula – with some garlic in olive oil. Pretty simple and a hit – Hoorah! Next I pulled out the chicken and apple sausage, an old standby for him, and coupled it with seasoned rice and broccoli, 2 sides he eats without complaining. When I heard "boring", I curbed my instinctual reaction to tell him where he could go and tried to think how these ingredients could be better combined. As I was thinking fried rice, Alex asked why I didn't make a stir-fry. There it was – we had come to the same idea at the same time and I knew how to go forward. I wouldn't have to completely change our diet, just rearrange the parts and add a little zing. I could stir fry some onion and celery with plenty of ginger and garlic, toss in the broccoli, rice, sausage and some sesame soy combo to satisfy his taste. Yes, he would have been happier with white rice but he would have to settle for brown as that was where I drew the line of compromise. (If you are not eating grains, add more veggies and cut down the amount of sauce). When I tried it again the next day with leftover chicken and more ginger and garlic, we all liked it even better. (I did notice he was picking out the celery!)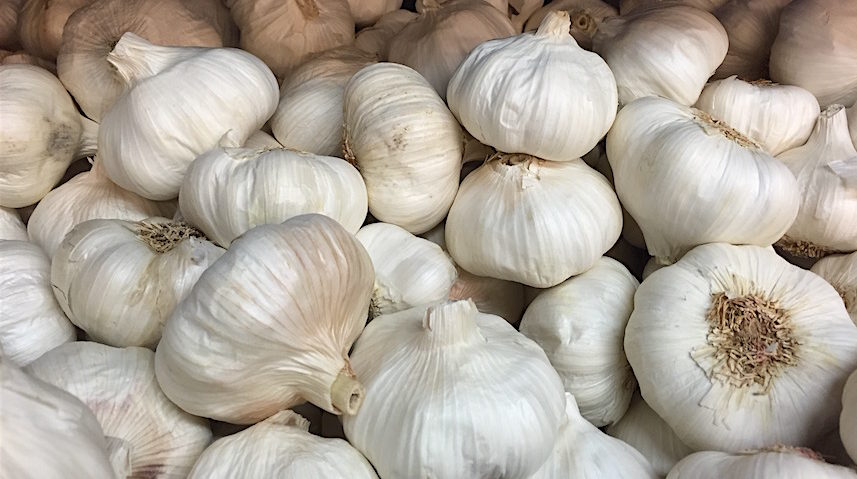 Even though I was insulted by his comments at first, Alex helped me realize I was not being as adventurous with food as I imagined. I still like pretty simple cooking but now I am making an effort to add a little zest and more seasoning to shake up my routine. The real bonus to his involvement is that our son is discovering what goes into food prep and stands on the edge of cooking for himself.
Stir Fried Rice with Whatever You Like
2 TBs neutral oil, like canola or avocado
1 medium onion, sliced and chopped
2 stalks celery, thinly sliced
3″ piece of ginger, peeled and minced
2 cloves garlic, minced
1-2 cups cooked and cut up protein (sausages, ham, chicken, shrimp or tofu)
1-2 cups lightly steamed broccoli (or whatever green veg you like or have leftover)
3 cups cooked rice (I used brown but use any kind you like)
Sauce:
2 TBs soy sauce
2 TBs water
1 TB rice vinegar
1 TB toasted sesame oil
Big pinch cayenne
Heat oil in a large sauté pan, add onion and cook 2 minutes. Add celery and cook another 2 minutes, stirring occasionally. Add garlic and ginger and cook another 30 seconds. Add cut up sausage (or whatever protein you are using), rice and broccoli and stir until combined well. Add sauce and cook one more minute, stirring to mix completely. Taste and add more sauce ingredients as you choose. This would be good sprinkled with toasted sesame seeds and scallions. Serves 2-4 people or one hungry 20 year old.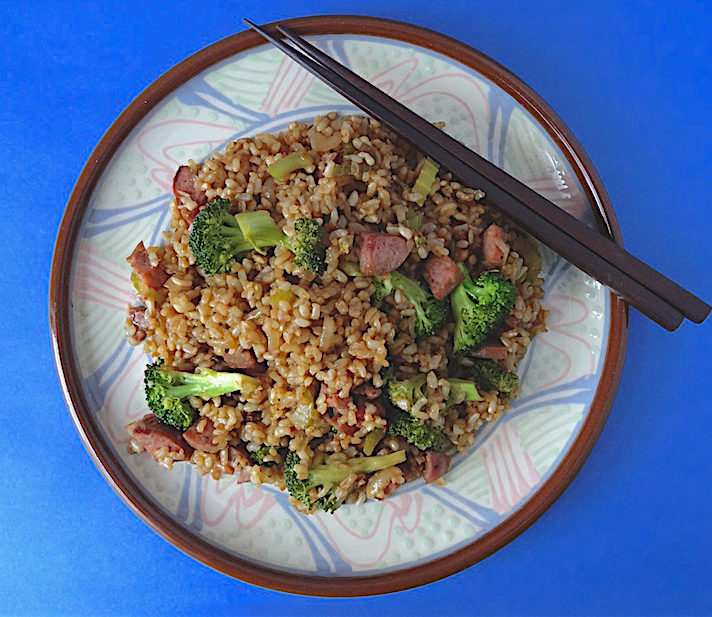 A few other solutions I think will suffice: Sriracha-glazed lamb chops on garlic mashed potatoes with sautéed greens, brown rice nori rolls (lots of wasabi) with watercress salad, leftover chicken doused in green sauce and made into tacos, and rice and beans with salsa and guacamole wrapped into a burrito. It may not be Eleven Madison or Amada but it sure beats what he will get back at school!