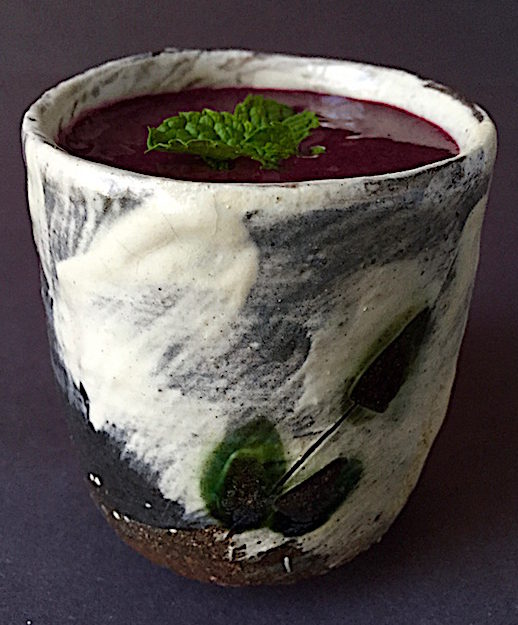 It's July and it's hot so it must be blueberry season. Picking blueberries is one of my favorite summertime activities and we often get home with more than we can eat. It is so easy to freeze berries – you just lay them out in a single layer on a rimmed baking sheet, freeze until firm and transfer them to a freezer bag or container to stay in the freezer for when you need them. (Frozen blueberries, by themselves, make a cooling and healthy snack on a hot afternoon or evening).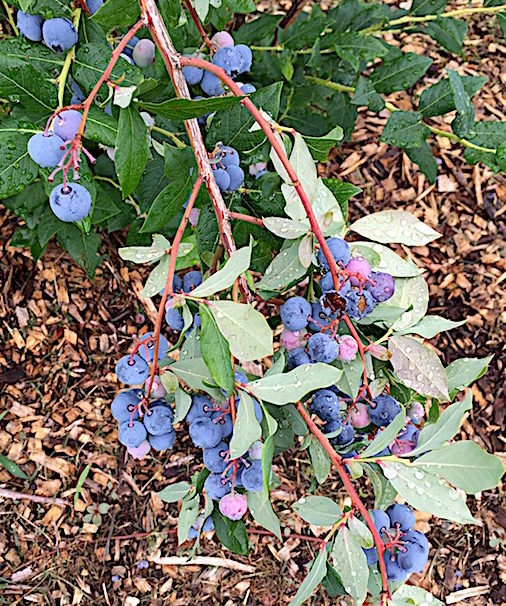 Blueberries are good to eat plain, with sour cream, whipped cream or yogurt, in baked goods like muffins or blueberries (frozen works fine here, too), pies, cakes, crumbles and crisps, on cold or hot cereal, in smoothies and cocktails and with ice cream. I love them in salads, too. Other than eating the frozen berries, I think the most refreshing way to consume blueberries is in a simple soup. There are only a few ingredients so it is a snap to make, vegan and delicious. Berries you freeze yourself or commercially frozen berries work equally well. You could bolster it with chia or hemp seeds, chopped nuts and a dollop of plain yogurt or sour cream to make a meal. Serve in teacups, small bowls or mugs and garnish with mint, chopped Marcona almonds or a couple of whole blueberries.
The original of this recipe comes from the spa kitchen at Canyon Ranch but I have tweaked it to suit my preferences. Do your own tweaking. If you like cardamom, use some. If not, try ginger or leave out the spice altogether. The mint is not essential but is a really good complement to the berries. If you don't have limes, use a lemon or an orange. Some blueberry soup recipes call for cream or sugar. This one is simpler and lighter – a very refreshing summer lunch or first course for dinner. Just make sure it is cold!
CHILLED BLUEBERRY SOUP
3 cups frozen blueberries

1 cup cut up fresh pineapple, peeled and cored – about 1/4 of a small pineapple (if you don't have the fruit, you can add more juice but it's nice to have the whole fruit to include the fiber-just note that the fruit makes the soup thicker, so add more liquid)

6 oz or ¾ cup pineapple juice (one of those small cans)

¾ cup water (start with 1/2 and see if you prefer more)

2 TBs freshly squeezed lime juice and the zest of one lime

¼ tsp vanilla (optional)

8-10 fresh mint leaves (optional)
Puree in a blender until smooth and add more juice or water, until it is the consistency you like.
Serves 4 in teacups or small bowls