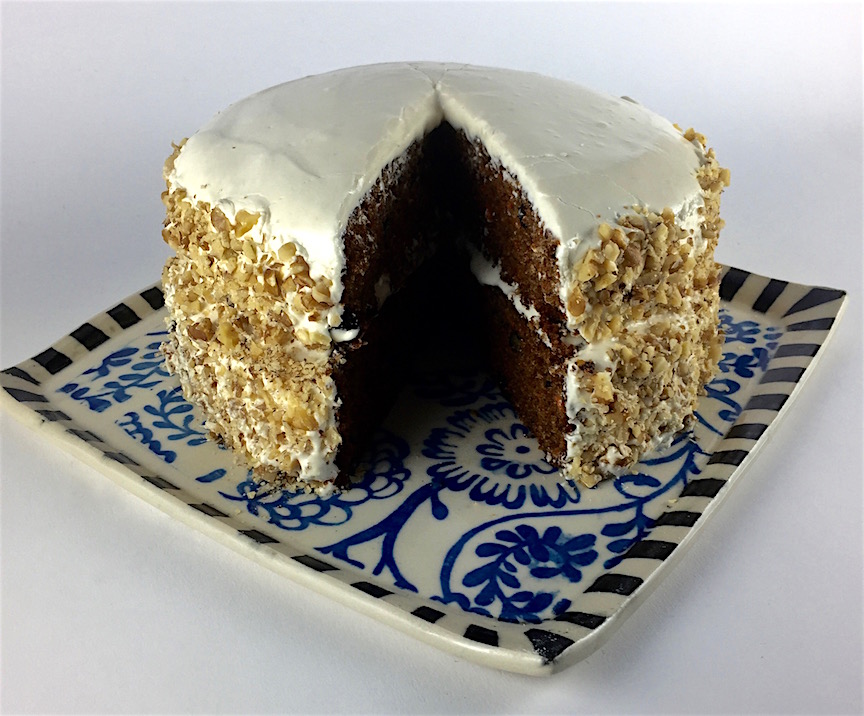 Carrot cake may be my favorite celebratory dessert. It is dense, spicy and flavorful, enhanced with a rich vanilla frosting. The batter is moist but made with oil rather than butter which the frosting makes up for with both butter and cream cheese. It makes as good an indulgent breakfast as a dessert. I don't remember anyone to whom I've served it who didn't like it.
I've been making carrot cakes since I was a teenager, a time when I loved to bake but rarely cooked. The simple, straightforward recipe, which I have altered a little over the years, is the same hippie-ish one I started with, passed to me by the sister of a friend in high school – thank you, Alice Rubin! It is a variation of the traditional carrot cake you see reprinted everywhere because it is easy and it is delicious. Because I have become more of a cooker, because we try to eat healthfully and because temptations are hard to resist when they sit on your counter, I rarely bake anymore. There are times, however, when we get together to mark an occasion, that call for cake and I bake. Cake can be a ritual that shows that a moment is special. As Maira Kalman describes in her recent and wonderfully illustrated book simply named Cake, "… we gather. We plan. We get confused. We end with cake."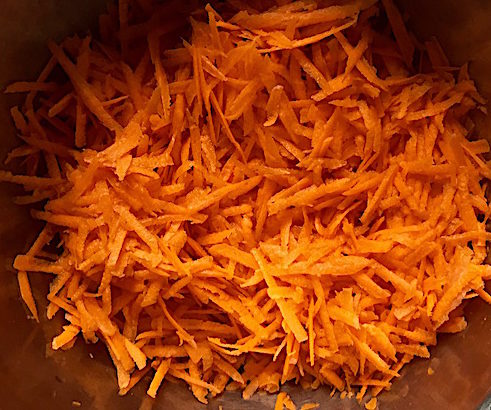 We don't regularly make cakes, but if a celebration calls for cake and it isn't an ice cream or cheesecake, it is a carrot cake. This is a scrumptious cake with a luscious frosting which, if you aren't careful, you will find yourself continually cutting off small slices to nibble because it is so good that you can't stop. Consider yourself forewarned! I recently brought this carrot cake to a gathering of artist friends and every one of them asked for the recipe. Here it is.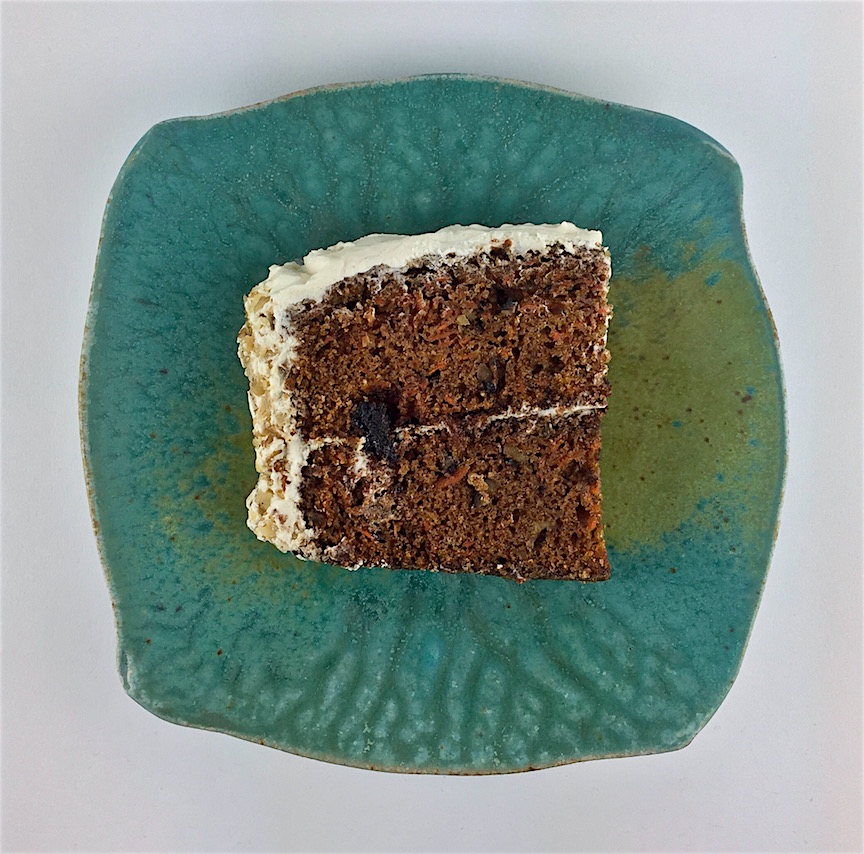 CLASSIC CARROT CAKE WITH SPICES
Beat well:
1 cup vegetable oil (I use a mix of avocado and olive)

2 cups sugar

4 eggs
In another bowl, combine:
2 cups flour (I use half white whole wheat and half whole wheat)

2 tsps baking soda

1 tsp kosher salt

2 1/2 tsps cinnamon

1 tsp ground ginger

1/2 tsp ground cardamom (optional and you could use 1/4 tsp nutmeg or clove if you prefer)
Add dry ingredients to wet and beat well, about 2 minutes to incorporate air.
Then add:
2 tsps vanilla

3 cups grated carrots (I use the big hole on a box grater)

1/4 cup raisins (even better if briefly soaked in dark rum) (optional)

1/4 cup candied ginger, chopped (optional)

1/2 cup chopped walnuts (optional)

1 TBs chia seeds (optional)
Divide batter evenly into pans which have been buttered and floured. Use two 8″ cake pans (or 9″ but lessen the time) or one 15 x 8, 13 x 9 or a bundt pan (bake a little longer in a bundt).
Bake at 325 F for 45 minutes or until the center springs back when pressed.
Cool completely before frosting. Cool rectangular cakes in pans. Cool round cakes 10 minutes in pans and then on cooling racks out of the pans.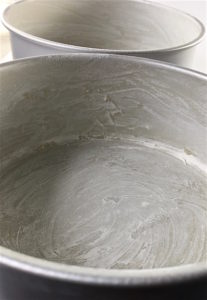 Cream Cheese Frosting
Beat until smooth:
1/8 pound (1/2 stick) unsalted butter, soft

4 oz. cream cheese, soft

2 cups (1/2 lb) powdered (confectioners) sugar

1 1/2 tsp. vanilla

Pinch salt

Zest of 1/2 lemon (optional)
If you want a glaze instead of frosting, for example to pour over the bundt cake, add some milk or lemon juice to loosen to pouring consistency.
Top with chopped walnuts or pecans or chopped candied ginger or press nuts onto the sides of the cake or mix them into the frosting before applying.
If you need a big cake, double the cake recipe and make 2 13/x 9 or 15 x 8 layers and double the frosting recipe. If you just like a lot of frosting, double the recipe.