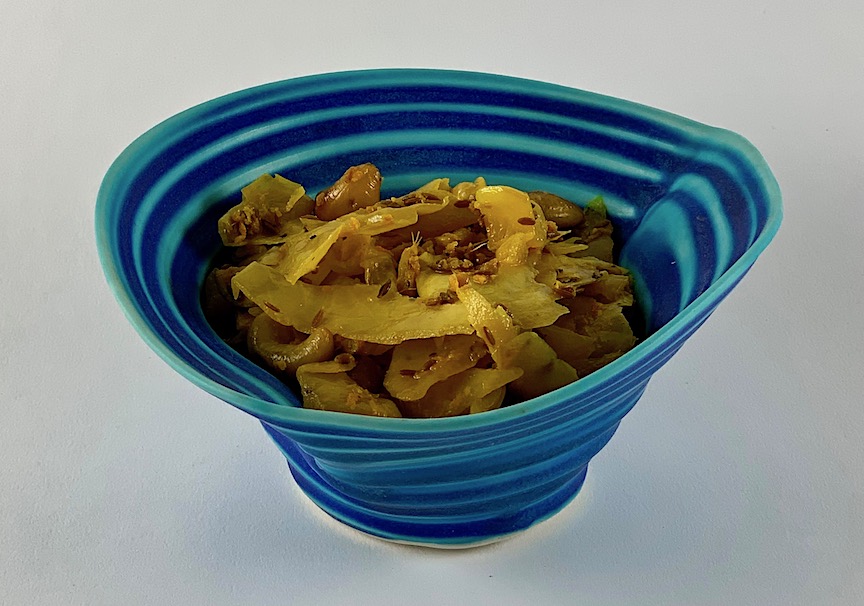 One of the tastiest winter vegetable dishes I make is also one of the easiest. It is a simple sauté of a handful of nuts with spices and chopped cabbage but the total flavor is much richer than its individual components. This recipe makes a satisfying meal when served with rice (and, perhaps, a salad) or can be used as a supplemental side.
Cabbage is an inexpensive and nutritious winter vegetable that stores well for months in the refrigerator. It is one of the few local green vegetables we can depend on being available through the fall and winter. Cabbage is known historically for having saved sailors on ships from scurvy because of its high vitamin C content. It is also easy to prepare various ways: fresh in a salad, salted and made into sauerkraut or cooked by steaming, boiling, baking or sautéing. If you don't overcook it into a sulfurous mushy mass (overcooking is what gives it a bad reputation), cabbage can be quite delicate, savory or tangy, varied by seasoning. When used raw in a salad, it can be sweet and crunchy, depending on the individual cabbage, of course. (When buying cabbage, search for a heavy, dense head with fresh looking, crisp outer leaves).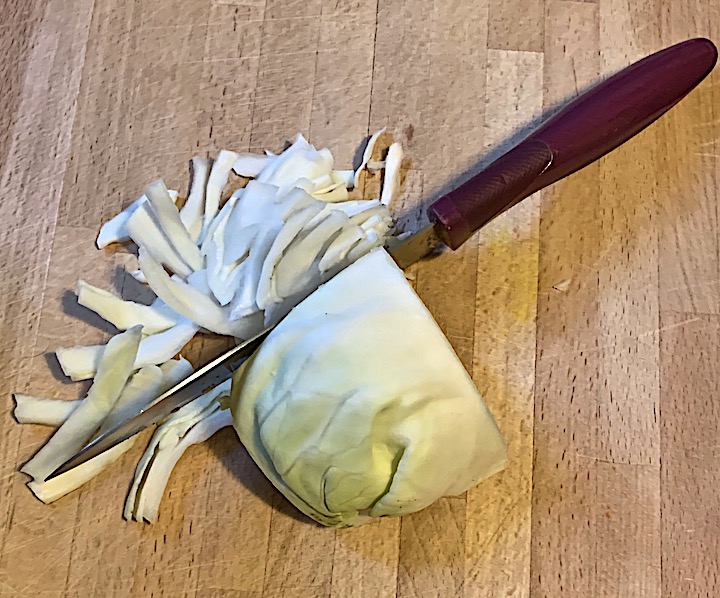 This curried cabbage recipe is from Yankee Magazine, a surprisingly good source of interesting, reliable recipes, alongside the small town stories, foliage reports and event listings. I tweaked it slightly, playing with the spices a little. If you want it spicier, add more mustard seeds and if you don't like spicy, leave them out altogether. On the other hand, if you like your cabbage sweeter, add some raisins, currants or even dried cranberries toward the end of cooking. If you don't like cashews, try almonds or walnuts. Whichever way you choose, this curried cabbage will be quick and tasty.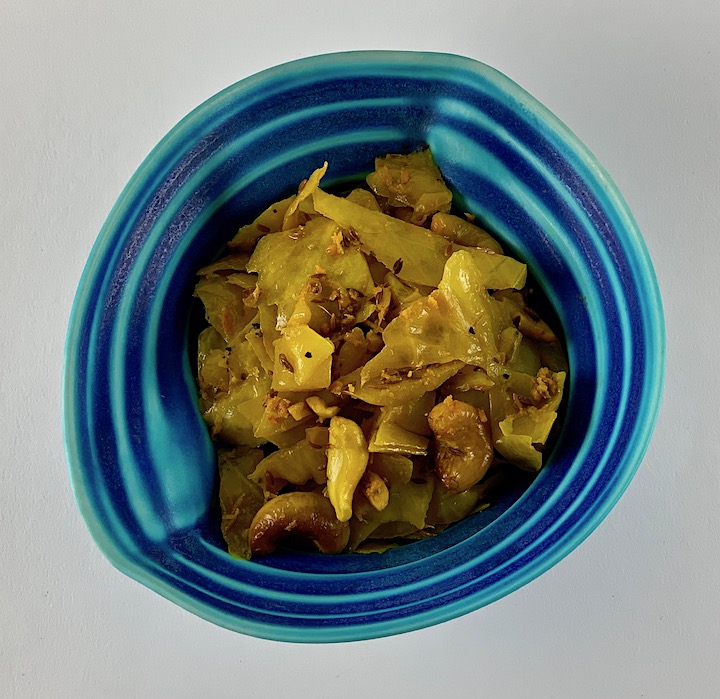 Curried Cabbage with Cashews
3 TBs olive oil (or 2 oil and 1 butter for flavor)

1/2 cup raw, unsalted cashews

3 TBs (or about 3″) raw ginger, minced

1 heaping TBs cumin seeds

1/2 tsp mustard seeds (optional)

1 small (about 1 1/2 lbs) or 1/2 of a large cabbage, thinly sliced

1 tsp ground turmeric or 1TBs freshly grated turmeric root

1 tsp kosher or sea salt

1 tsp freshly ground black pepper
Heat oil in a large skillet over medium heat.
Add cashews, ginger, cumin and mustard seeds.
Cook, stirring often, until cashews are golden and all smells fragrant, about 2-3 minutes.
Add cabbage and turmeric and cook, stirring often, until cabbage is just tender, about 8-10 minutes. 
Season with salt and pepper and top with fresh, chopped cilantro. 
Serves 4-6 and keeps up to 3 days in the fridge.