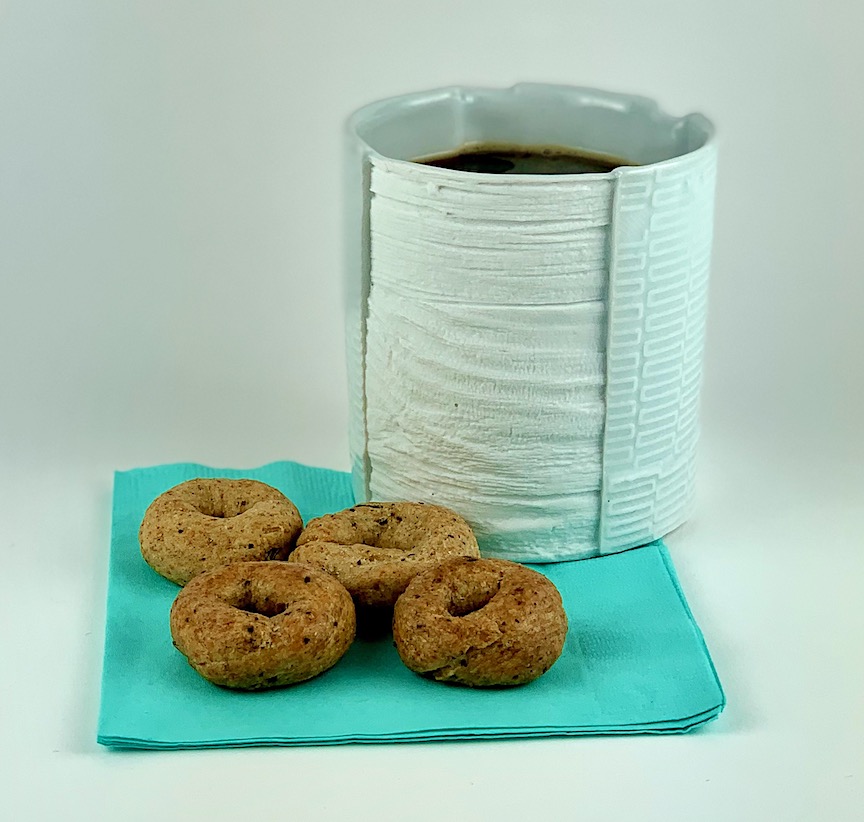 Since we are going to the grocery store as infrequently as possible during this pandemic, we are trying to make use of whatever we have at home instead of buying daily or on a whim. Recently, I had a hankering for something flavorful and crunchy that wasn't chips or carrots, the only two things we still had at home that fit that description. We were out of crackers, nuts and celery, the other things that might have satisfied me, and we had already made soft pretzels with our sourdough discard – tasty but not crunchy. So I flipped through some recipes in the "to make" pile and found a couple I had saved on baking taralli. I tried making them a few ways until I found one I liked. The version I settled on is a combination of Martha Rose Shulman's and Julia Moskin's recipes from The New York Times plus some rosemary.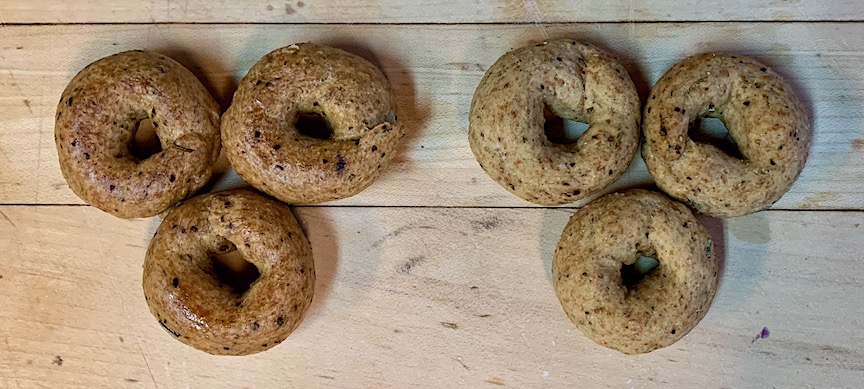 Taralli, in case you aren't familiar, are baked circular Italian snacks, not exactly crackers nor cookies but more like a crunchy, denser breadstick – the perfect accompaniment to a late afternoon drink but also good with soup or salad. Some are plain, others are flavored with fennel seeds but my favorites are spiced with lots of black pepper. I added rosemary, although not traditional, and I think thyme or cumin would also taste good. One style of taralli is shiny and smooth from a brief water bath, like bagels or pretzels, and then baked. Others are just baked and thus more crumbly, almost like shortbread. The dough comes together very quickly and is fun to roll into little coils that you loop, pressing the ends together. And because the recipe makes at least 5 dozen, you can freeze some before baking to serve whenever we are finally able to have friends over for a drink. Here is hoping that it is sooner than it looks like now. Until then, have fun making these with your existing pantry ingredients and treat your home bound self to a tasty, savory, crunchy and satisfying snack.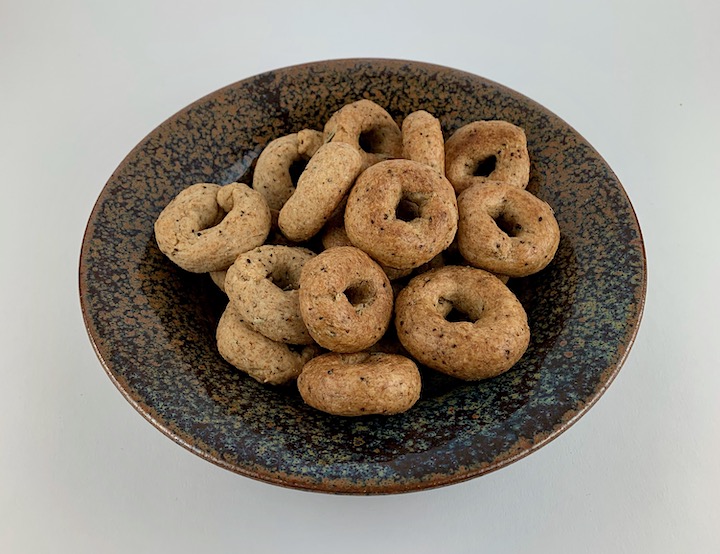 BLACK PEPPER TARALLI 
Makes 5-6 dozen.
2 cups all purpose flour

2 cups whole wheat flour (or use all white, if you prefer with a little less liquid)

1 TBs fine sea salt

1 tsp dry active yeast

1/3 cup lukewarm water

1/2 cup white wine at room temperature

3/4 cup olive oil

3 TBs coarsely ground black pepper (less if you don't like spicy)

1-2 TBs chopped rosemary (or thyme or cumin seeds)
Measure out dry ingredients (except yeast), whisk to combine and set aside.
Combine the wine and water with the yeast and stir until dissolved.
Add olive oil to yeast mixture and stir to combine.
Add wet to dry ingredients and stir well for a few minutes until completely blended.
Knead 7-10 minutes until smooth, cover and set aside for an hour or so.
Alternately, mix at low speed in a mixer with a paddle attachment until combined. 
Then switch to the dough hook and beat on medium low until smooth and spongy, 5-7 minutes. Cover and let rest for an hour or more.
Now the fun part, especially for potters. Preheat the oven to 350F for the boil and bake method and 375F for the simple bake. If using the boiling method, set a stockpot of water on to boil. Tear or cut the dough in half and then each half into 3 pieces. Pinch off small walnut sized pieces of dough and roll between your hands to make 4-5" coils. Pinch the ends of each coil together to make a circle. (A drop of water helps it stick better). Lay the rings on a parchment covered cookie or rimmed baking sheet. Each of the 6 lumps of dough should make 10-12 rings, depending on size.
For boil and bake, drop 5-6 rings into actively boiling water. They should resurface in 30-60 seconds. When they pop up, gently scoop each ring out with a spider or slotted spoon and lay out on a dishtowel. When they have all been boiled, place the rings back on the parchment and bake at 350F for 20-25 minutes until just golden. Flip the rings, turn the oven down to 250F and bake for another 15-20 minutes to dry out. Cool the rings on a wire rack. They will crisp as they cool.
For the straight bake, put the rings into a 375F oven for 25 minutes or until golden and cool on a wire rack. Taralli will last in an airtight container for several days, if you can keep your hands off them for that long! 
The rings may be frozen before boiling or baking by putting the full cookie sheet in the freezer until the taralli are frozen and then transferring them to a plastic bag, much like freezing berries. You don't have to defrost them before baking.
Bryan Hopkins makes wonderful porcelain ceramics in Buffalo, NY, where he teaches, and is a member of Objective Clay. His work is textural and sculptural and functional, not an easily achieved combination. He also has a very good pretzel recipe on his website.