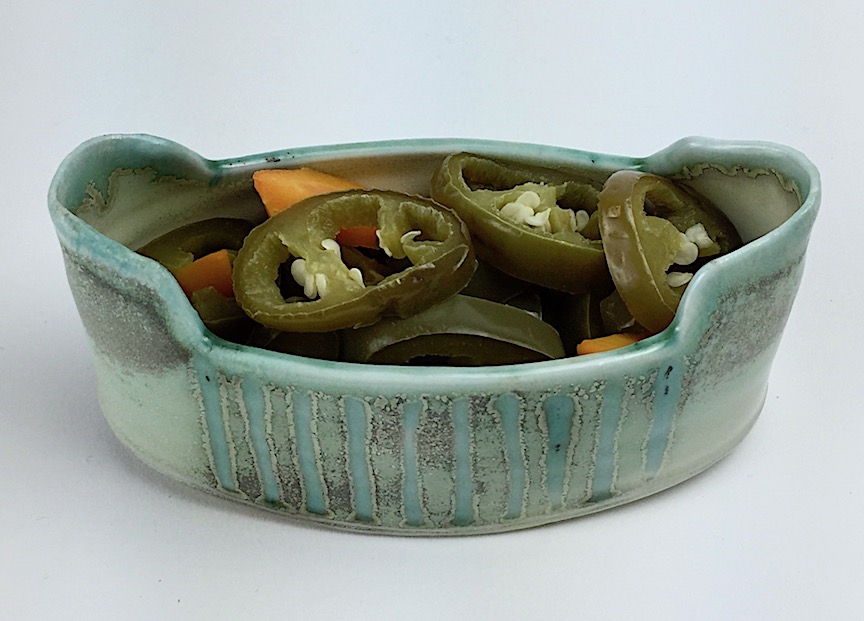 Hot peppers are having a moment. Among the overflowing bins at the farmers markets, you can find ripe Poblano, Cayenne, Serrano, Banana, Habanero and Jalapeno peppers. All these varieties may be used fresh, chopped into salsa or added to cooking foods for varying degrees of heat. Hot peppers will keep for some weeks refrigerated but to use them through the winter months, they need to be preserved. Small red chilis may be dried and crumbled or ground but Jalapeños, in my opinion, are best pickled.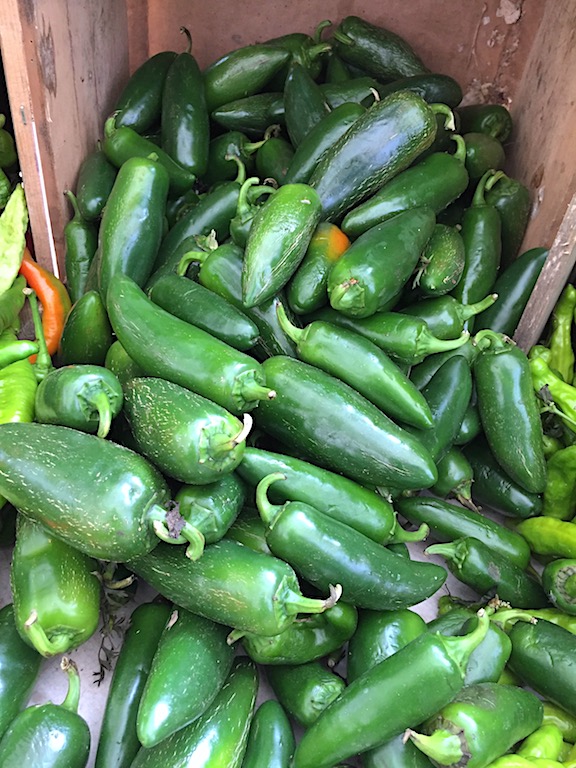 Pickling peppers is about the easiest type of cooking I know. You simply place the washed Jalapeños in clean glass jars, along with some carrot, onion, garlic and spices, pour a cold brine over them, close them tightly, and store in the fridge for a few months until pickled. You can slice and cook the peppers in a brine (also known as escabeche) and then jar them but since the cold brine, in essence, cooks the peppers for you, why bother? The only reason I can think of is if you need to eat the peppers right away. When you put them up in cold brine, you can taste them after a couple of months and see when you think they suit you. There are terrific canned Jalapeño pickles (La Morena is a brand I use when I don't have any of my own put up) but they are so simple to make – give them a try.
I first found this recipe in Padma Lakshmi's wrenching memoir with recipes, Love, Loss and What We Ate: A Memoir and adapted it only slightly by adding sliced raw garlic and cumin seeds and adjusting amounts of seasoning to satify my palette. Vary the flavors based on your own preferences. If you hate coriander and cumin, use dill seeds and black pepper, for example. You don't need special canning jars – any clean glass jar with a clean lid will do. I like to use jars of varying sizes both to accommodate the size of the peppers (small jars for small peppers, etc.) and to have some smaller jars to squeeze into the gaps in my already full refrigerator.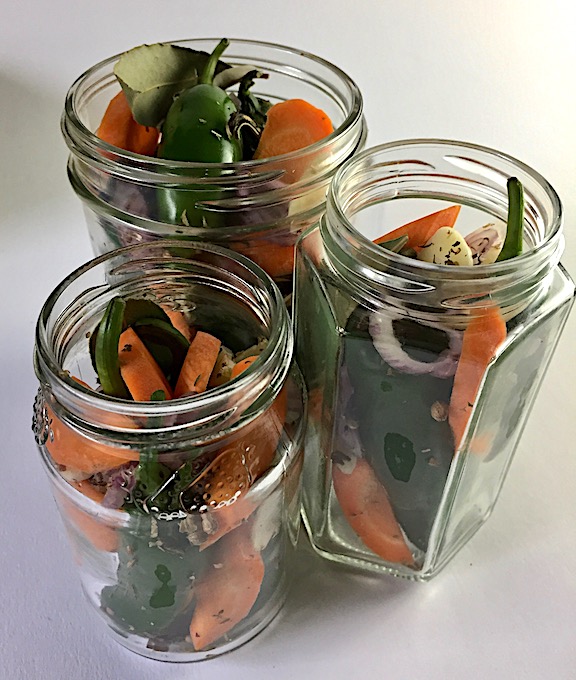 I didn't grow up eating spicy food but, living in New York, I have learned to enjoy it. If something savory tastes good, my husband and son think it will taste even better with hot sauce so I try to find ways to add heat. Jalapeños are on the milder side of hot on the Scoville scale, the standard measurement of capsaicin or spiciness. Pickling them adds complexity and allows us to use them all through the winter months. Pickled Jalapeños are delicious added to grain salads, omelets or frittatas or served alongside meat, fish and poultry. Some little slivers can really zip up a deviled egg, tuna salad or taco and the liquid can be used in a salad dressing or marinade to perk it up. If you make a few extra jars, you'll be able to give them as gifts just when the weather gets colder and friends need a little pick-me-up.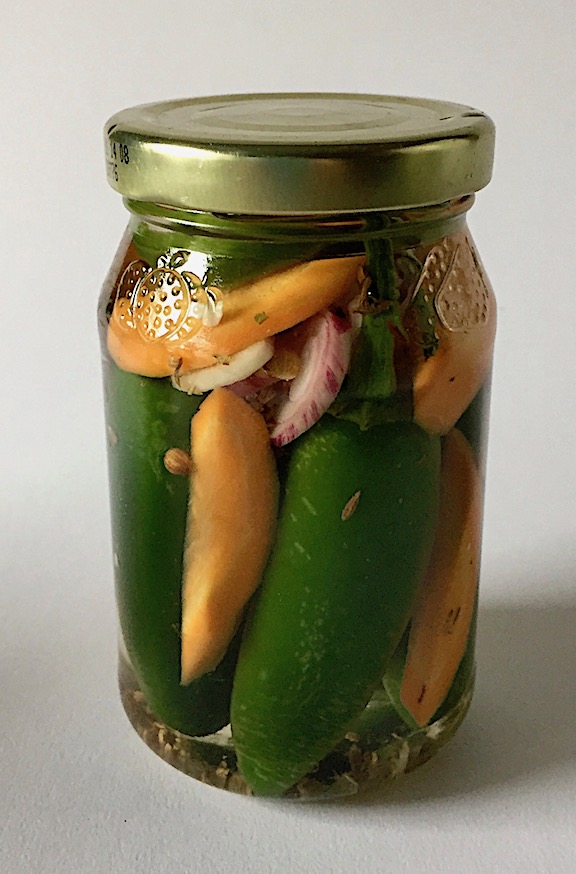 PICKLED JALAPEÑOS 
For the brine dissolve 1 teaspoon of kosher salt and 1/2 teaspoon of sugar in 2 1/4 cups of white vinegar.
In a mixing bowl, toss together:
12-14 fresh Jalapeños, washed

1 medium carrot, sliced on an angle

1 tsp. coriander seeds

1/2 tsp. cumin seeds

2 cloves garlic, sliced thinly

1/2 small onion, sliced in thin crescents
Place peppers, along with the carrots, onions, garlic and seasoning in 2-3 jars (depending on the size of the peppers and the jars. 2 pint sized jars of 1 pint and 2 smaller jars usually works well