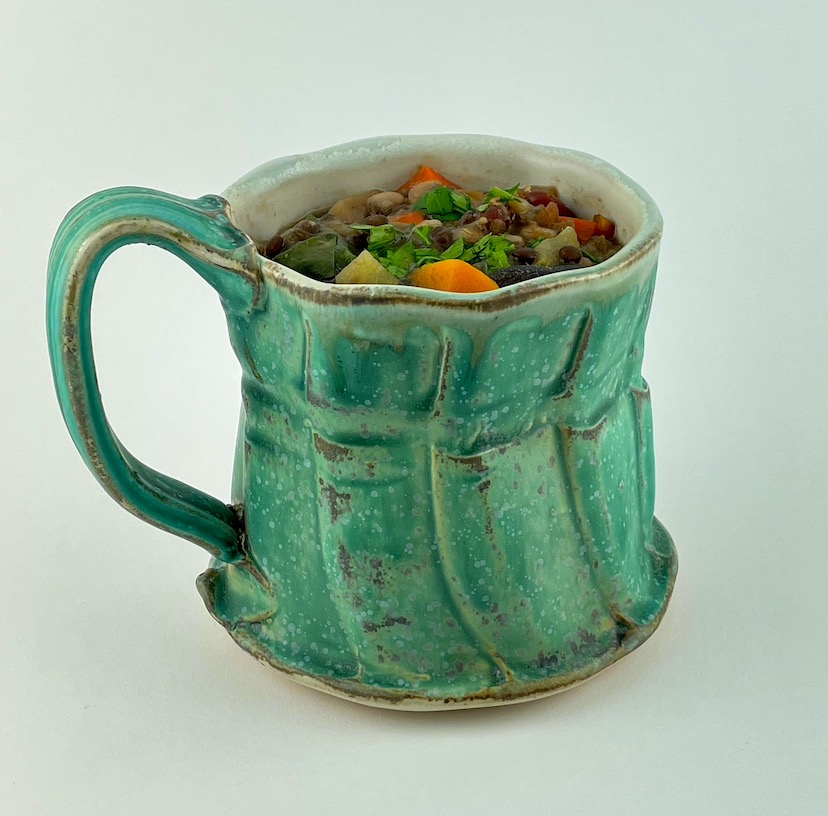 Seems impossible it is December already, doesn't it? Somehow it snuck up and the end of year holidays are upon us. I like to make holiday presents, partly to avoid the craze of shopping and partly because it is fun coming up with ideas and gifting something different and useful. Some years have been better liked than others and the winners have included bath salts, granola, knitted dishcloths, lavender sachets and the "seasoned" fruitcakes I posted last month. One of the most widely appreciated gifts was a quart-sized Mason jar of mixed bean soup mix accompanied with cooking instructions.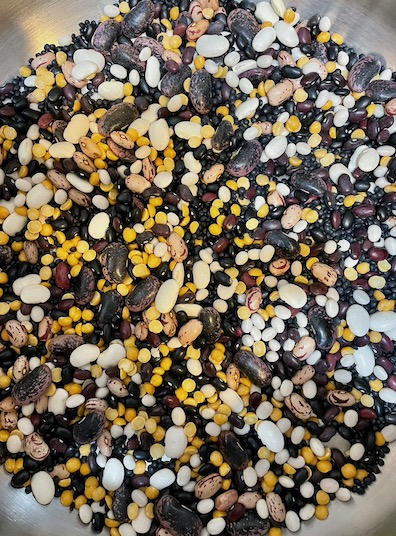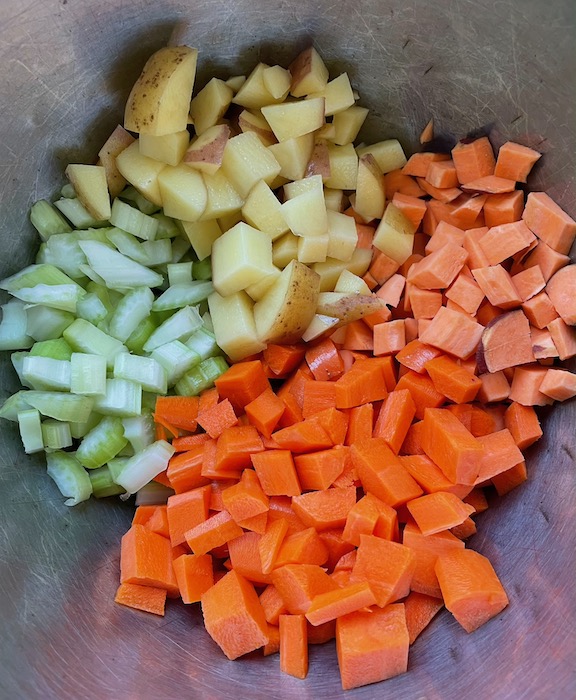 Getting bean soup to taste good without heaps of salt (to raise your blood pressure) can be a real struggle. One workaround is adding in dehydrated vegetables along with herbs and spices. Dried veggies like celery, onions, peppers and mushrooms are great flavor boosters (no chopping involved), keep for ages and boost the nutritional profile. Finding good quality dried vegetables can be challenging but I can recommend several reliable sources: Harmony House Foods, North Bay Trading and Frontier Coop. Another big flavor boost is a good bouillon, either a cube or a generous spoonful, salt-free or regular. You can package the flavorings in a little baggie with the bouillon and salt in their own bag. Curry powder is another option for flavor but everyone doesn't love curry so if you include it, do so separately. Traditionally, flavor would come from a ham bone or hock, which you add while the beans are cooking, but I skip this as I am trying to avoid adding saturated fat and cholesterol. That said, a handful of chopped cooked ham or smoked turkey could be delicious addition. When I made this soup last week to check amounts, I used a whole cup of barley and it turned out more like a savory vegetable and bean stew. To serve it a second time, I thinned it with stock, added lots of fresh greens and had a different meal.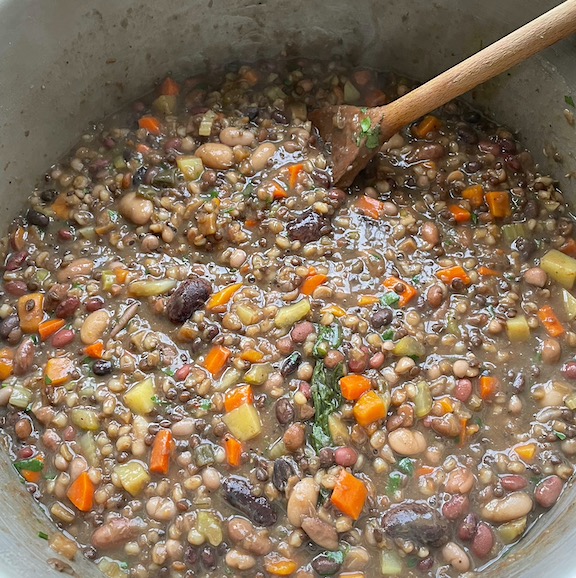 You can really adjust the flavor profile of this soup to suit your taste. Almost any firm, non-slimy vegetable (no eggplant or zucchini) will work (think carrots, celery, turnips, celery root, butternut squash). Just wait to add them until the last 20 minutes of cooking so they don't get mushy. A can of crushed tomatoes can also be added at that point. If you want to add green beans or leafy greens, do it at the very end so they stay bright. Use farro, sorghum or dried corn, if you don't like or don't want to use barley. I keep an empty jar handy in my kitchen to which I add small amounts of  uncooked beans and lentils each time I make a recipe that calls for beans. I don't worry too much about the individuals amounts, just that the total equals 2 cups. This soup doesn't have to be 8 bean types, it could be 2 or 12 and it will still taste good. For gifting, put the 2 smaller jars or baggies in the larger bean jar, attach a recipe card (or just photocopy the recipe below) and tie a ribbon around the neck. To make it a bigger present, place the jar in a new stockpot or accompany it with a good ladle, a wooden spoon, fresh potholders or a trivet. You can give a pot of soup for one meal or you can teach a friend to make a pot of soup….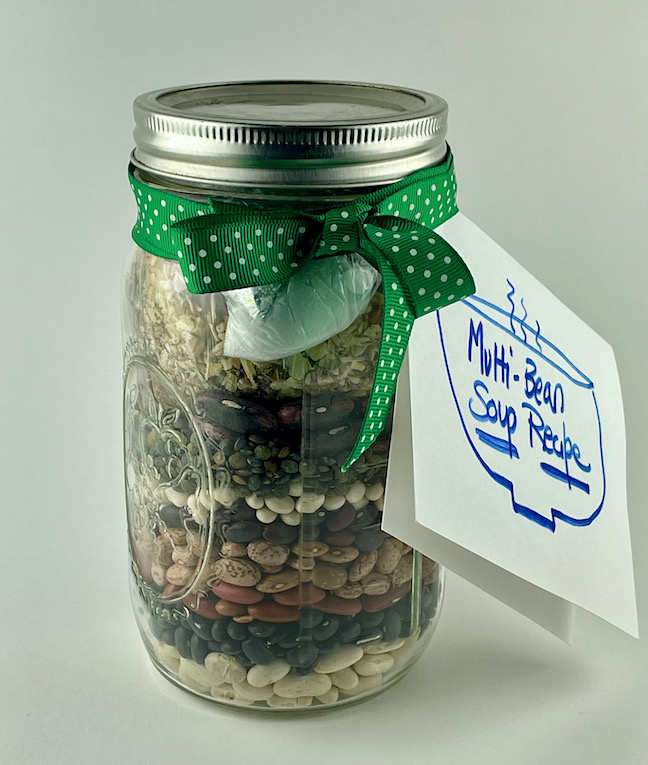 MIXED BEAN SOUP MIX
For the soup mix:
Layer into a large glass jar 1/4 cup each  of 8 types for a total of 2 cups dried beans such as Pinto, Red, Navy Pea, Great Northern, Kidney, Cannellini, Black, Baby Lima,  Green or Yellow Split Peas, Brown, Green or Black Lentils, etc.
In a small jar or baggie:
1 bouillon cube (or a heaping teaspoon bouillon powder)

1 tsp salt

In another small jar or baggie:

1 tsp garlic powder or granulated garlic

1/3 cup barley, pearled or hulled (optional but good balance)

1/3 cup dried veggie flakes

1/4 cup dried onions

2 bay leaves

1 tsp black pepper

2 tsps chili powder

2 tsps thyme

1 tsp dried dill weed
Fresh ingredients:
Up to a quart of mixed chopped carrot, celery, mushroom, winter squash, turnip, celeriac, potato, sweet potato, green beans and/or cauliflower, optional

Up to a quart of chopped leafy greens, optional

Juice of half a fresh lemon (or a TBs vinegar) for finishing and a big handful of chopped fresh cilantro, parsley or dill for serving
Soup Instructions:
Rinse and pick over beans. Put into a stockpot and cover with water by 2 inches. Bring to a boil and boil 2 minutes. Cover, remove from heat and soak 1 hour. Drain. Alternately, soak overnight without boiling and then drain.
Add 10 cups of water or stock to the beans plus all the other ingredients except the salt and bouillon cube. Bring to a boil, reduce heat to low, partially cover and simmer about 1 – 1 1/2 hours, stirring occasionally until tender and adding more liquid as necessary. 
Uncover, increase heat to medium, add salt and bouillon and chopped vegetables, if using, and simmer, stirring often, until soup thickens, about 20-25 minutes. Discard bay leaves and adjust if you think it needs more salt or pepper. Finish with a squeeze of lemon (or a splash of vinegar) and serve with chopped fresh cilantro, parsley or dill and a flavorful olive oil, hot sauce or cayenne. Grated Parmesan is also a tasty addition. 
Makes 10-12 cups.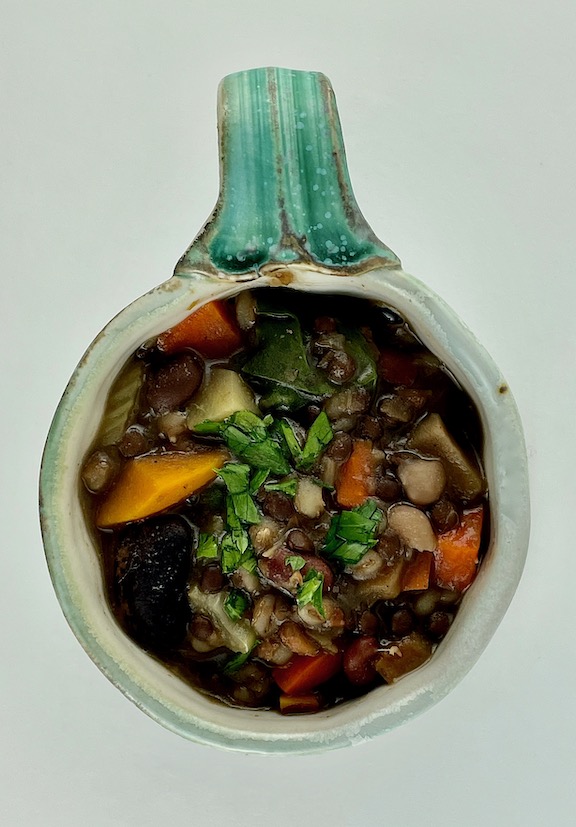 Gay Smith is a thoughtful, articulate and skillful potter who makes generous, comfortable and sturdy (because they are so well crafted) pots. Her once fired porcelain pieces are full of animation and exuberance. Sometimes they feel like they are dancing. Gay's work is available on Etsy as well Penland Gallery Shop and many juried shows.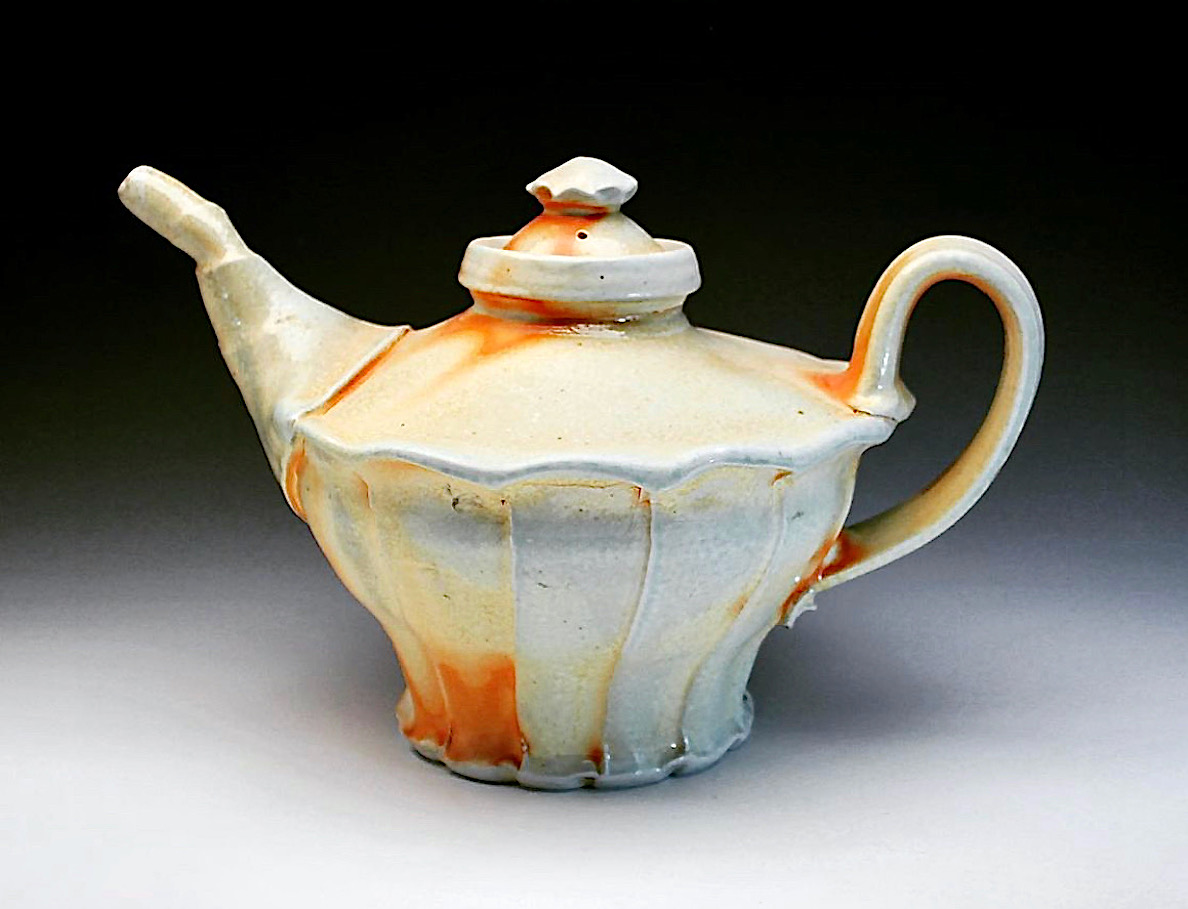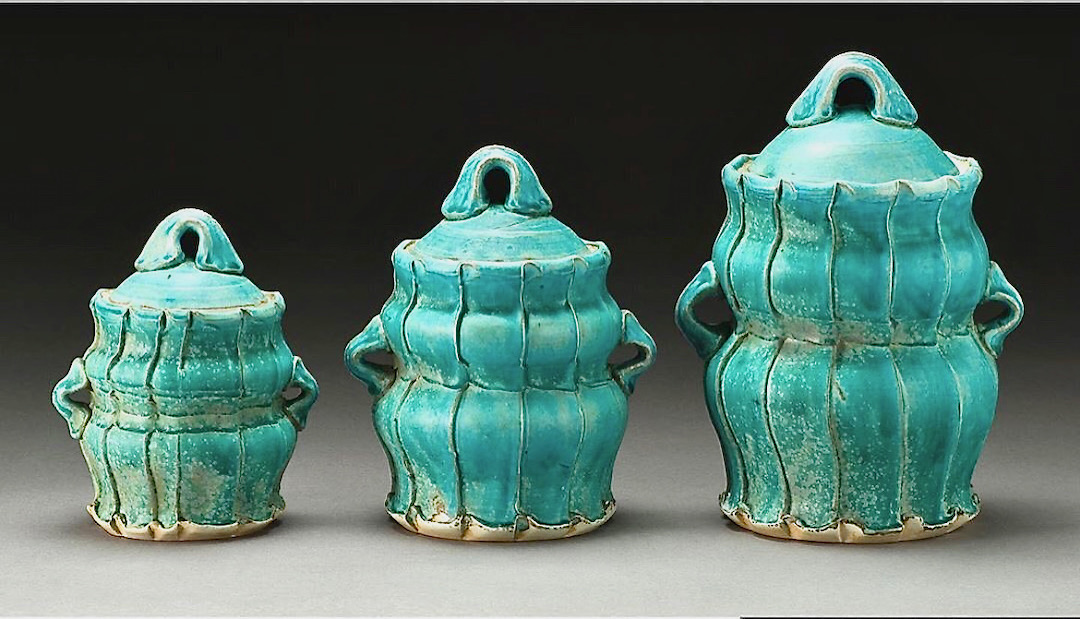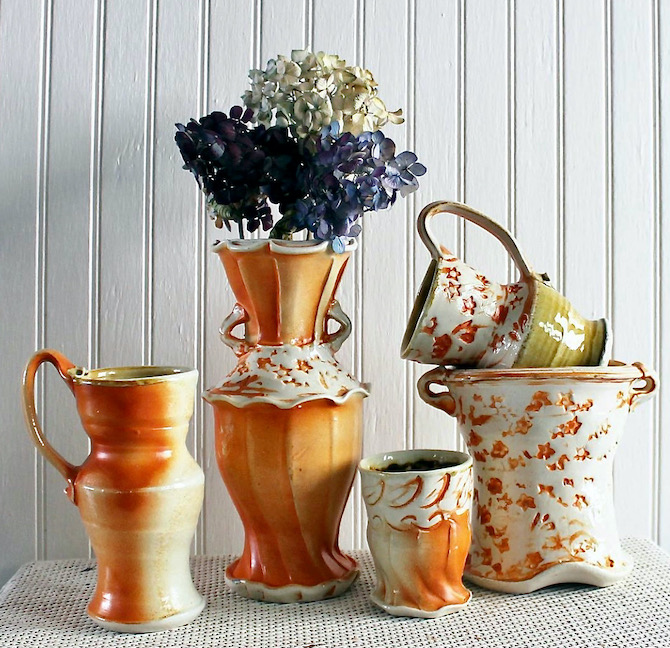 Listen to a recent interview with Gay by Ben Carter on his podcast Tales Of A Red Clay Rambler