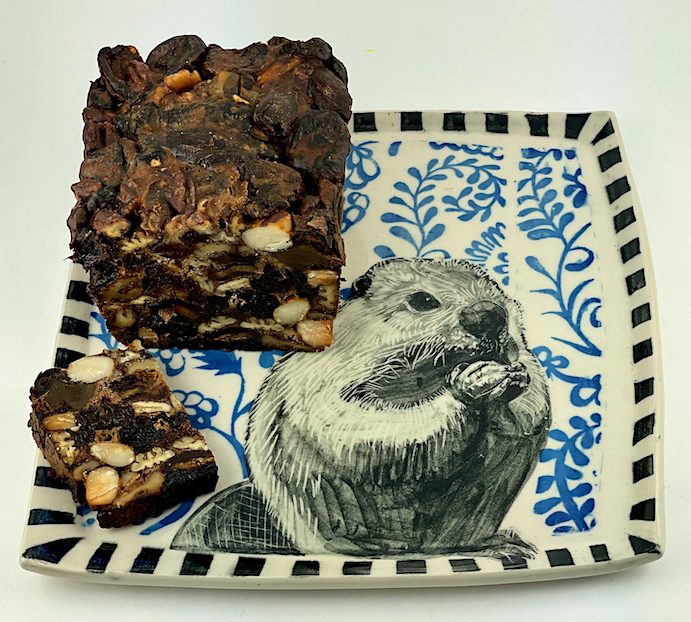 Fruitcake gets a bad rap for legitimate reasons. It can be dry and full of bitter bits of unidentifiable fruit and rinds. People generally have very strong feelings about fruitcake—either you love it or hate it. I was on the fence for years, thinking it looked attractive but not liking the dry, dense way it tasted. Then my friend Deborah introduced me to Sylvia's fruitcake, a recipe Marian Burros adapted from food writer, editor and recipe developer Sylvia Shur and printed decades ago in The New York Times. It was full of soft, flavorful dried fruit and nuts, redolent with brandy and barely held together with a simple batter, more boozy fruit and nuts than cake. We made that fruitcake together for years right before Thanksgiving so it would have time to age and "ripen" from repeated feedings with said brandy over the course of a month to six weeks, often varying the fruit or nuts, depending on what we had procured.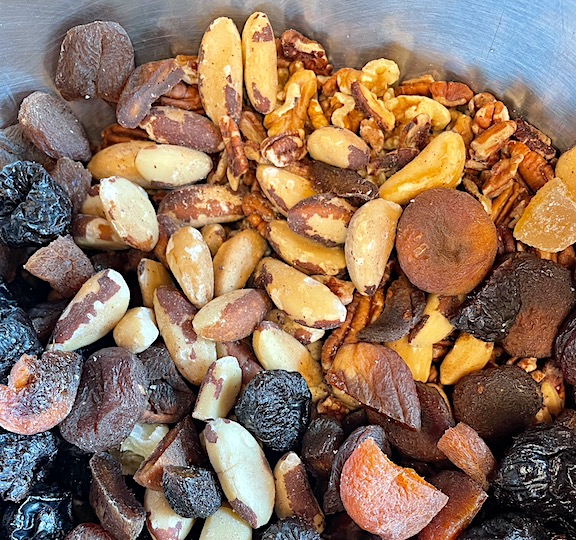 With our kids grown and less time spent cooking in Deborah's big kitchen, we stopped baking together. But every year around Thanksgiving, my husband starts asking if Deborah is sending us a fruitcake. Eventually Deb moved to an apartment and, sadly, the fruitcakes never again materialized. This year, as I started to think ahead to the holidays earlier than usual, desperate for a dose of holiday cheer, visions of fruitcakes started to dance in my head and I dug out the old recipe. You might think "why is she publishing a holiday recipe now?" Fruitcake takes time to cure so 2 months is not too long ahead to make it but even a few weeks will do, if you get a late start. For a stronger flavor, soak the fruit in a little brandy (or your liquid of choice) before adding the batter. Please note that if you (or someone for whom you are making the cake) can't drink alcohol or you want to eat the cake for breakfast, apple, cranberry or orange juice is a decent substitution, although it won't work as a preservative. If you don't have any brandy or don't like it, use rum, sherry, port, or my favorite, bourbon.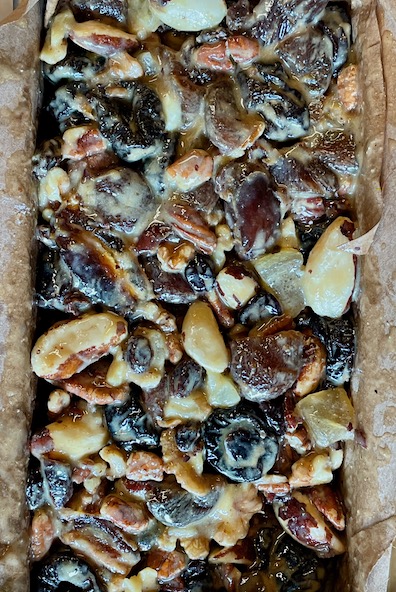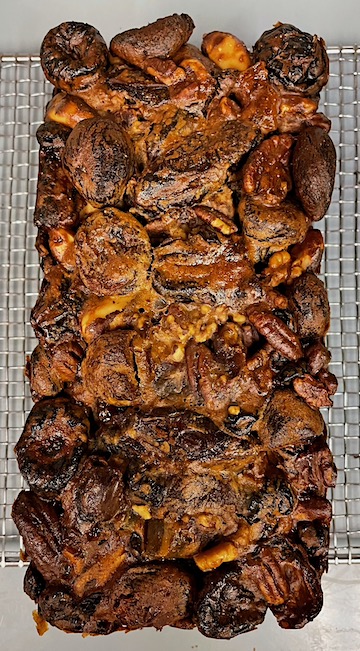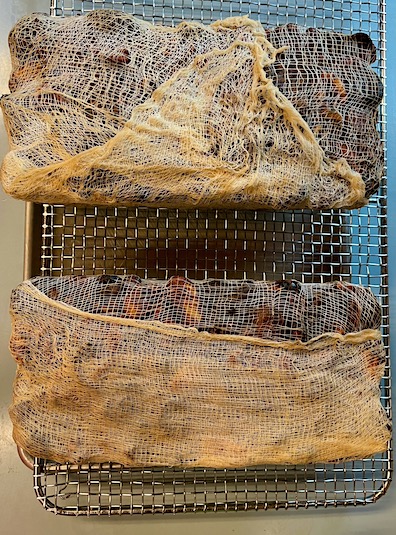 Burros used white flour and sugar in her recipe, as well as the traditional candied fruit (like citron and green(?) and maraschino cherries. No thanks. So I substituted whole wheat pastry flour (almond or gluten free flour flour works fine, too, since it is just a binder, not for rising) and date sugar (dried, ground dates), added lemon and orange zest, and spices. I substituted lots of dried ginger chunks and pineapple forf the candied fruit while dried tart cherries and cranberries replaced the maraschinos. Use what you like and want to eat. Dried figs, blueberries, goji berries, papaya, etc. could all work. Don't be daunted by the list of ingredients. It is a very simple process. I find the recipe makes two good sized loaves (or four smaller loaves) rather than the one originally described. All the better to share with friends!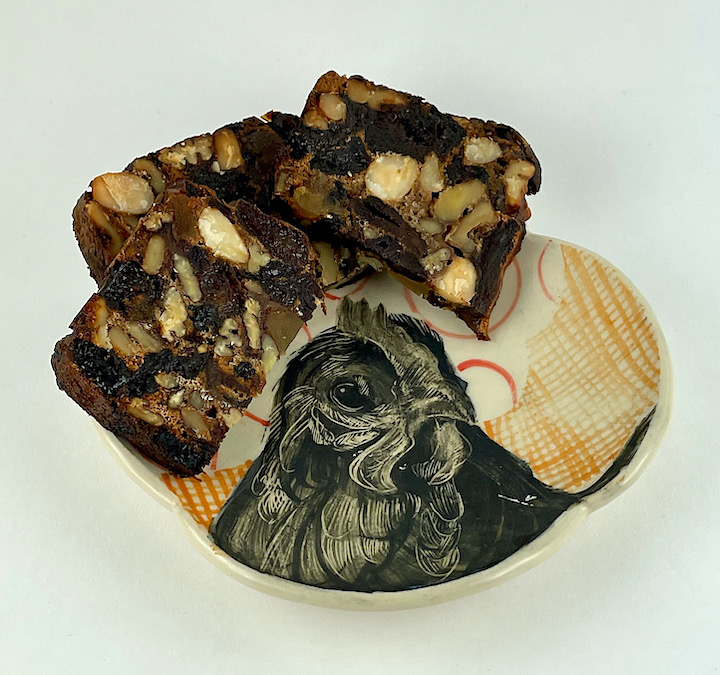 SYLVIA'S FRUITCAKE PLUS
16 oz walnut halves/pieces or a mix of walnuts and pecans

8 oz Brazil nuts

16 oz pitted dates

12 oz pitted prunes

1

6 oz dried apricots

6 oz candied fruits (ginger, pineapple)

1/2 cup raisins

1 cup dried cherries or a mix of cherries, cranberries and/or goji berries

Zest of one lemon or orange

 

1 1/2 cups flour (ww pastry, almond, gluten-free or regular old unbleached)

1 tsp baking powder

 

1 tsp salt

Optional-1/2 tsp cinnamon and 1/2 tsp dried ginger

6 eggs, beaten

1 cup sugar (maple, date or cane all work)

2 tsps vanilla

2 tsps brandy or apple juice

3/4-1 cup brandy plus more for feeding

 
Preheat oven to 275 F. Grease the bottom and sides of two 8 or 9" loaf pans. Line with brown paper. (I cut up a paper bag but you can use parchment paper)
Combine all the nuts, fruit and zest in a large mixing bowl. 
Mix together the flour, baking powder, salt and spices, if using, and toss with the fruit/nut mixture to coat. 
Beat or whisk the eggs, sugar, vanilla and 2 tsps brandy. Pour over the nut mixture and mix gently to combine. 
Fill the prepared loaf pans and press the mixture into the pans firmly. Cover each lightly with a piece of parchment paper. Bake 2 hours, removing parchment half way through baking. (If using smaller pans, they will bake faster so adjust the time accordingly).
Remove pans to a wire rack in a shallow pan to cool and spoon a 1/4 cup of brandy over each loaf. Let stand one hour. Peel off paper, wrap each with cheesecloth, pour remaining brandy into the shallow pan and turn each wrapped loaf in the pan until cheesecloth is wet with brandy. Wrap each loaf with heavy duty foil (I use two layers) and store in a cool, dry place or in a large covered container. 
Check after a few days and if dry, add more brandy and rewrap tightly. Check every 10 days or so, adding brandy if dry, until ready to eat or gift.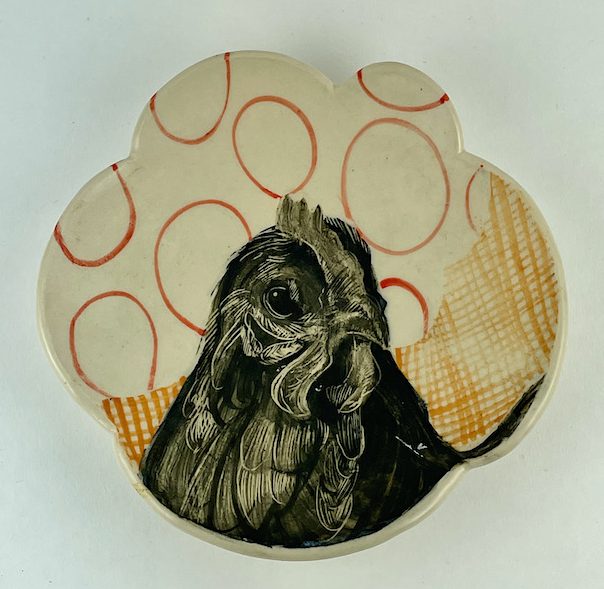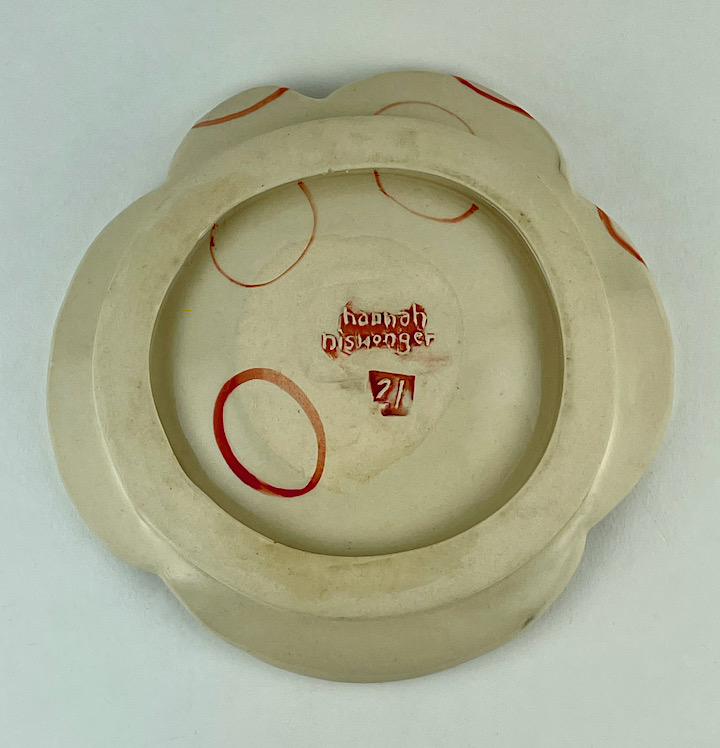 Hannah Niswonger makes delightful functional white stoneware pottery with remarkable drawings of wildlife set amidst lively patterns and shapes as well as sculpture, prints, drawings and tiles. See more of her work on her website.