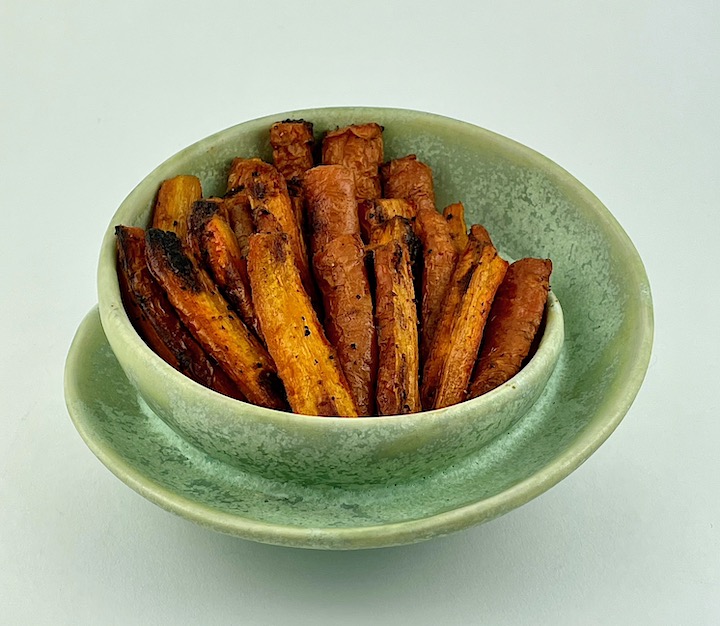 When this time of year rolls around, I am just about out of ideas when it comes to vegetables. I try to serve 2-3 portions of veggies per meal (one might be salad) but by early spring, I falter. I've made all the cabbage and cauliflower and beets I can stand and my vegetable drawer is looking pretty sad. Then I remember carrots and I am up and running.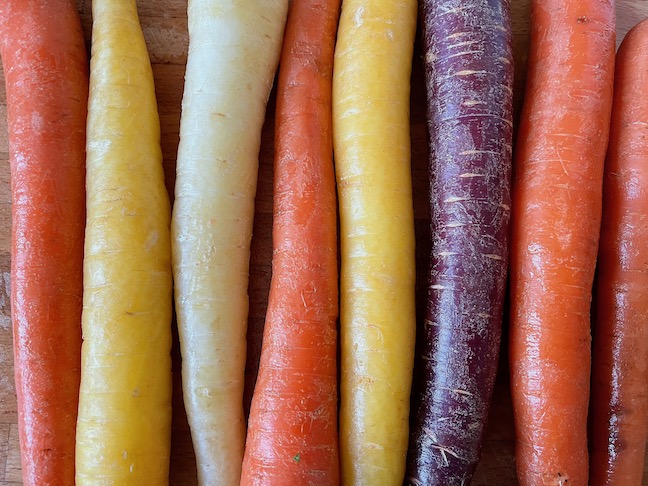 Roasting carrots became a habit back when I first learned to roast a chicken. You just put them in the pan under and around the bird and they soak up all the flavor of the drippings. You can choose traditional orange carrots or select mixed for a range of color. But carrots are delicious roasted on their own with just a bit of oil and a sprinkling of herbs. Use the traditional herbs like thyme and rosemary or try a variation zhuzhed up with cumin and cayenne for a change.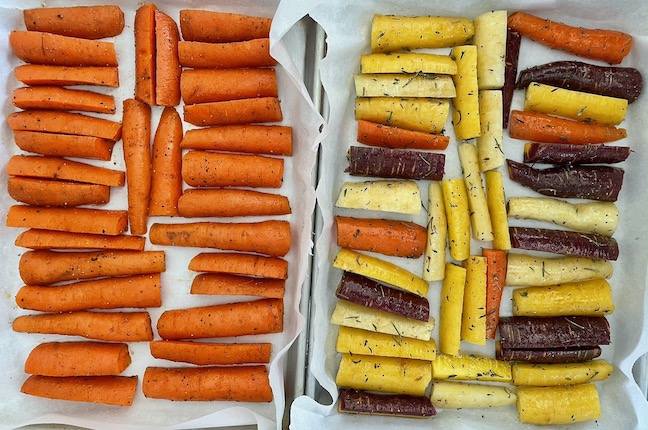 Even simple carrots with just oil and salt and pepper taste good roasted. Za'atar, curry powder, cardamom and coriander are all possible substitutions. And if you really like them sweet, add a touch of sugar, honey or maple syrup with the oil. Use what you like and they will taste good to you. A hot oven does all the work—it is almost too easy to even call this a recipe. If you put them in the oven a little over a half an hour before you want to serve your meal, the carrots will be caramelized and yummy when you are ready to eat.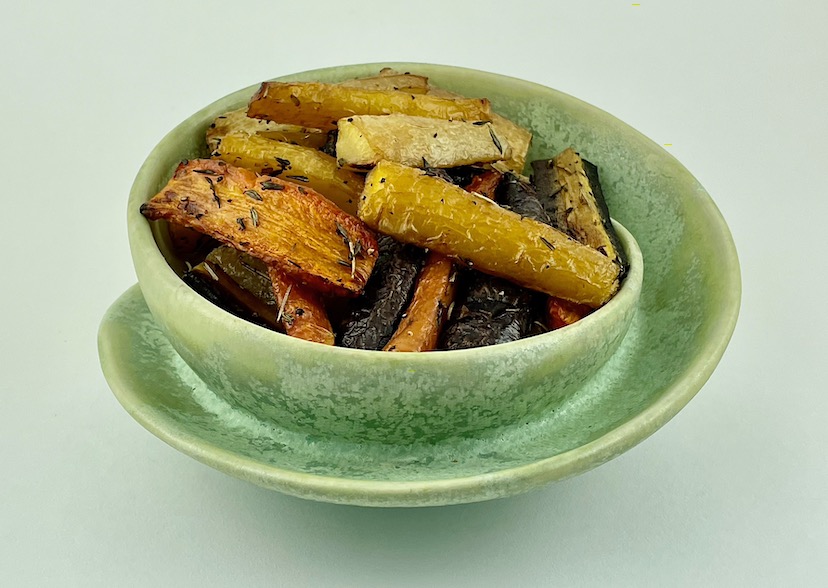 ROAST CARROTS
1-2 lbs carrots, washed and scrubbed (If organic, you don't need to peel unless really funky)

1-2 TBs olive oil

1 tsp thyme leaves

1 tsp rosemary, chopped

(Alternately 1/2-1 tsp cumin and a tiny pinch of cayenne in place of herbs)

Sprinkle salt and pepper
Preheat oven to 400F.
Cut carrots into 3" pieces and then halve each piece vertically. If thick, cut into quarters vertically to get carrot sticks.
Toss carrots with oils and then herbs and salt and pepper.
Place in a single layer on a rimmed sheet pan (I use parchment paper to make cleanup easier but I think they actually brown better without the paper).
Bake 30-45 minutes, turning once, until softened and browned.
Serves 4 or leftovers keep in the fridge for 2 days.
              *                    *                  *                    *                   *         
I can't say enough good things about Gwendolyn Yoppolo's work. The glazes are not only rich and complex but so well researched that they are completely stable. I never worry about crazing or staining. And did I say beautiful and wonderful to use? I am a huge fan.