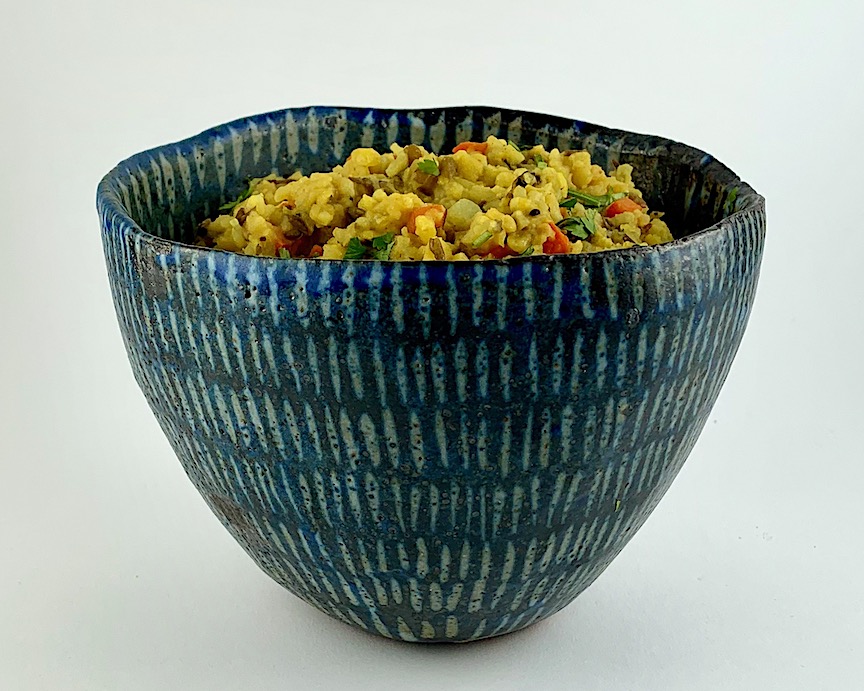 On a "normal" Memorial Day weekend, I would be posting ideas for a picnic or barbecue but there is nothing normal about this year. Instead, I will share one of my comfort food recipes, kitchari (also known as khichri, khichdi, khichuri and other variations). In times of stress, like during this pandemic, we tend to crave whatever it is we personally think of as filling and soothing food. For different people, that means different things. Some will go for macaroni and cheese, goldfish crackers or chicken pot pies. For others, pizza, grilled cheese or a big bowl of minestrone or chicken soup with a side of crusty bread will do it. My mom always goes for meatloaf and mashed potatoes. I have a friend in Virginia for whom simple buttered toast does the trick. I've noticed that my family has been carbo loading, eating more pasta, rice and bread than usual and our fair share of my go-to garlicky bean salad (which I've been making with big scarlet runner beans). Maybe that is because those are the stable ingredients we have on hand or maybe starchy things calm or soothe, I'm not sure. Maybe both. I find both cooking and eating comforting and I have been doing quite a lot, as have, I believe, many people, judging by how hard it became to procure those ingredients!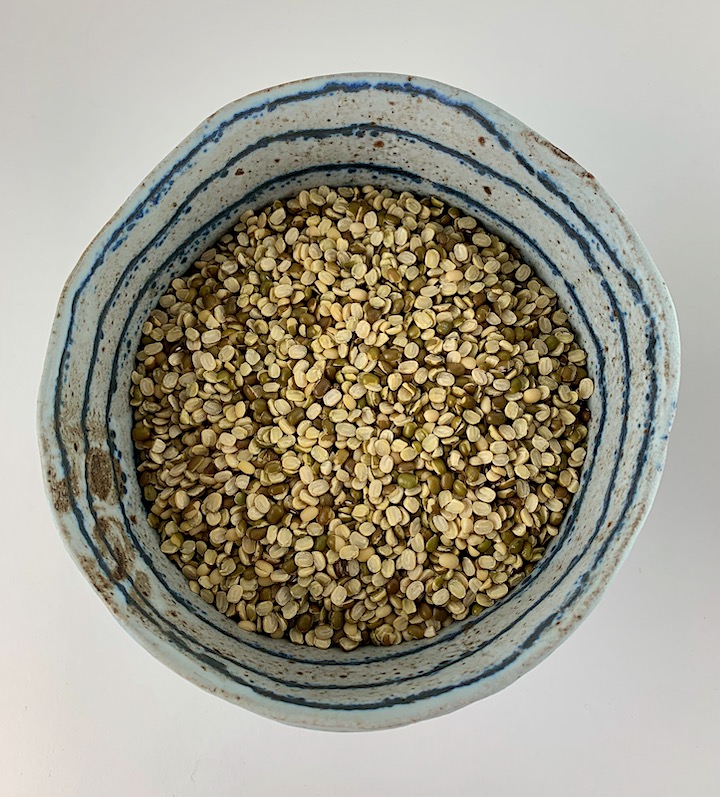 One of my many comfort foods, kitchari, a combination of basmati rice with mung beans and spices, is also one of the easiest to make. I first tasted it a few years ago at Kripalu, a wellness center in the Berkshires, and then learned to make it from their cookbook, in which they call it the "chicken soup of India." Yes, it is an appropriated taste but so are falafel, spaghetti, fried rice, posole and salsa and chips, all in my top 10 of comfort foods. In my mind, it is the East Asian version of rice and beans, another popular comfort food which takes various forms in so many cultures. Think Cuban yellow rice with black beans, Louisiana red beans and rice, Italian riso e fagioli with tomatoes, Persian herbed rice with fava beans, Japanese red bean rice made with aduki beans and southern Hoppin' John. Jeremy Rock Smith, Kripalu's chef, explains that "kitchari provides a full complement of beneficial amino acids in a complete meal that is easy to digest." Perhaps that is one reason it is so soothing.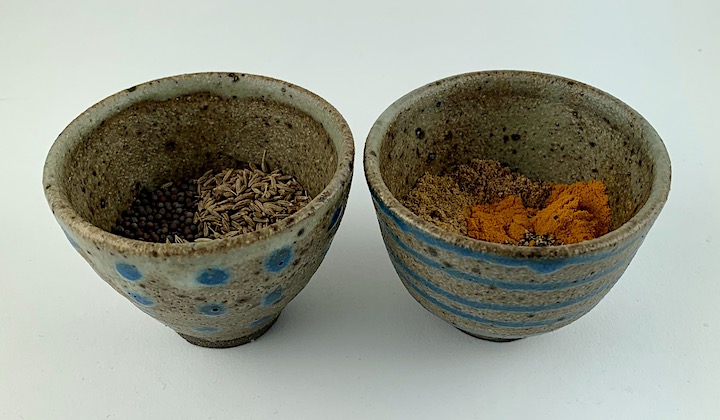 This is also an adaptable dish that can accommodate what you have in your pantry. If you don't have split mung beans, you can use whole (but make sure you've soaked them overnight), or use lentils. If you are eating grain free, use riced cauliflower. This recipe is easily doubled so you will have leftovers for breakfast or lunch the next day. You can make kitchari soupy or dry, gently or highly seasoned and plain or topped with scallions or sesame seeds. If you want it to be warming, add fresh ginger and cinnamon. Add more greens and cilantro for cooling. If you have already cooked veggies, add them at the end of cooking. My son and husband find it bland (they don't love it but humor me and eat it) and add huge amounts of hot sauce. I like kitchari because it is tasty, filling, inexpensive, quick and easy to make from ingredients you probably have at home plus filling and soothing. What could be more comforting?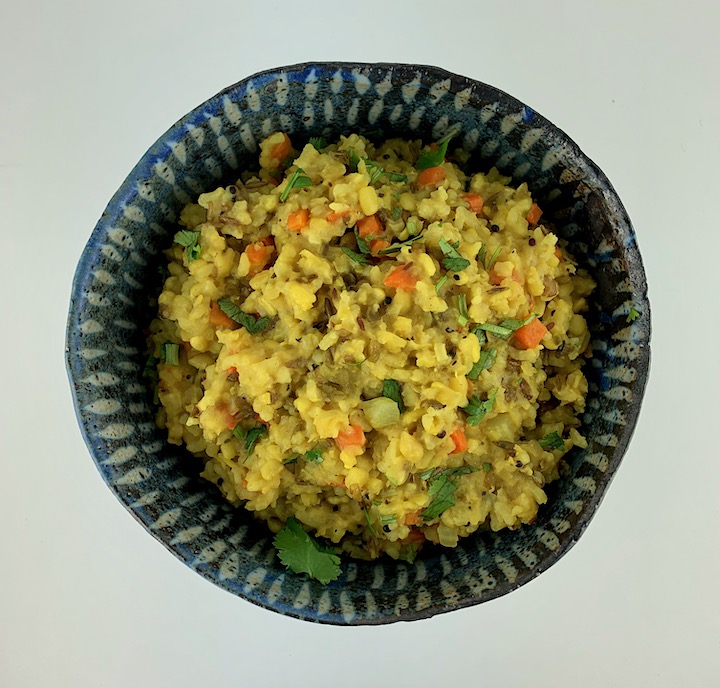 KITCHARI/KHICHRI
1 TBs ghee or vegetable oil

1 tsp brown or black mustard seeds

1 tsp cumin seeds

1 tsp fennel seeds (optional)

2 or 3 cracked green cardamom pods (optional)

1 tsp turmeric

 

1 tsp ground black pepper

1 tsp ground cumin

1/2 tsp ground coriander

2 bay leaves

1 cup moong dahl (split mung beans) or lentils

1 cup white basmati rice

5-6 cups broth or water (Start with 5 and add depending on how soupy you like it)

2-3 cups chopped vegetables (chopped carrots, greens, cauliflower, celery, etc)

1/2 tsp fine sea salt (or to taste)

Chopped cilantro

Lemon wedges, for serving
Rinse the beans or lentils and rice until water runs clear and set aside. 
Measure out seeds and spices and set aside. 
Heat the ghee or oil in a medium saucepan over medium heat. 
Add seeds and stir until they pop. Add the powdered spices and bay leaves and cook another 30 seconds, stirring. 
Add the beans and rice and cook 2-3 minutes to toast. 
Add the vegetables and liquid, bring to a boil and reduce to a low simmer. Cover and cook another 15-20 minutes until soft. Add more liquid if you want it softer or soupier. Turn off but leave covered and let sit a few minutes. Stir in the salt and a handful of chopped cilantro and serve with lemon wedges, chopped scallions and toasted sesame seeds (and hot sauce) so people can add what they please. 
Serves 4-6 and stores well in the refrigerator for a few days. Reheated leftovers make a good breakfast or lunch. This recipe can be doubled easily if you want to cook once and eat many times. 

Melissa Weiss makes some of the funkiest, loosest and friendliest (not unlike the potter herself) pots around. Her pieces are handbuilt (from clay she digs herself in Arkansas) and have an appealing directness both in structure and surface. Weiss layers slips and glazes over her wild clay, as she says, "to complement the clay as opposed to covering it up"and she fires in reduction in a gas kiln, reduction cooled with wood. We actually felt fortunate to be able to buy this set of 4 blue bowls recently (her online sales go lightningly fast) and are so enjoying using them as well as just having them on our table.