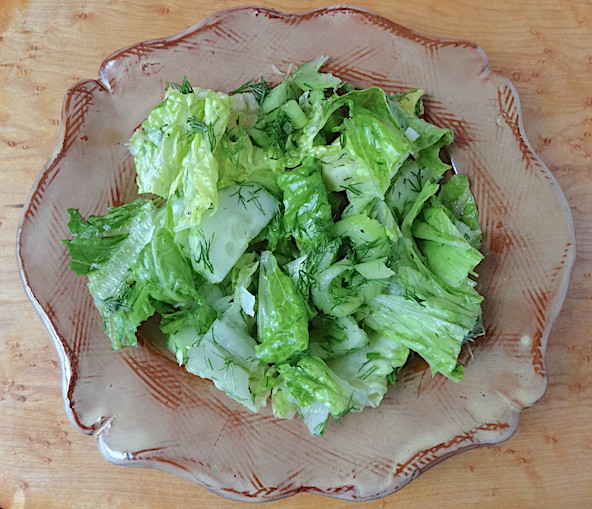 I eat salad in some form almost every day. Eating salad helps me get in the daily minimum requirement of vegetables, fills me up and satisfies my desire for something crunchy, hopefully better than reaching for chips or crackers. Sometimes I make a generic tossed salad with whatever I happen to have in the crisper. Other times, I follow a recipe for a shredded cabbage, beet or carrot slaw (I will share these in future posts) or put together a composed salad from leftover cooked vegetables. What kind of salad I make depends on what is in season or available to buy.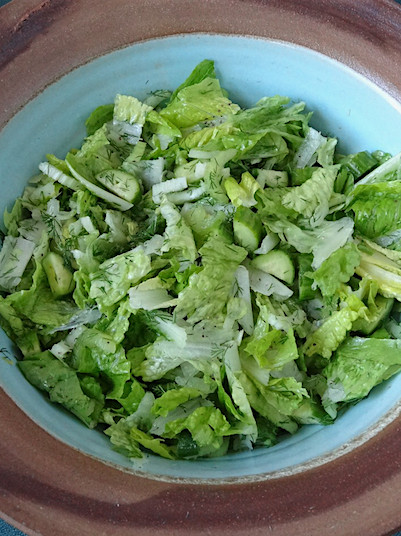 The following recipe is not extraordinary, just a simple, reliable salad based on ingredients that are almost always in stock at my local market (Mani Market on 94th and Columbus in New York) or at nearby chain stores like Trader Joe's and Whole Foods and will most likely be available at any good supermarket near you. I prefer to buy vegetables in season but in the northeast, that isn't always possible. In summer and early fall, salad ingredients are abundant at our farmers' markets but in other seasons, I depend on my local grocers. Bagged romaine (the 12 oz bag with 3 small heads), hothouse cukes, celery and fresh dill, all organic, are on their shelves year round. I think it is the dill that gives this particular salad its fresh taste while the rest of the vegetables provide crunch and textural variety.
This salad recipe is my go-to when I don't have the energy to be creative. It comes together quickly so you can rely on making it in a pinch. It is a very basic recipe. Please vary it according to your preferences and the contents of your refrigerator. If you don't like dill, use cilantro, chives or parsley. If you don't have cucumbers, use green peppers or a leftover cooked vegetable such as asparagus or peas. And if you don't have celery, use sliced daikon or jicama – something for crunch. If you don't like sunflower seeds, use pumpkin or sesame or omit them completely. Finally, if you want to make this more of a main course salad, add a cup or so of crumbled feta cheese, cooked chicken or shrimp or cooked beans like kidney or cannellini. Fruit is a nice addition, especially orange or grapefruit sections. You can enrich the dressing, if you like it heavier, with a little yogurt or cream.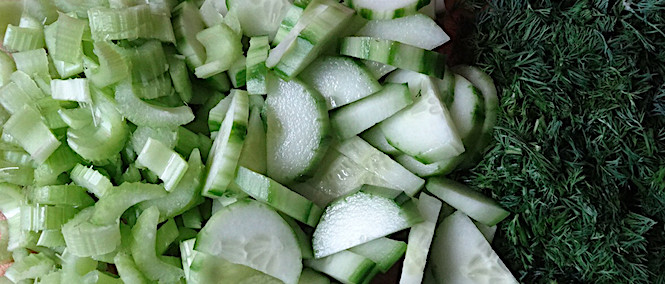 ANY SEASON SALAD
Place in a large salad bowl:
1 12 oz bag or 1 large head romaine lettuce, torn in bite sized pieces

1 long hothouse cucumber (or 4-5 mini cukes), sliced in half moons

4-5 stalks celery, thinly sliced

1 generous cup chopped dill without the heavier stems (probably a whole small or half of a large bunch)

1/2 cup toasted sunflower seeds (toasted adds flavor but raw is fine) – optional
For the dressing, mix together:
2 TBs rice or apple cider vinegar

3 TBs olive oil

Generous pinch each of salt, black pepper and garlic powder
Toss and serve. Feeds 4-6 as a side salad or, in our case, 2 with generous lunch leftovers. (Because the lettuce is romaine, this salad holds up well for the next day's lunch).