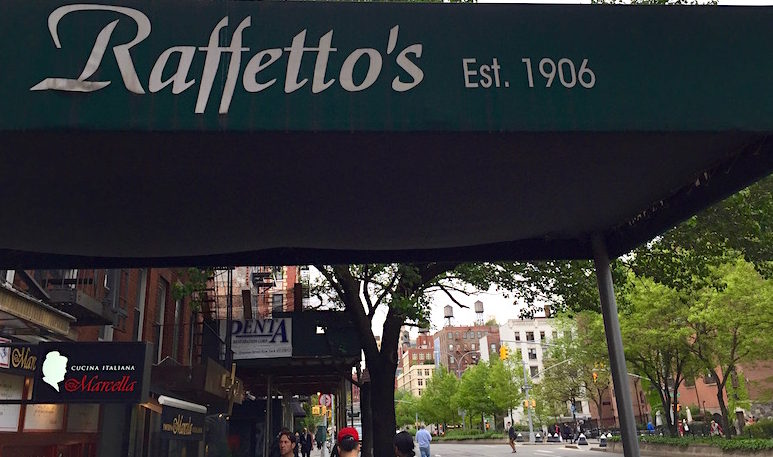 Despite widespread gentrification and demolition, New York still has many old, unique food shops specializing in everything from cake-decorating supplies to Spanish imports. One of my favorites is Raffetto's, a more than 100-year old Italian market on Houston Street near 6th Avenue. A charming, old-world type store with wood cabinetry and shelves stocked with all kinds of locally produced and imported Italian foods and ingredients. It is a place you need to visit for a taste of non-sarcastic "artisanal" food. Their pasta is simply delicious.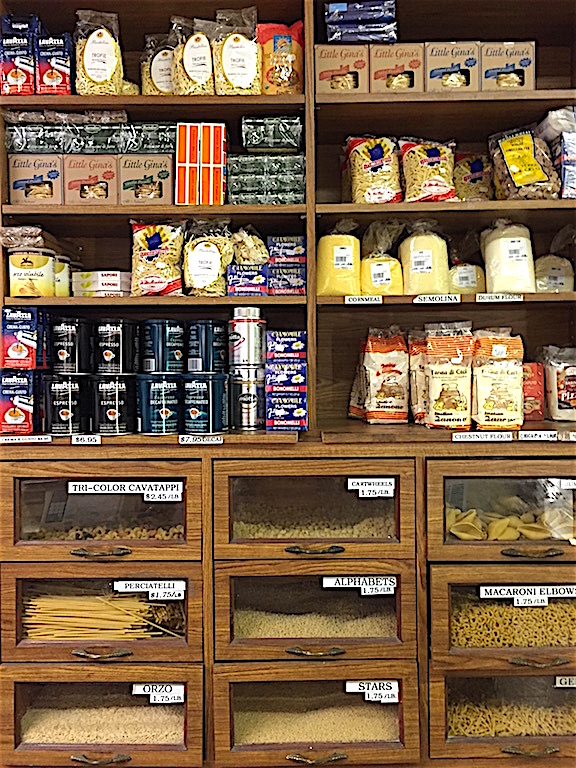 I first stumbled upon Raffetto's in the mid-80s, when I was an art advisor and used to spend a lot of time combing the galleries of Soho (before they morphed into expensive boutiques and chain stores). Walking north across Houston Street, I would pass Raffetto's on the way to get a coffee or hear music in the Village. When I finally stopped in, I was amazed at the other world behind its front door – a wall of different colors and shapes of dried pasta on one side and shelves full of grains, beans, soup mixes, oils, vinegars, a refrigerated case with fresh sauces, cheeses and more on the other. In the back, several women in white lab coats were packaging sauces and filled pasta in an open kitchen and were cutting fresh pasta to order, something I hadn't seen before.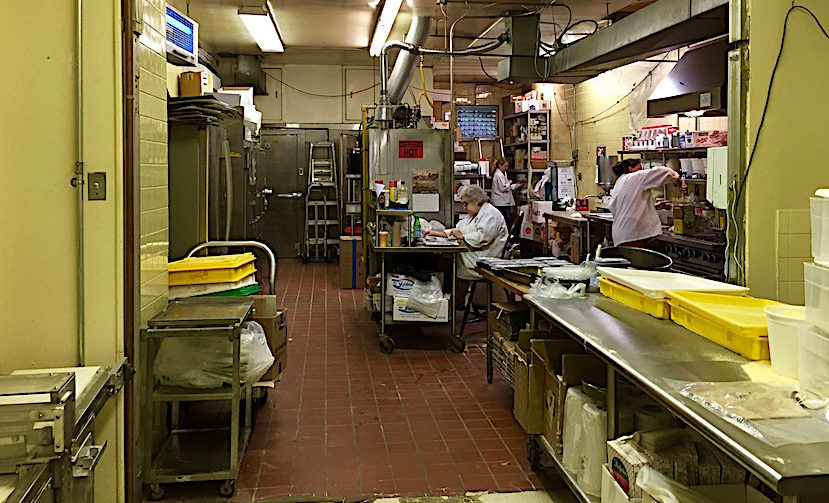 According to their website, and from the looks of it, Raffetto's is still using the same pasta-rolling machine that their patriarch/founder bought when he opened the store in 1906. And the pasta "guillotine", on which you have your fresh pasta cut to your choice of widths, dates from 1916. Don't you wish more equipment was still made and maintained that well now? Three generations of the Raffetto family are working in and running the business, making the pasta and sauces and staffing the shop. But I'm getting lost in history: the real story is the food they produce.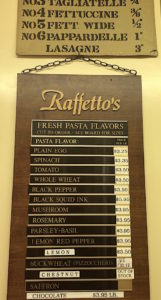 Raffetto's offers cut-to-order fresh pasta in traditional and non-traditional flavors Including tomato, parley-basil, whole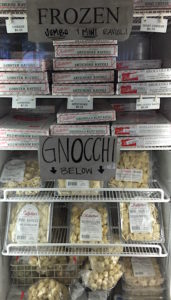 wheat, lemon red pepper, rosemary, black squid-ink and, my favorite, black pepper. Sometimes you can get lucky and arrive when chestnut, lemon, saffron or even chocolate are available. Ravioli fillings range from the usual cheese or cheese and spinach to pesto, goat cheese, seafood and chicken with smoked mozzarella and the occasional special like arugula and ricotta, pumpkin or Gorgonzola and walnut. (My son says he doesn't like mushrooms but he loves Raffetto's mushroom ravioli. Go figure!) Tortellini and potato gnocchi are made and sold here in a range of fillings and flavors. Happily for all of us, many varieties of the ravioli are available at stores like Fairway and Citarella and the jumbo ravioli are available at Zabar's. Both the fresh and filled pastas freeze well, although I wouldn't keep them in the freezer for more than a few months.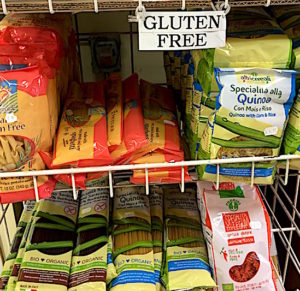 In addition to the fresh and filled varieties, Raffetto's stocks a selection of imported dried pastas, including spelt, farro and quinoa, and a huge assortment of shapes. If you aren't a pasta eater, there are plenty of delicious red and green sauces, olives, anchovies, condiments and seasonings to buy for yourself or for a gift. Arriving with a bag full of groceries from Raffetto's (easy to make dinner) would make you a dream house guest!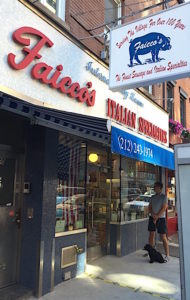 Raffetto's was one of many Italian food stores in its West Village neighborhood and you can still find a few others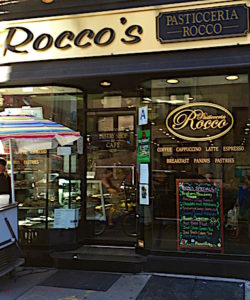 open. Faicco's Pork Store, dating from its first incarnation on Thompson Street in 1900, operates a couple blocks away on Bleecker Street, as does Pasticcerio Rocco, which opened in 1974, the youngster of the group. Caffe Reggio, claiming to have served the first cappuccino in New York, has offered espresso to generation after generation of NYU students and tourists since 1927 on MacDougal Street.
Unfortunately, other old establishments in this little "Little Italy" didn't make it. Joe's Dairy, across Houston Street, produced and sold the best smoked mozzarella I've ever tasted, but they moved to New Jersey where costs were less expensive. Balducci's, which started in Brooklyn in 1900 and moved to the Village in 1946, had a large bustling market on 6th Avenue, about 10 blocks north, but it closed after being bought out by a big food company. (Incarnations have opened and closed and opened in various spots around the city). The charming Cafe Dante on MacDougal, with a case full of more than a dozen flavors of gelato before gelato was a household word, closed last year, a victim of surging rent, now replaced by an upscale restaurant of the same name.
Fortunately, Raffetto's survives, possibly because it keeps up with what people want, continues to innovate, provides quality products and maintains a knowledgeable, efficient and friendly staff. In order to meet wholesale demands, they expanded by opening a small factory, first nearby and now located in New Jersey. It probably doesn't hurt that they own their own building on Houston. But whatever the reasons for its success, I hope Raffetto's continues producing delicious pastas and sauces far into the future.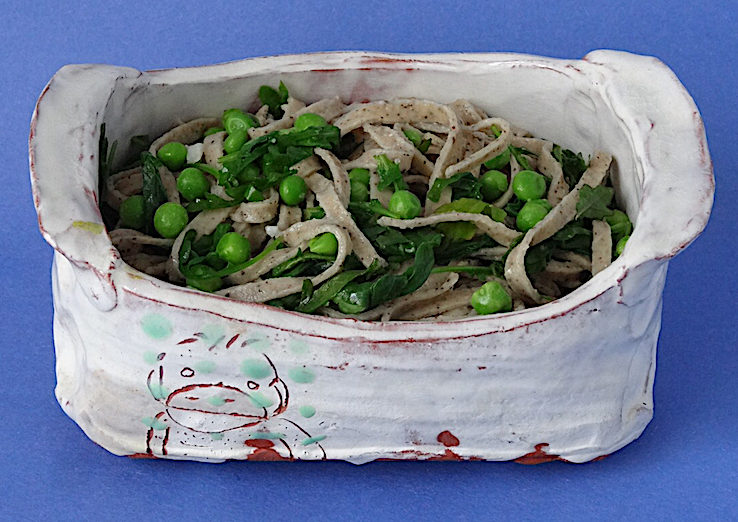 Black Pepper (or Rosemary, Whole Wheat or Parsley-Basil) Pasta with Vegetables
1/2 lb. fresh black pepper pasta, cut to your preference of width

1/2 package of frozen peas

2 or 3 handfuls of clean arugula or spinach

3 TBs olive oil

1 TB butter or ghee

2 cloves garlic, minced

Salt to taste
Bring a large pot of water to a boil and add a big pinch of salt. Shake the cornmeal off the pasta and add to the boiling water, stirring immediately to break the starch bonds and avoid clumping.
Check for doneness after 2 minutes and again at 3. Just before the pasta is cooked to your liking, add the peas and greens and cook 30 seconds and then drain.
Heat the oil and butter or ghee in the now empty but still warm pan over medium heat and then add the garlic with a pinch of salt. As soon as the garlic is softened, about 1 minute, turn off the heat, add the drained pasta and vegetables and toss to mix. Add additional salt to taste. If you like, sprinkle with freshly grated cheese. Makes 4 starter or 2-3 main course servings.
Note: Preparing the fresh pasta or ravioli makes one of the easiest dinners ever. It cooks much faster than dried pasta so watch it carefully – a few minutes is really sufficient. To fortify, you can toss in some small pieces of broccoli or cauliflower and some cooked beans, with or without cheese. Alternatively, use a tomato sauce or pesto (the garlic scape pesto recipe from a few weeks ago would be delicious with the whole wheat pasta), add some cooked chicken or shrimp, sprinkle with fresh parsley or basil and you've amped up your main course to restaurant status.