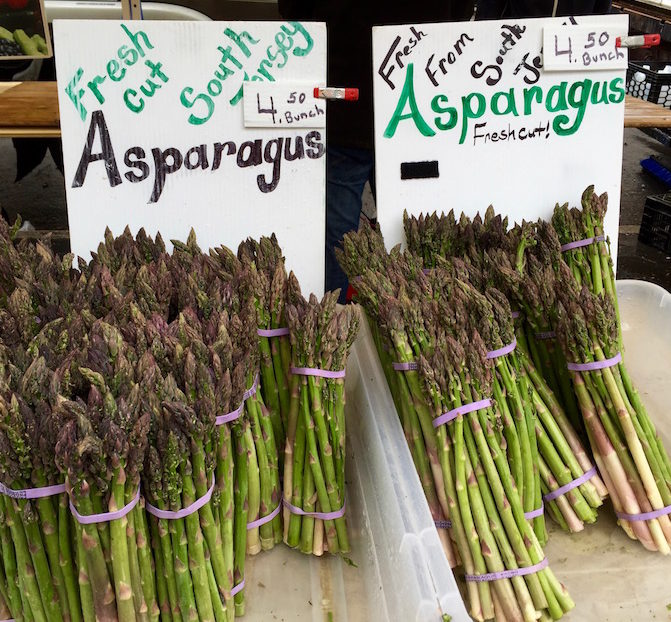 We can create beautiful plates of food when cooking but it is more important that the dishes be tasty and nutritious. When they also look good, that is a side benefit. Any plate you present will be attractive if you use enough fresh, seasonal vegetables and don't overcook them. Our family meals now incorporate many more vegetables than anything else. Sometimes we eat vegetarian, sometimes vegan, sometimes omnivorous. As diet and nutrition fads come and go, I try to stay focused on vegetables as the largest portion on our plates, supplemented by smaller amounts of fats, proteins and whole grains.
Using what is in season is an easy way to plan what to make for dinner. If you take a minute to think about what is fresh locally, the options become clearer and more limited. It is spring now so what is fresh in the market is asparagus, fiddlehead ferns, artichokes(from California), green garlic and ramps, soon to be followed by sugar snap and shell peas, radishes and spring onions.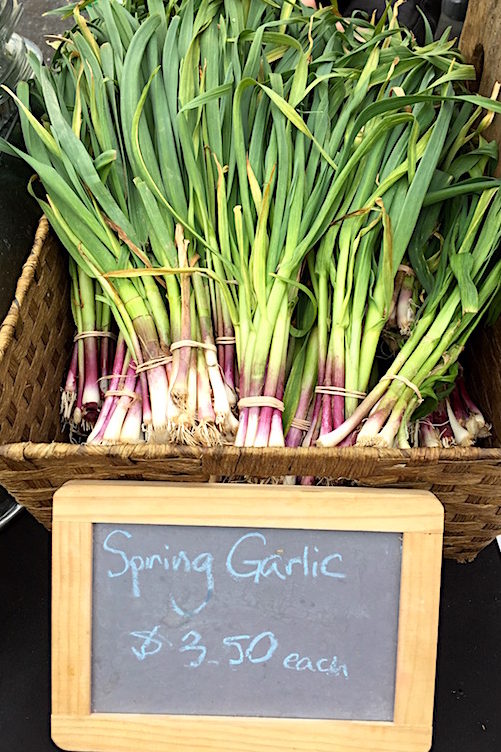 With these seasonal vegetables in mind, you can start to think about making a simple pasta, risotto, quiche or frittata with any of these. When you add a side salad, you have an easy spring supper. With or without a grain or potato, roasted asparagus, sautéed sugar snaps or radishes or steamed fiddleheads, asparagus, artichokes or peas accompanying a piece of baked or broiled fish, chicken, tempeh or tofu constitute a satisfying simple meal. If you aren't serving a starch, just enhance your plate with a second vegetable or salad.
It really is that easy.
SAUTEED ASPARAGUS AND GREEN GARLIC
1 bunch fresh green asparagus, trimmed and cleaned and cut in bite-sized pieces

1 bunch green garlic, cleaned like scallions and sliced thinly

chopped green garlic

1 TBs olive oil

1 pinch salt

zest from a small lemon (a microplane grater is the best tool for zesting)
Heat a wide skillet on medium high heat.
Add oil and, when hot, add green garlic and salt and sauté one minute.
Add asparagus pieces and sauté, stirring, over medium heat about 4 minutes, depending on the thickness of the asparagus, and add a splash of water if it all starts to stick.
As soon as you can pierce a piece of asparagus easily with a fork, take off heat and put in a serving dish.
Sprinkle with lemon zest.
Note – If you don't have green garlic, simply use 2-3 cloves of the ordinary stuff, minced.