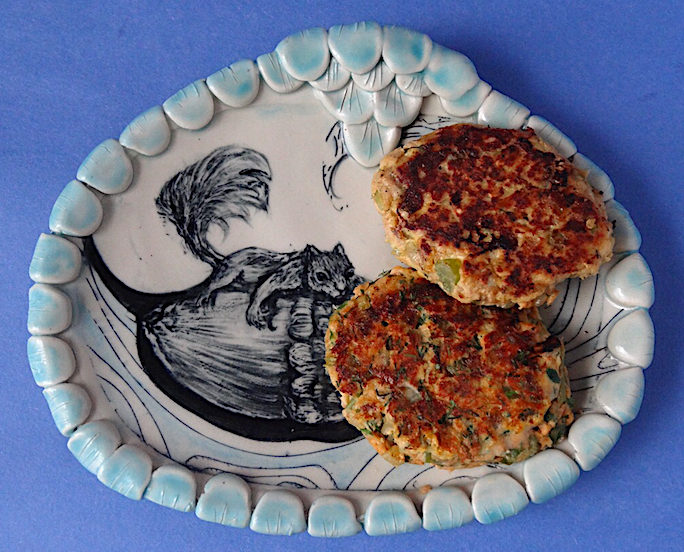 Salmon burgers, patties, cakes, croquettes, or whatever you prefer to call them, probably aren't the first thing you think of when compiling a grocery list. You should keep them in mind, however, because salmon burgers are easy to make, economical, healthy and can be eaten hot or cold, giving you flexibility in timing when you make and serve them. They fit into all but vegetarian and vegan diets yet there is probably some seasoning blend, perhaps with Italian herbs or curry, that would make a meatless soy version acceptable.
I try to make fish or seafood at least 3 times a week, especially fish rich in desirable omega-3 fatty acids like wild salmon, sardines and Arctic char. In winter, I bake fish simply with a little white wine and herbs but as the weather turns warmer, I try not to turn on the oven.
More and more, it is difficult to stay informed on which fish are not contaminated, wild or sustainably farmed and therefore safe to eat. The Monterey Bay Aquarium has a new app –  Seafood Watch – which makes this much easier. They do the work to keep up with the best choices for fish and other seafood, good alternatives when your favorite is tainted and what to avoid based on sustainability issues. It's free to download and makes shopping for fish much simpler.
On days when what is available at the grocery seafood counter doesn't look appealing or prices are astronomical, I look for other ways to serve fish to my family. Sometimes I make a canned salmon salad (recipe coming this summer). Other times, I sauté frozen scallops or make pasta with fresh or tinned clams. I've even been known to serve fish sticks on occasion (from deep water fish) or simply open and plate a can of sprats (smoked sardines) when it is really to hot to do anything else.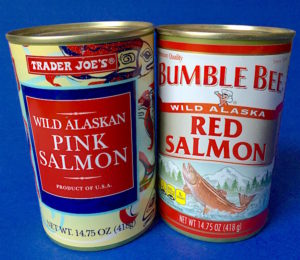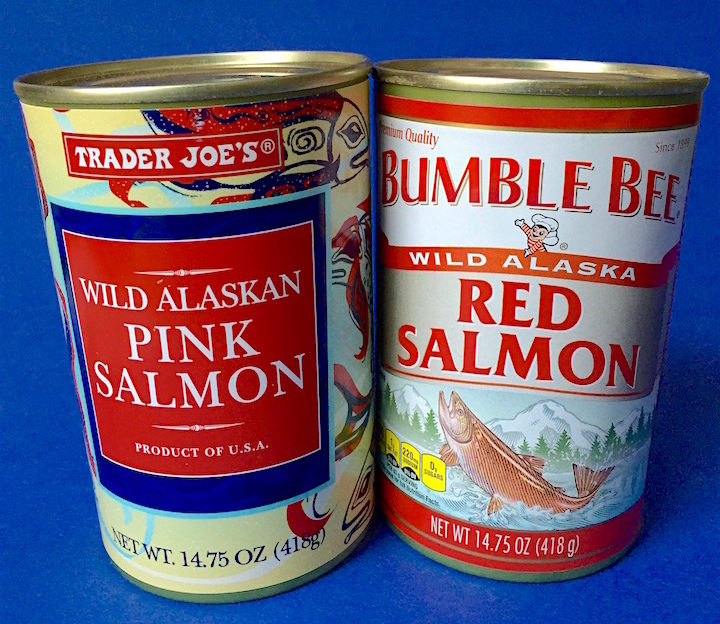 A few weeks my sister told me her family loves the salmon patties she makes them for dinner. I make frozen, pre-made wild salmon burgers (from Costco) as a back up when I don't have a better dinner option, but why not make them myself? How hard could it be? Lots of recipes for salmon burgers call for chopping up fresh fish but with the price of wild salmon hovering between 20 and 30 dollars per pound, I am not about to use it for a burger. I followed my sister's lead and used canned wild salmon: much more economical (between $4-6 per can), shelf stable and available year round. She learned the recipe from a mother at her daughter's pre-school and adapted it to fit her current gluten-free diet by substituting almond flour for bread crumbs. Smart. Just as I added my own twist with fresh herbs, pickles and mustard, you can adjust it to suit your tastes.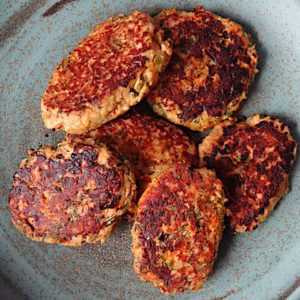 Traditional salmon croquettes contain about half potatoes. Because this recipe substitutes vegetables and a small amount of almond flour for the potatoes, the fish is the main event. I added some chopped sweet pickles to a batch with tasty results. If you use a cast iron pan for its heat retaining quality, the patties cook quickly so they won't overheat your kitchen. Broiling is even faster (but make sure to oil your pan to avoid sticking) if you are willing to turn on the oven. I serve them with some horseradish mustard (half Dijon mustard, half horseradish with a dash of pickle juice). Susie said her family likes them with a crunchy cabbage salad. We thought they were good both warm with mashed potatoes and cooked greens and cold on a green salad. You will want to double the recipe and have a few leftovers – they are even better the next day.
Susie's Salmon Burgers
1 14.75 oz can of wild red or pink salmon, rinsed, drained and mashed (I leave the bones-for the calcium and they just blend in if you mash well – but I remove the skin for aesthetic reasons although it isn't necessary. Do as you like).

3 TBs olive, avocado or coconut oil

1 medium onion, diced

3-5 stalks celery, depending on size, diced

3 cloves garlic, minced

2 eggs, beaten

1/2 cup almond flour, breadcrumbs or ground oats

1/2 tsp paprika

1 tsp salt
The following are optional but, I think, make a big difference in flavor:
1/2 cup chopped dill (optional)

1/4 chopped chives (optional)

1 TB chopped sweet pickles

1 TB Dijon mustard (optional)

1/2 tsp black pepper (optional)

1/2 cup grated Parmesan (optional)
Heat a cast iron skillet over medium high heat. Add 1 TBs oil and sauté onion until becoming clear. Add the celery and cook until it starts to soften. Add the garlic and cook one more minute.
Add the cooked vegetables to the mashed salmon and mix to combine. Add the eggs and crumbs, oats or almond flour, herbs, mustard, seasonings and the cheese, if you are using it. Mix just enough to combine. If the mixture isn't holding together, add one more egg.
Form into medium sized burgers (I find this recipe makes 6-7 patties). Wipe out the pan you used to sauté the vegetables, add another tablespoon or 2 of oil, heat and pan fry the salmon cakes for a couple of minutes until nicely browned. Flip and cook until both sides have a nicely browned crust. Pile on a plate and continue cooking the rest, adding oil as necessary. I tried broiling the patties and they worked just fine. They had a little less crunch but a lot less fat. If you broil, definitely oil the pan.
Serve the cooked salmon burgers unadorned (or on buns, rolls or brioche), with plain or horseradish mustard if you like. These patties refrigerate very well and are quite good in a lunchbox with a salad or in a sandwich with mustard, lettuce and pickles. Makes 6-7 medium or 4 large burgers.