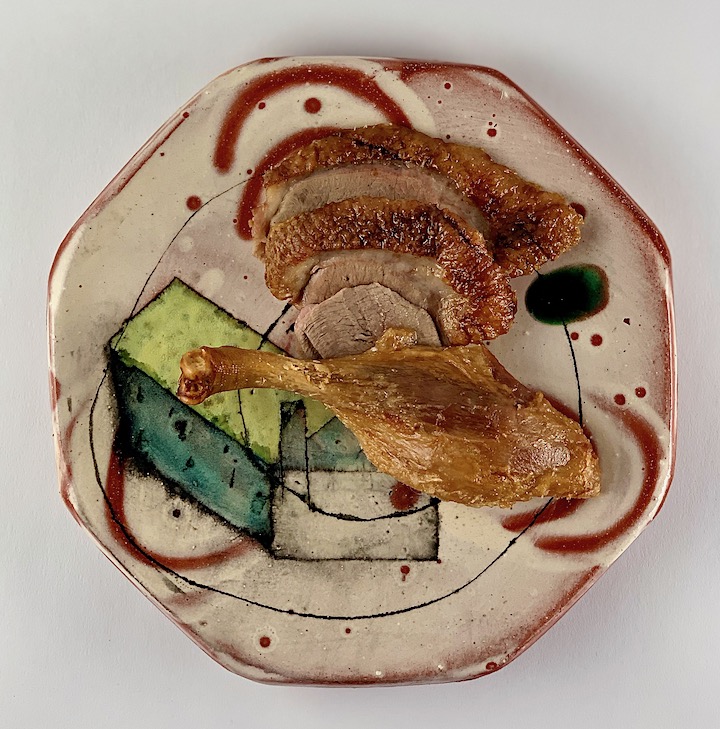 One of the best and worst things about painting your home, beyond the mess and inconvenience, is that you have to face years of accumulated stuff. There is no avoiding it when it is mounded up in front of you. Hopefully, at the end, you give away or simply trash a good bit of it, but in the process, you may find things you had misplaced or forgotten.
When we painted our apartment recently, not only did I recover some missing jewelry, but I also unearthed one of my grandmother's loose leaf cookbooks of typed out recipes and pasted in clippings. Among instructions for jello molds and cheese-covered frozen vegetables, I found recipes for "meat loaf-Extra good" and date-nut bread that "one of the girls served the other night with a cream cheese spread – lush!".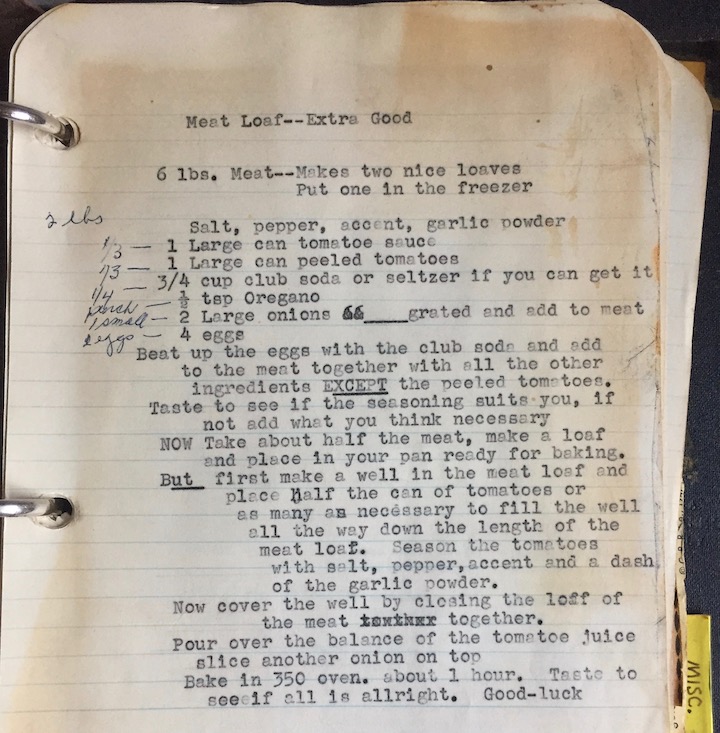 I may have to revisit those two when we have our gas back on but until then I offer you her very simple and delicious recipe for roast duck, something I had long thought about making but never attempted before now. The recipe came straight out of her cookbook but didn't indicate the cooking temperature. I assumed 350-375F after a quick roast at 425F to sear the skin. Duck is available in New York at farmers markets, Whole Foods and specialty food stores like Fairway and Eataly, in Chinatown and even Costco, and online at D'Artagnan, among others. I got a whole duck from a farmer at the 97th Street Greenmarket and simply put it in the fridge for 2 days to defrost. It was much, much easier to cook than I had imagined and cooking it on top of boiled potatoes gave us a delicious side dish. Because we still don't have a working oven, I made it at my sister's apartment and it easily fed 6 of us.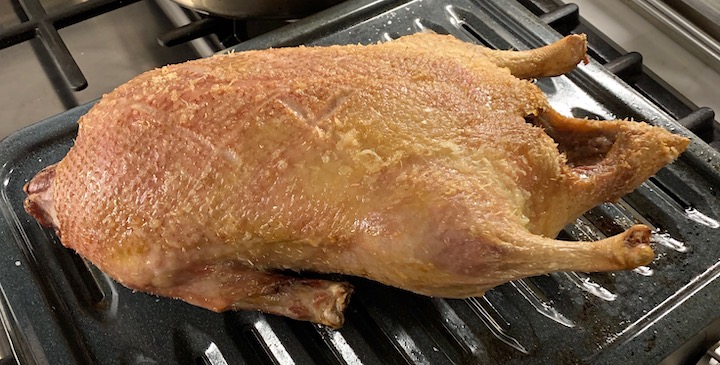 My grandmother, Matilda, was a remarkable person who treated children with respect and made them feel capable and loved. A far better housekeeper than I am, she wasn't a "stuff" saver. She taught me to knit and crochet, to play cards, to make chicken soup, to balance a checkbook (sorry, Grandma, haven't done it in years) and the value of being a good listener and a good friend. She has been gone for thirty years but she is still teaching me how to do things.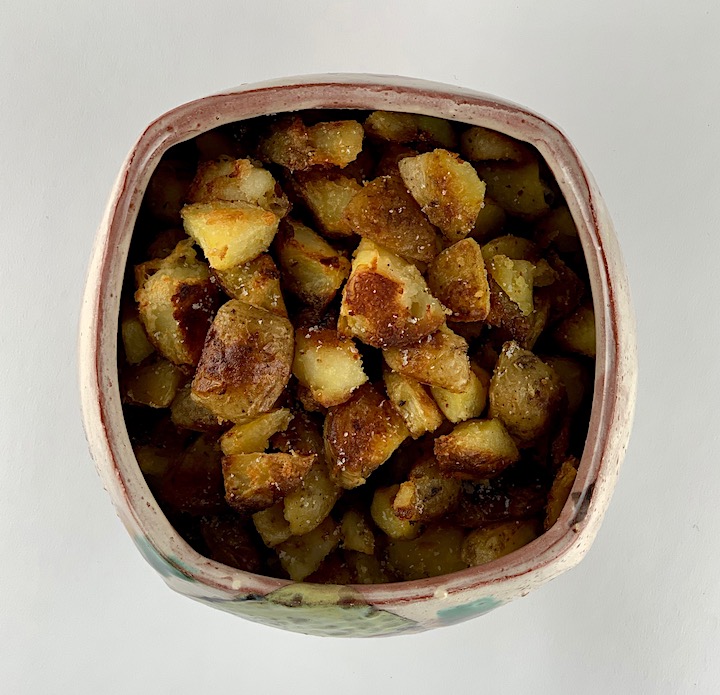 ROAST DUCK (with duck fat potatoes, or not)
1 4-6 lb. duck, rinsed and patted dry

2 tsps kosher salt

2-3 lbs yellow potatoes, cut in pieces, optional
Salt the duck inside and out, skewer the neck skin (a bamboo skewer works well but a wooden toothpick is good enough) and score the skin in a diagonal pattern (as you would a ham), taking care not to pierce though to the meat. Set the duck on a plate or in a baking dish and place uncovered in the fridge for at least 8 hours. 
When ready to cook, set the chilled duck out at room temperature for 20-30 minutes while you preheat your oven to 425F. If you want to add seasoning, fruit, garlic, onion or herbs, now is your chance. I just used salt. While the duck rests, put the potatoes, if you are making them, in enough water to cover, bring to a boil, reduce heat and simmer about 10 minutes, until they are just pierce-able. Drain and toss in the hot pan to fluff up the edges. Let potatoes air dry while you tend to your duck.
Place the duck with the breast side down on a v-rack, if you have one, or on a wire baking rack,  in a roasting pan or rimmed half sheet pan. Bake at 425F for 30-45 minutes, until the fat starts to render and skin starts to brown slightly.  Remove duck and rack (you can just rest them in your sink) and pour the fat and juices into a fat separator or glass measuring cup. Turn the oven heat down to 350F. Place the dry potatoes in the roasting pan (if you use a piece of parchment paper, your clean up will be much easier), add a few tablespoons of the duck fat and toss. (You can store the rest of the fat in the fridge for another use). Situate your duck, breast up, on top of the potatoes and put back in the now 350F oven. Roast for 45 minutes to 1 hour or until the thickest part of the thigh registers 175F. Remove the duck from the oven and let rest for 15-20 minutes while the potatoes continue to brown. Watch them and remove from the oven when they are crisp. Carve the duck as you would a chicken and serve with potatoes. Warmed apricot, orange or currant fruit spread or any kind of cooked cherries, berries or even applesauce would be delicious alongside the duck. We had steamed broccolini but choose your favorite green to balance the richness of the meat. Serves 6