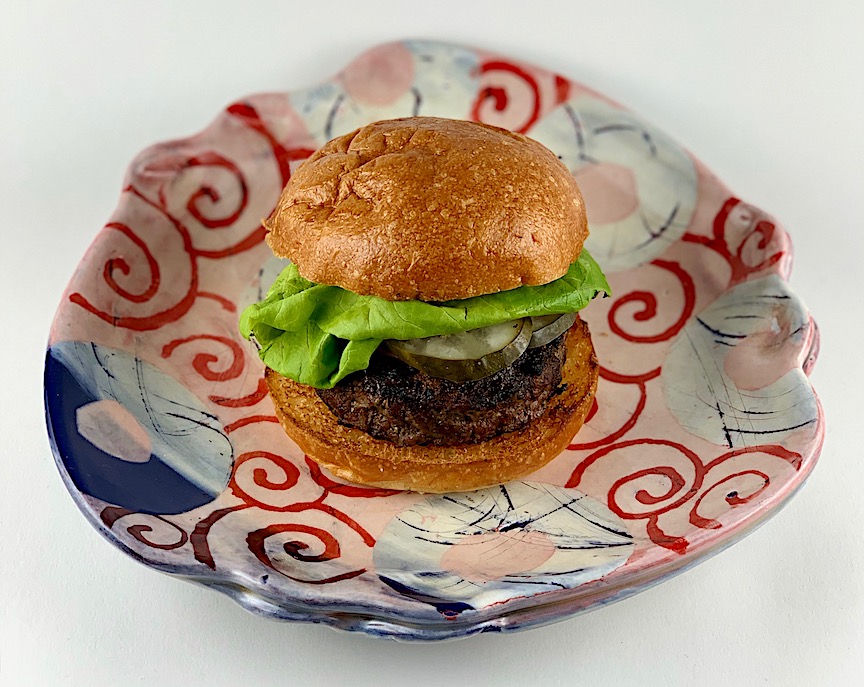 Even though I try to eat clean, healthy food most of the time, sometimes I just crave a big, juicy burger. When I do eat meat, I want it to be from a grass-fed, well raised animal. It used to be almost impossible to find a good grass-fed burger in Manhattan but that is changing quickly. There were plenty of good tasting burgers, always have been. Now you can find great grass-fed in most neighborhoods, even in some chain restaurants (Bareburger and Umami Burger, for example).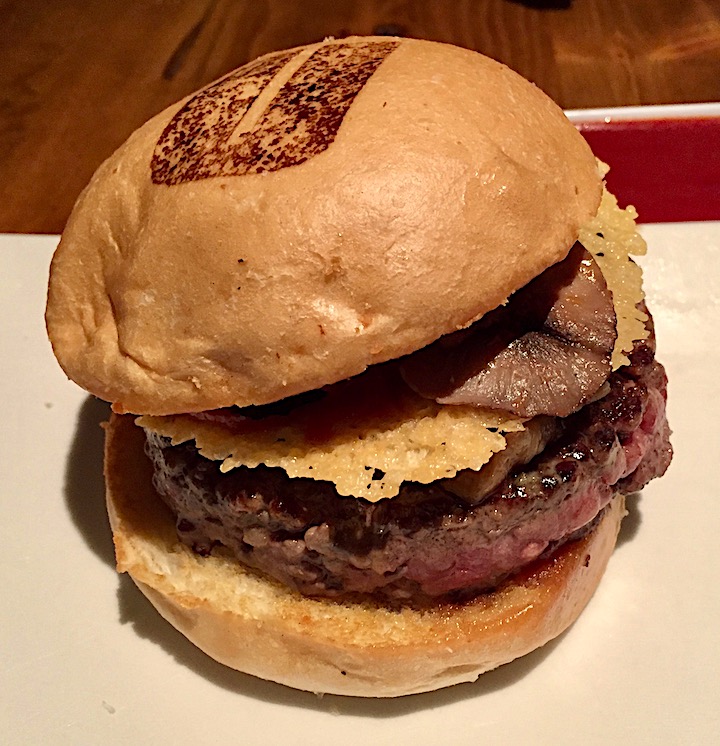 There are many reasons to choose grass-fed, including your health and the health and welfare of the animal supplying your meals. Cows are ruminants, which means they are constituted to eat grass, not grains. The fat they produce eating grass is different (and healthier) as is the quality of their lives than when eating grain, which causes them a lot of gas. Even if you don't care about animal welfare, you might care about global warming (think about all that additional methane from grain-fed animals) or your own longevity, in which case, you would be choosing better (read completely grass-fed beef and eat it less frequently. It is lower in calories since it is leaner and it provides more omega 3 fatty acids – the kind we want.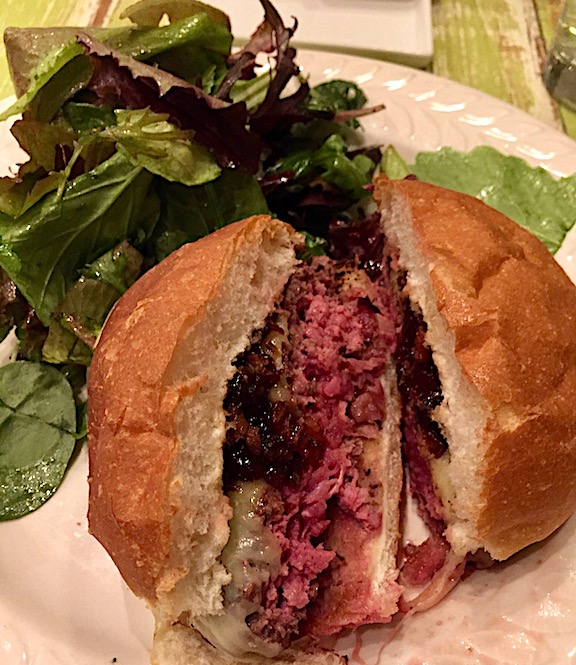 I've read that all the meat advertised as grass-fed may not be, so it is worth asking the restaurant or your server where you eat your burger where they get their beef. Organic, Wagyu and Angus don't necessarily mean grass-fed and, in most cases, are not (organic refers to the quality of the feed, usually corn and Wagyu and Angus are types of cattle). Hopefully, disclosure in restaurants and markets will get more transparent as better grass-fed beef becomes more widely available.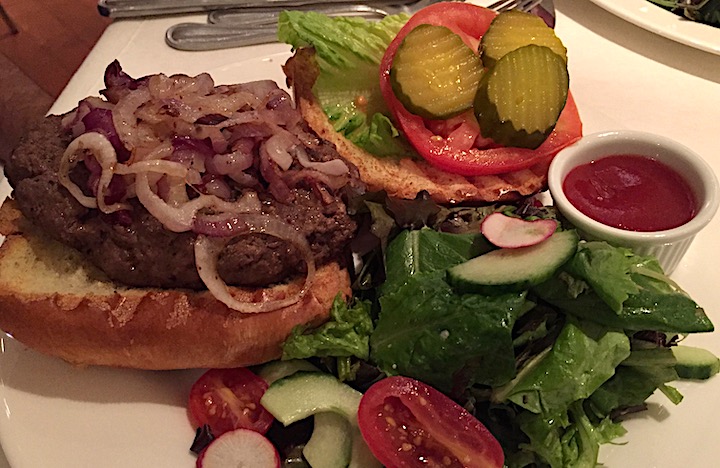 Okay – lecture over – now to the burgers. There are certainly many great grass-fed burgers I haven't tried but these are the burgers I can recommend, including a few in other cities. Many of these places also serve a good bison or veggie burger and often serve delicious French or sweet potato fries or a  salad with the burger. I've found the best way to order (or cook) grass-fed meat is medium rare. If you overcook grass-fed beef, it tastes, well, too grassy.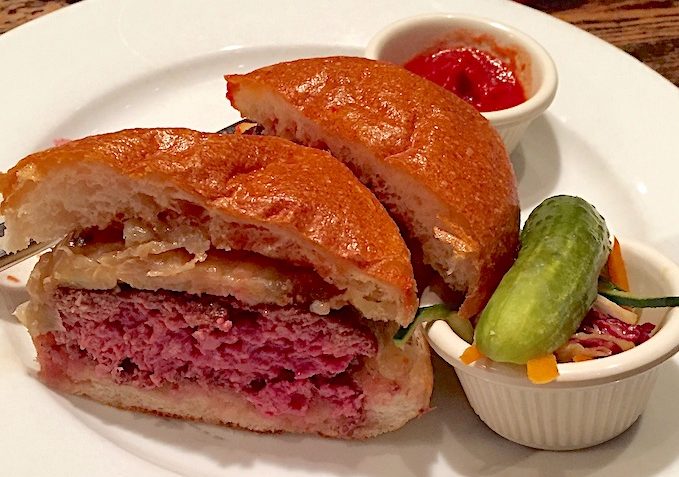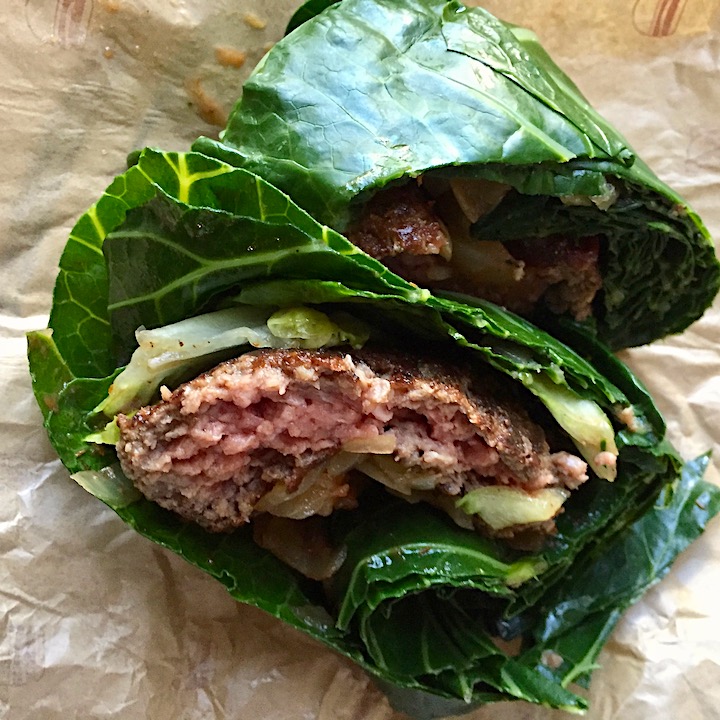 New York Burgers I Have Known and Loved:
Bareburger (multiple locations including Upper East and West Side and West Village)-Good tasting and if you aren't eating bread, you can get this served in a collard leaf

Buttermilk Channel (Carroll Gardens)-tasty and juicy in a hopping neighborhood cafe

Cleaver Counter (Chelsea Market- used to be The Green Table)-now served not with kimchi but with bacon jam-yum

Community Juice and Wine (Morningside Heights)-with caramelized onions and cheddar

Cookshop (Chelsea near the High Line)

The Distillery (formerly the Brickyard Gastropub in Midtown West)-with sautéed onions and avocado (very reasonable price) and a very good veggie burger – great lunch specials

The Double Windsor (Windsor Terrace)-with cheddar and pickles in a neighborhood tavern with a great selection of draft beer, cider and whiskey

Ella Kitchen & Bar (Upper West Side)-big well-salted patty with sautéed mushrooms and mozzarella – open for lunch and dinner

The Meat Hook (Gowanus in Threes Brewing)-a kitchen outpost of a well-respected, conscientious

 

Brooklyn butcher shop in a bar with a big draft selection and a garden

Smorgas Chef (Midtown East in Scandinavia House)-a quiet respite south of Grand Central with a very good burger

Tessa (Upper West Side)

Umami Burger (all over) really tasty, especially with Parmesan fricco (a yummy fried cheese crisp) and mushrooms or salsa

 

Upland (Park Avenue South)-with avocado and peppadew peppers in a big, bustling brasserie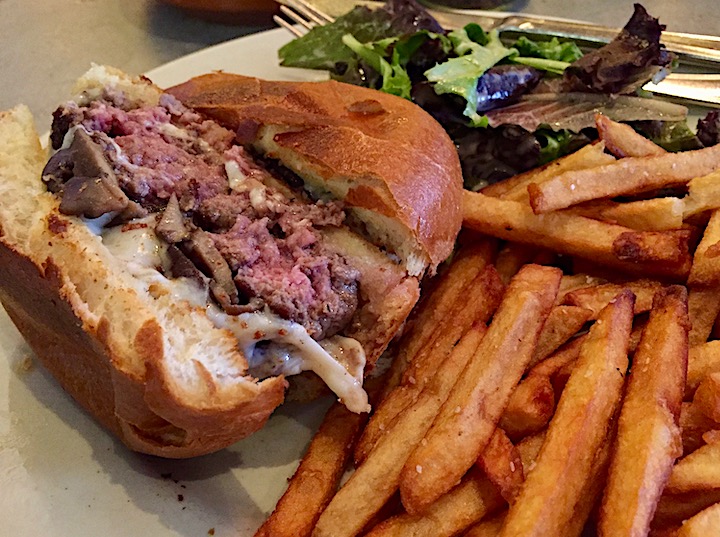 Beyond New York:
Allen Street Hardware Cafe in Buffalo-plus an amazing bison burger

Busboys & Poets, DC (and good salads)

Toups South in New Orleans-everything delicious (sit at the counter to watch the cooks)

Village Whiskey, White Dog, Tired Hands (actually Ardmore) and Standard Tap in Philadelphia

BelCampo Restaurant in Larkspur (Marin County, CA) with restaurants in SF, Palo Alto, Santa Monica and LA – delicious burgers made from beef from their own farm/ranch

Farmburger, Asheville (amazing onion rings)

Sweet Pea Cafe, Mount Desert Island, ME

The Table in London's Southwark (across from Tate Modern)

Row 34 in the Seaport District in Boston