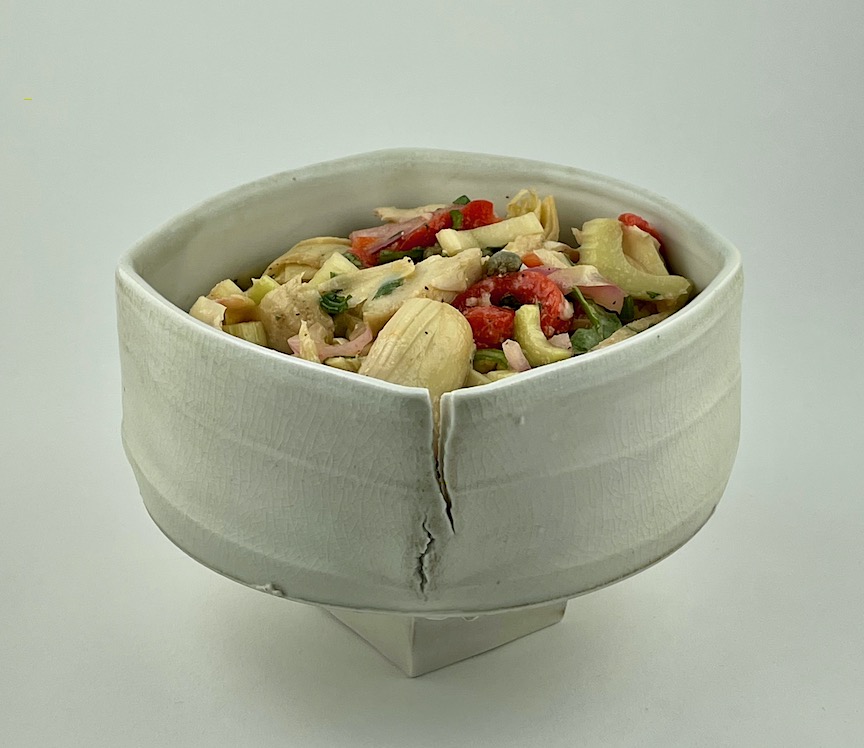 It is that time of year when the heat and humidity discourage me from turning on the stove or oven. We have air conditioning in the bedroom (thank goodness!!) but not in the kitchen so often it gets too hot to think about cooking. As a result, every summer we eat a lot of cold vegetable salads, which I try to vary to avoid boredom and increase nutrition. Green salads, of course, but cabbage, kale, fennel, carrot and raw beet salads all take their turn on our table. Because most of these hold up in the fridge for a few days, they are even more desirable since that means leftovers and even less hot kitchen time.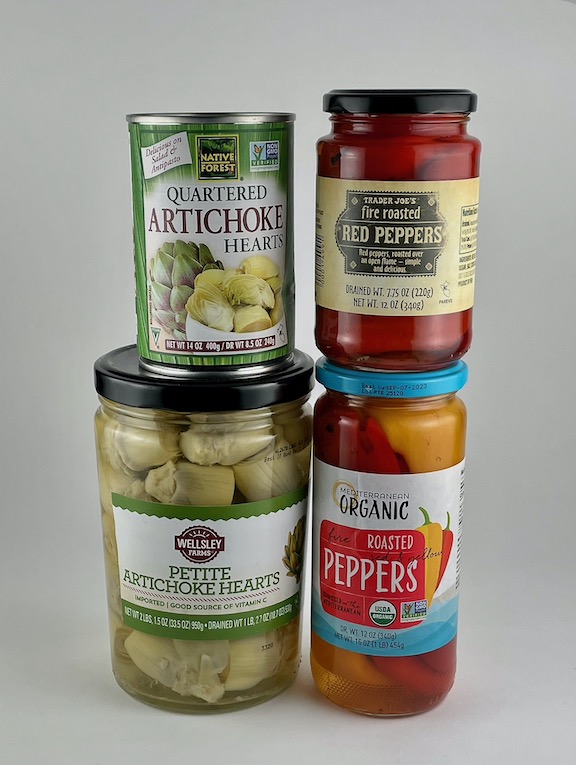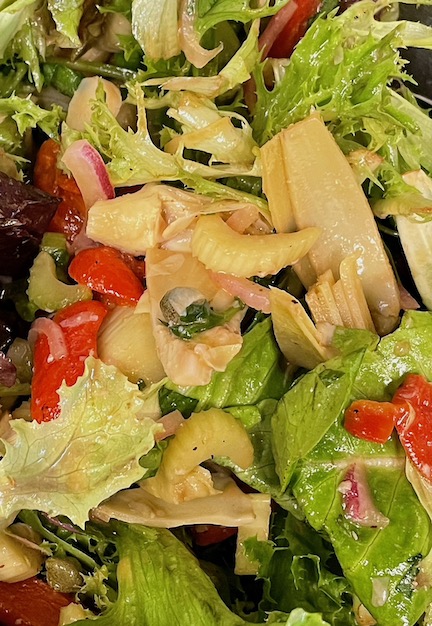 My new favorite combination is a true pantry salad meaning it can be made from ingredients from my cupboard shelves – artichoke hearts, roasted peppers, capers and red onion.  Easily enhanced with a few refrigerator items – arugula, celery and parsley, possibly olives, basil or pepperoncini, depending on your preferences, it all comes together very quickly. Add walnuts and either feta or Parmesan to make a main course salad. Dressed with a mustardy balsamic vinaigrette, I wouldn't have any hesitation about toting it along in warm weather for a picnic or potluck. This savory Italian-esque recipe is reminiscent of a dish you would find in an old school antipasto buffet, but lighter and fresher with the added veggies and less oil. Hmm, eating in Italy-now that would be delightful….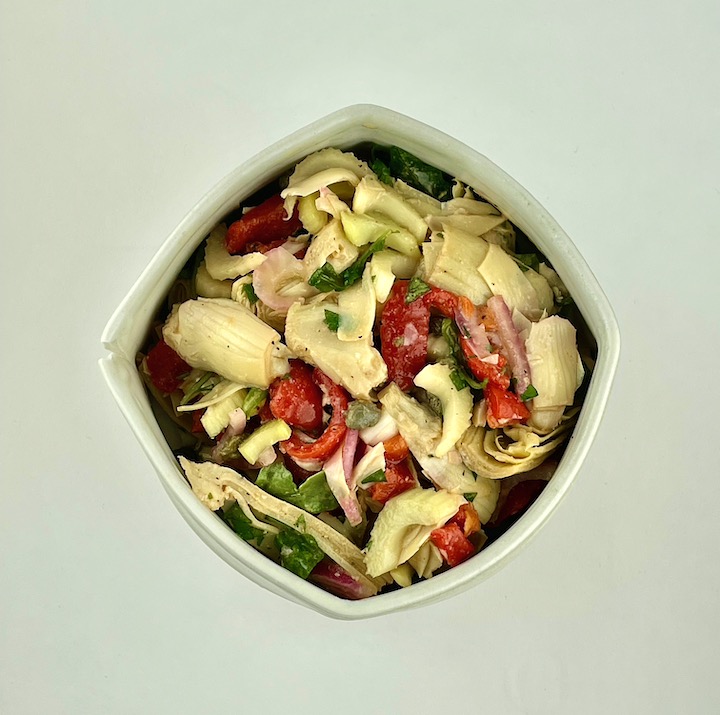 ARTICHOKE/ROASTED RED PEPPER SALAD
Combine in a medium salad bowl:
2 cups rinsed brined or frozen (and thawed) artichoke hearts, cut in bit-sized pieces

1 cup roasted red pepper, seeded and sliced in bite-sized pieces

1/4-1/2 cup thinly sliced red onion

1 TBs capers, rinsed

1/2 cup chopped fresh parsley

2-3 stalks celery, thinly sliced

1-2 cups arugula (or any bite-sized lettuce)
Possible add-ins:
Fresh basil, toasted walnuts, crumbled Feta or goat cheese, coarsely grated Parmesan, sliced pickled jalapeños or pepperoncini
Whisk together:
1 TBs Dijon mustard

1 TBs wine vinegar

1 TBs balsamic vinegar

2 TBs olive oil
Pour vinaigrette over vegetables and toss.
Serves 6-8 as a side dish and keeps 2-3 days refrigerated.
Chris Staley's work continues to grow and change while always questioning the definition and perception of a pot. This porcelain bowl is from summer 1985 when he was my teacher at Alfred. Our first assignment was a collection of 12 inch cylinders and it was that exercise that really taught me how to throw. He has been teaching at Penn State for decades and helped shape some of today's best clay artists as well as recently serving as NCECA president and continuing to make thoughtful and thought provoking work.