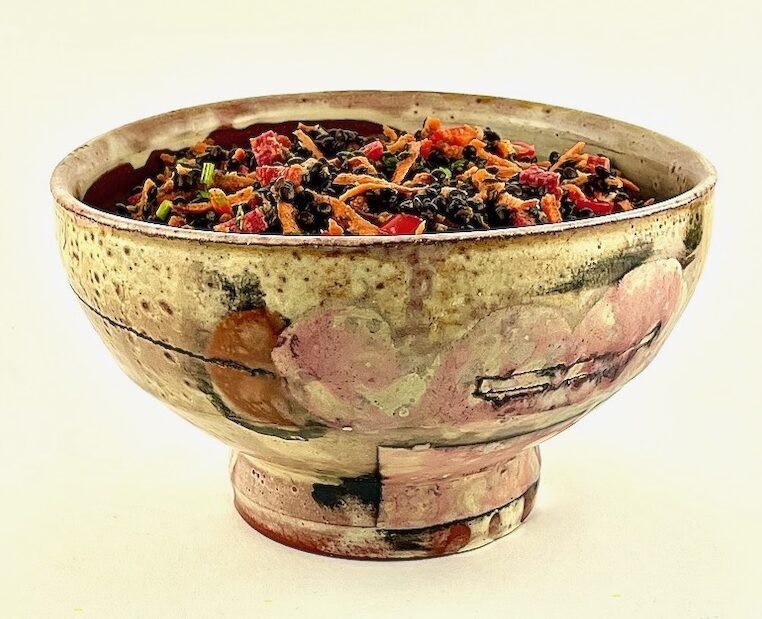 Lentils are one of the most important pantry provisions in my kitchen. Because they cook quickly, I can take a cup or two of dry lentils and have a meal ready in an hour. I might curry them, sauté with veggies, use them to make soup, cook with rice or simmer 20 minutes and then dress them to make a salad. Lentil salad is a hot weather favorite because you cook once and eat several times, avoiding the repeated heat of the stove. It is also perfect picnic and lunchbox food as it can sit out awhile and tastes good cold or at room temperature.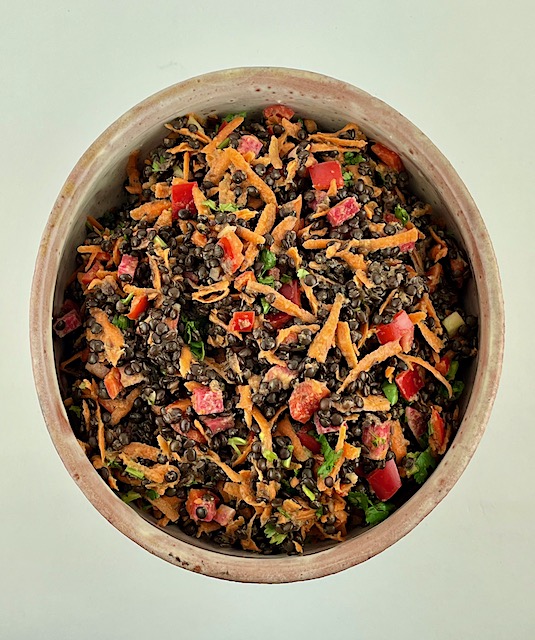 Lentil salads are extremely variable depending on how you season or dress them and what vegetables, fruits, seeds, nuts or cheese you add. My favorite lentils for a salad are the black beluga or the du Puy (from the Puy region of France) because they hold their shape when tossed but plain old brown or green lentils will work, too. (Save the red for soups or curries as they turn completely soft when cooked). They must be cooked sufficiently (to get rid of lectins, a kind of protein lost with cooking that isn't good for you) but not so much that they get mushy. The salad here is based on a recently published recipe by Steve Sando, the Rancho Gordo bean guru, which I enhanced to suit my tastes. (His website has lots of great bean recipes). I change it up each time I make it depending on what vinegars, herbs or additions I have on hand. This week I used parsley, jalapeño, rehydrated sun-dried tomatoes, radishes and feta, because that is what I had on hand. After we've eaten it a few days running for lunch or dinner, I put the remaining lentils on toast with arugula and mashed avocado for breakfast or lunch. As with most bean dishes, I always make more than I need in order to have leftovers.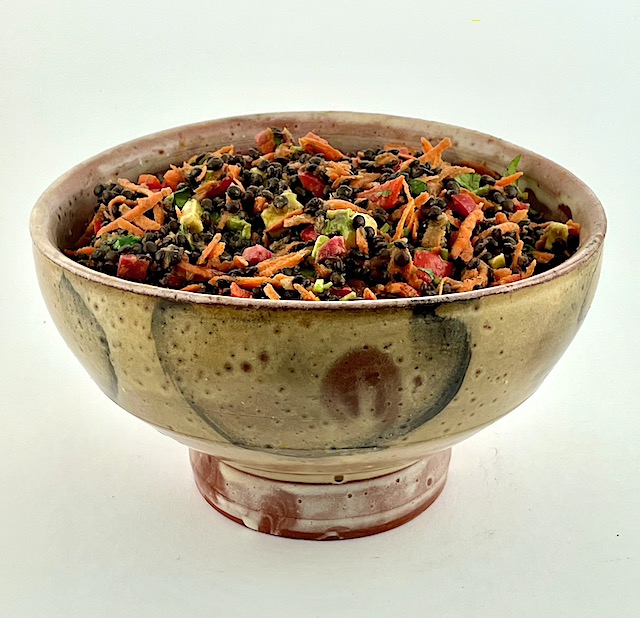 FRENCH LENTIL SALAD
3 cups cooked French lentils

2 cups finely diced or grated carrots

1 cup finely sliced or diced celery

1 cup finely diced red, orange or yellow bell pepper

1/2-1 cup chopped preferred green herb – parsley, cilantro, tarragon, mint or dill

1 finely diced jalapeño (optional)

1/2 cup chopped sun-dried tomatoes (optional)

1/2-1 chopped avocado (optional)

1/2 cup finely chopped watermelon or red radish (optional)

Crumbled feta and toasted pumpkin seeds (optional)
For dressing blend:
2-3 peeled garlic cloves

1/2 cup chopped onion (or scallion if you prefer)

1/2 cup chopped red pepper (fresh or roasted)

2 tsps capers

1 TBs Dijon mustard

1 TBs fresh lemon juice

3 TBs vinegar (balsamic, wine, sherry or a combination)

4 TBs olive oil

Salt and pepper to taste
Toss all ingredients with 1/2 blended dressing and taste. Add more to your preference. Serve at room temperature or chill and serve anytime in the next 3 days.
                                                                    *   *   *
Michael Connelly makes a wide range of artful, beautiful and useful pottery in various clay bodies and fired in different ways. His skillful throwing is enhanced by his masterful painting and glazing. His pots are in heavy rotation in our home. Michael has an upcoming show at Clay Akar in August and at his studio in Philadelphia in November. Here is a link to a wonderful interview with him by the intrepid Ben Carter.