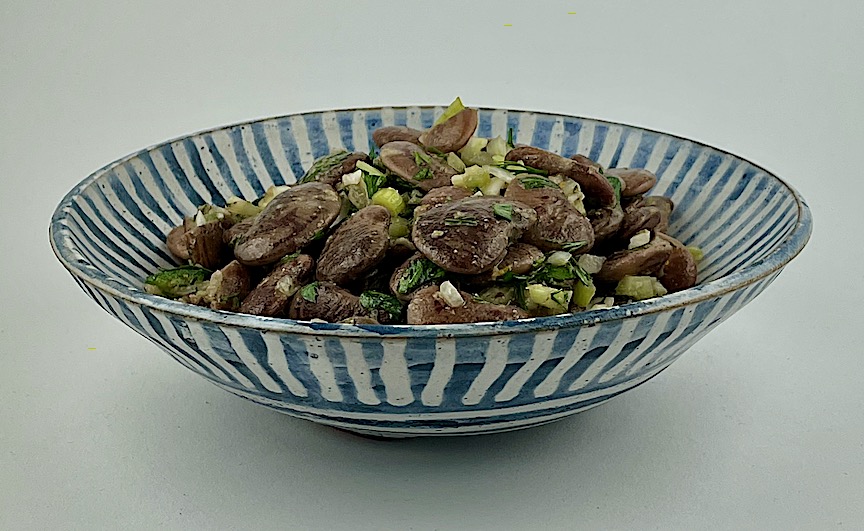 I try to cook beans at least once a week as a good source of vegan protein. One pound (about two cups) of dried beans makes several meals, more than you would think when you see them before cooking. Dry beans rehydrate, soaking up a lot of water as they cook along with whatever flavors you add as seasoning. I usually cook them with either a piece of kombu (seaweed) or a bay leaf, following the folk wisdom that says these make them more digestible and have had no complaints. Once cooked, which takes 1-2 hours simmering while I am doing something else, I put the beans, with their cooking liquid, in the fridge and have the makings of many possible dishes for the week ahead. When I don't get around to soaking and cooking, I rely on a backup reserve of canned beans.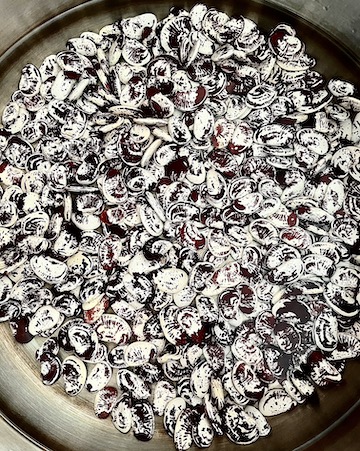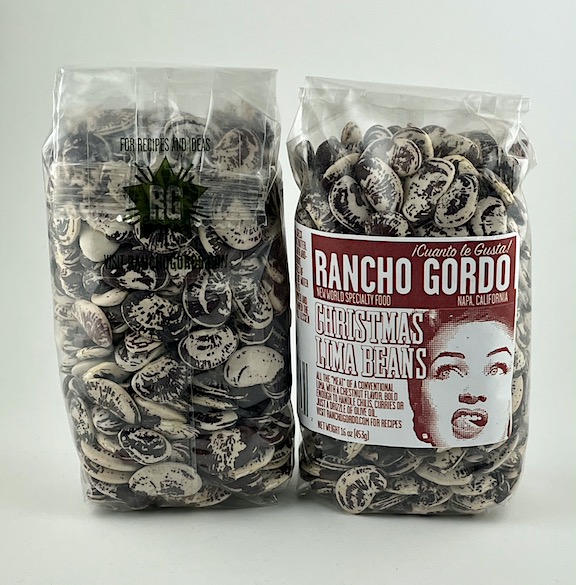 Some of my favorite bean dishes are also the easiest. Black bean soup, chili and baked beans  as well as cold dishes like hummus or lentil salad, especially great in summer. I add black or red beans to nachos and chickpeas or white beans to green salads. My current obsession is a garlicky and citrusy bean salad I make with Christmas Limas but you could make it with any bean that holds its shape. It is quite versatile in that you can adjust both the vegetables you add and the dressing ingredients. For example, sub scallions for onion, red pepper or carrots for celery, and shallot for garlic. Sweeten it by adding fresh or dried fruit (perhaps chopped apple or apricots) and bulk up the vegetables simply by adding more and serving it on a bed of arugula or lettuce. I first made it last summer for the only time we had visitors stop by and were keeping socially distant. I needed something that could sit out for a while without refrigeration and to which people could help themselves. Not only did this salad work, it was a surprisingly big hit. I hope we'll be able to see many more friends this year and I will still rely on this dependable make-ahead Lima bean salad.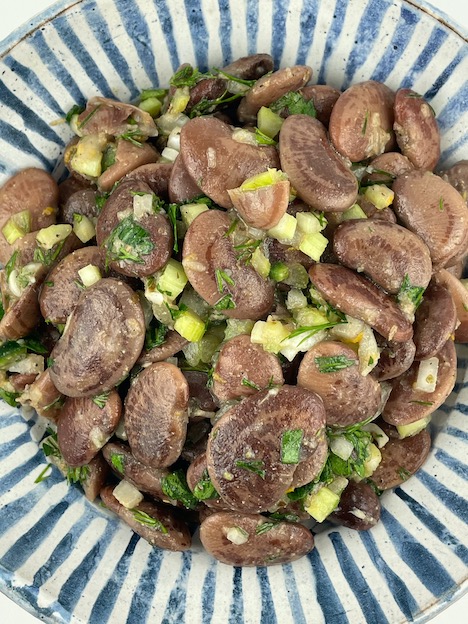 LIMA BEAN SALAD
1 lb large dry Lima beans (I use the Christmas Lima's ordered from Rancho Gordo,    bought at the 97th St farmers' market from J & A Farms,  or from North Bay Trading) cooked and drained

1/2-3/4 cup Vidalia or red onion, finely chopped

1 cup celery, finely chopped

1/2 cup chopped parsley or dill or a combination
Optional add-ins:
Currants or raisins, orange segments, finely chopped carrots, minced jalapeños, finely chopped red, yellow or orange bell peppers, chopped scallions, crumbled feta or goat cheese
Whisk together:
2 large cloves garlic, grated or pressed

Zest (about 1 tsp) and juice (about 2 TBs) from 1 lemon

Zest (about 1 tsp) and juice (about 2 TBs) from 1/2 orange

1 TBs cider vinegar

1 TBs Dijon mustard

4 TBs olive oil

2 tsps ground cumin

1 tsp oregano

1 tsp black pepper

2 tsps kosher or sea salt (a little less or more according to your taste)
Pour dressing over beans and vegetables and mix well, trying not to mash the beans. Serve immediately or refrigerate for 2-3 days. Like most marinated foods, the flavor is better on the second day.