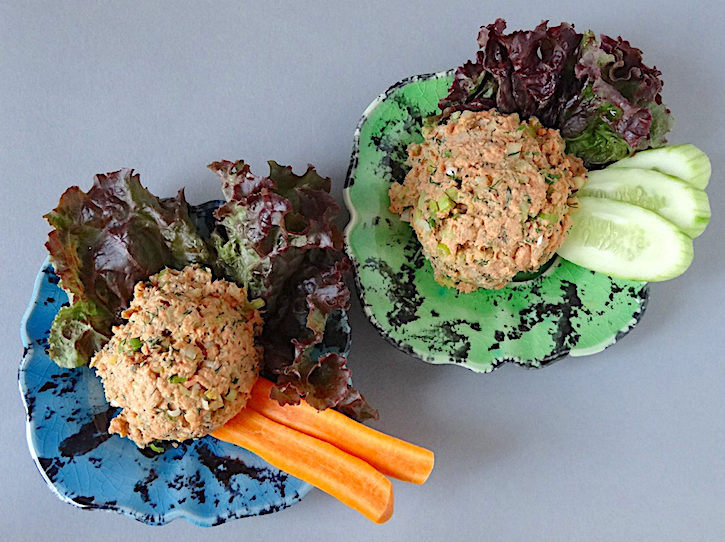 Canned salmon may not be in your pantry but it has become a staple in mine. A few weeks ago, I wrote about cooked salmon cakes made with canned salmon. Since this is a series on no-cook dishes, I am offering an easier, quicker and much cooler preparation –  a salmon salad. It is a terrific substitute for tuna salad since it doesn't have a high mercury content, is made with mustard, not mayo, so it picnics well and makes a substantial sandwich filling.
The benefits of wild salmon are many – high in omega-3's, lean protein, good tasting and well-sourced. The ease of having it on your shelf in a can means you aren't limited to a season plus it is much more economical – from about $4 – $6 per 14.75 oz can. (If price were no issue, you could make this salad with leftover cooked fresh salmon and it would be delicious in a different way). Tinned wild salmon comes with bones, which are high in calcium, and just mash up into the salmon so you don't even notice them. I discard the skin since I don't like the texture (it only takes a moment to scrape it off). Plus, I read recently that the skin is where most chemical residue resides so I prefer not to ingest it. 
This recipe is quick and can stay in the refrigerator for a day or so. I like to add lots of celery, scallions and chopped celery leaves but you may prefer green peppers, red onion and parsley. I add a little chopped sweet pickles and some pickle juice if I am in the mood for something sweeter but I always add plenty of dill – fresh, if I have it, or dried, if I don't. If you hate dill, use a different herb, like tarragon or basil, for example. If you don't like mustard, you could use plain yogurt or mayonnaise. Or use a flavored mustard with herbs or horseradish. You could add finely diced carrots, jicama, jalapeño or cucumber for crunch. If I were making this for company, I would add a couple of chopped hard-boiled eggs and a big handful of chopped almonds. It is pretty served on a bed of greens with whole grain crackers or carrot, celery and pepper strips. We sometimes pile it on Wasa or Finn Crisp crackers and eat it like an open face sandwich. It is fun to embellish with thin cucumber slices, grated carrots, sunflower sprouts or whatever you like – an easy, cold meal on a hot day.
COLD SALMON SALAD
Mix together:
1 14.75 oz can wild salmon, rinsed, drained, skin removed and mashed with a fork

2-3 stalks celery, with leaves if you like them, chopped finely

3 scallions, chopped finely

1/2 cup fresh dill, chopped or 1-1 1/2 TBs dried dill weed – or more if you like it

3 TBs Dijon mustard

1 TBs fresh lemon juice (or pickle juice, if you like)

1/4 tsp sea salt

1 tsp ground black pepper

5-6 slices sweet pickles or 3-4 gherkins, chopped finely (optional)

2 medium to hard-boiled eggs, chopped or mashed with a fork (optional)

1/2 cup raw, roasted or Marcona almonds, chopped (optional)
Refrigerate until ready to serve.
Feeds 4 people with a green salad or 2 with enough leftover for 2 sandwiches.