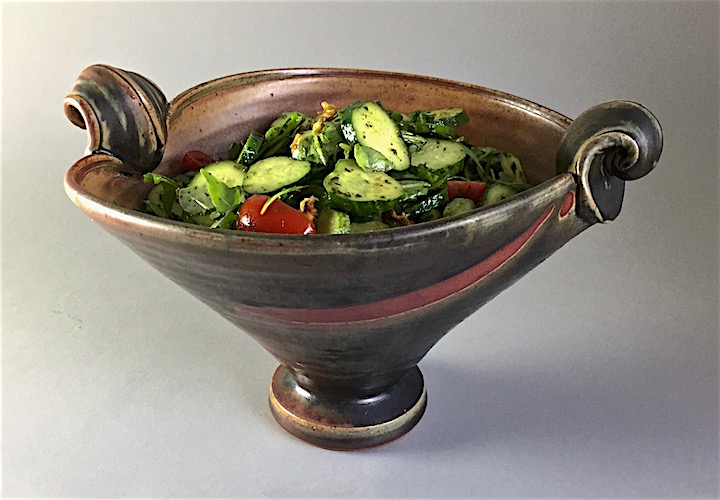 Cucumber salad is easy to make and to vary and can even help keep us cool. Cucumbers are plentiful from mid-summer into the fall and have enough crunch and body to be the star ingredient in a main course or side salad. Since they are mostly water, they are refreshing to eat, especially in summer. Like zucchini, cukes can grow large quickly and become too seedy to be tasty. Try to buy slimmer, smaller cucumbers – they may have less seeds and more crispy flesh. If you end up with a giant cuke, just scoop out the seeds.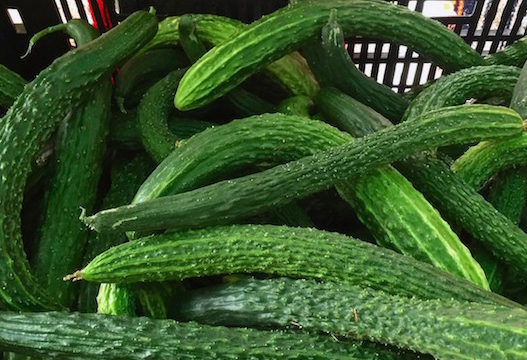 Solo cucumbers with a vinaigrette make a refreshing lunch or dinner salad but for a little more interest, add herbs. Dill combines deliciously with cukes, as does mint or basil. (I am not a tarragon fan but if you like it, it also works). All kinds of vinaigrettes dress cucumbers well from a simple oil and vinegar to a citrus, berry or mustard base. You could even go all out and use a yogurt, ranch or blue cheese dressing – the cukes can handle it. The most striking presentation of cucumber salad I ever saw was at our favorite ramen restaurant, Ippudo. There they overlap cucumber slices down a long rectangular plate and drizzle with a spicy chili dressing. So simple but appealing and tasty!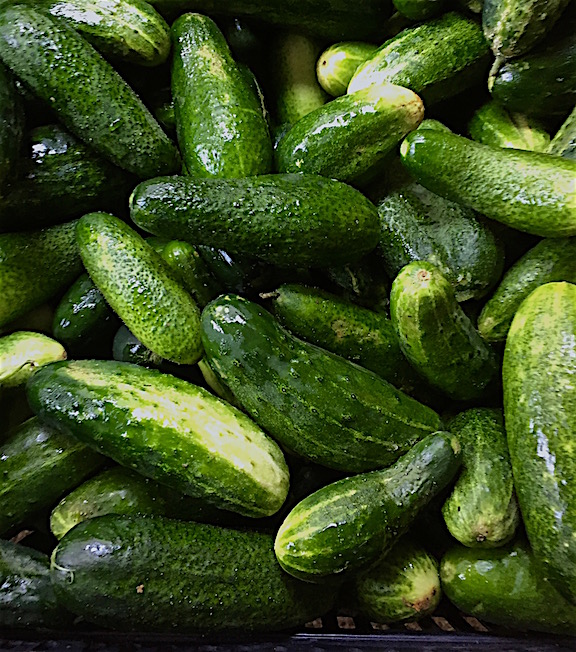 Many vegetables pair well with cucumbers including peppers of all colors both sweet and spicy, radishes, jicama, carrots, red onions and lettuce. Some fruits are especially good with cukes, including citrus, tomatoes, avocado, plums and berries. One of my all time favorite salads combines cucumbers with pineapple, mint and lime juice – a simple but surprisingly delicious variation.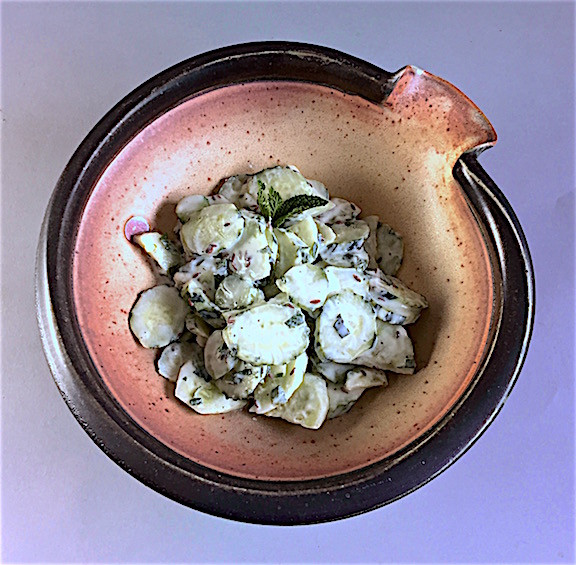 The most basic cucumber salad can be fortified to become a main course salad with cooked chicken, shrimp, ham or bacon, toasted walnuts, seeds or pistachios. You might serve a plain, dressed cucumber salad alongside almost anything – fish, chicken, smoked salmon or avocado toast. It makes a tasty sandwich, especially with the addition of a slice or two of cheese, green apple and walnuts, and packs well for a picnic.
I admit there are hot nights when all I do is cut up some cucumbers into spears or rounds and call it a side salad. But if slicing, dicing or spiralizing a few cukes and tossing with herbs and dressing is not too much work, you will be rewarded with a pretty, cooling and satisfying salad.