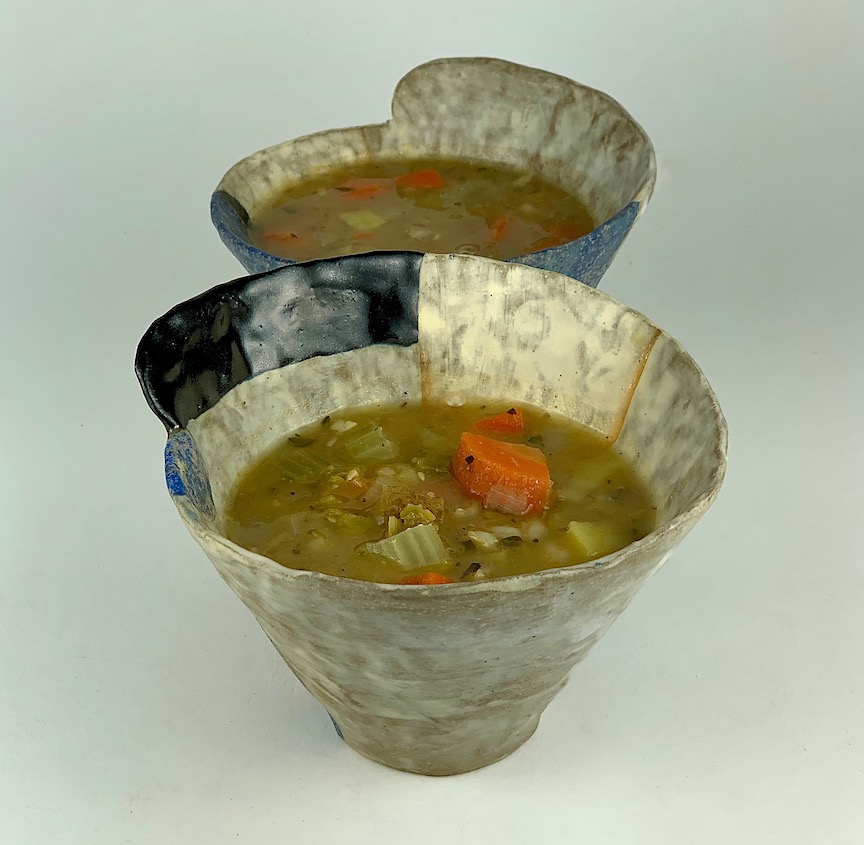 Now that we find ourselves hunkered down at home (sheltering in place, working from home, staying put) for who knows how long, let's push aside anxiety and talk about what to cook. Our challenge now, beyond staying well and at home, is how to cook daily meals while doing as little grocery shopping as we can. You'll be surprised, I think, just how far your current supplies can go. If you didn't manage to shop before, delivery and mail order are still options. Many grocery, big box and online stores will deliver, (although it may not be immediate with the current demands), so even if you can't get out, you can get groceries. Check with your local grocer.
A few weeks ago, I suggested some foodstuffs to have on hand and some to make ahead to put away. Sometimes the most comforting foods are the simplest to make. Rice or pasta with just butter and salt or olive oil and garlic is so delicious. Ramp it up with frozen peas or arugula, add some beans, frozen shrimp, tinned tuna, anchovies or cheese and herbs and, well, yum yum! Nourishing soups can be particularly soothing both to make and to eat.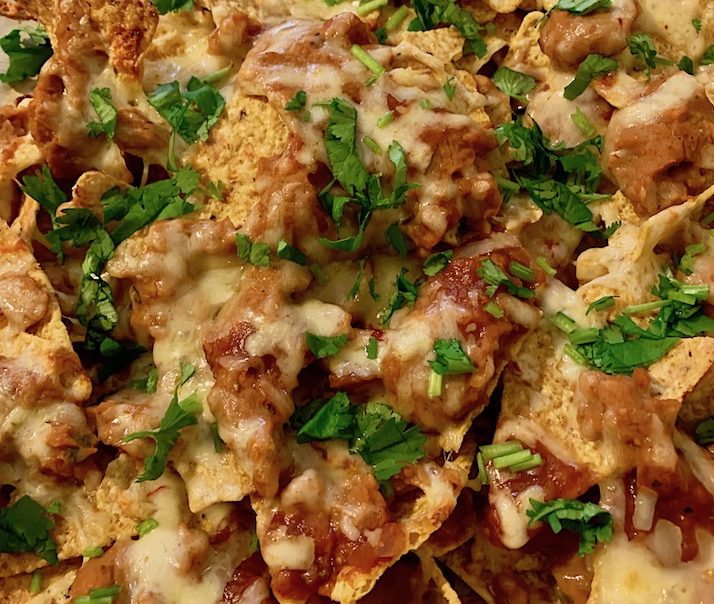 Except for the occasional walk while trying to stay away from others, we have been holed up in our apartment for almost 2 weeks. I've been trying to make simple but nutritious meals in large enough quantities that we can alternate eating leftovers and freshly cooked meals. To share some ideas, this is what I've made in the past week:
Lentil Soup with a green salad (The Washington Post recently had a particularly good recipe)

Lemon garlic butter baked fish with sautéed broccoli and baked sweet potatoes

Nachos made with a can of beans, jar of salsa, shredded pepper jack and sliced pickled jalapeños served with carrot and cucumber sticks

Cavatappi pasta with the Bon Appetit kale pesto recipe alongside a fennel salad
Vegetarian chili (my riff on Lucinda Scala Quinn's much loved recipe from Mad Hungry) made with gorgeous beans from Rancho Gordo, yellow rice and kale
Split pea soup with roasted parsnips for munching on the side
Bean salad made with chopped raw veggies and scarlet runner beans, also from Rancho Gordo (my favorite source of beans), with a garlicky vinaigrette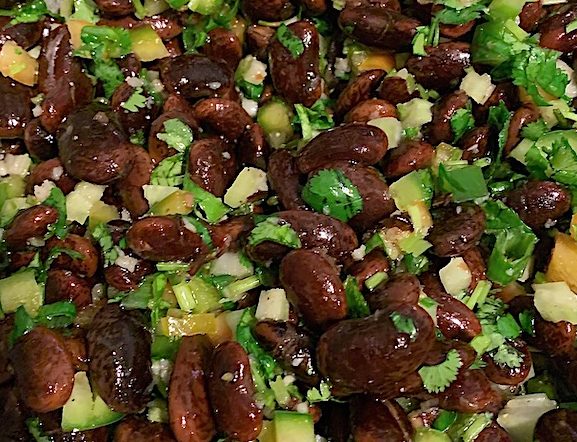 Other recipes waiting to be made are wild rice salad with nuts and dried cherries, black bean soup with cornbread, vegetable nori rolls with miso soup and edamame from the freezer, stir-fried rice with leftover or frozen vegetables and dosas with a spicy potato filling. (Tejal Rao recently published a very good, easy dosa recipe in The New York Times and it only has a few ingredients if you want to give it a try). After that, my son and I have big plans to try making sourdough bread, pizza dough and crackers. In fact, we started our yet-to-be-named starter yesterday. Wish us luck!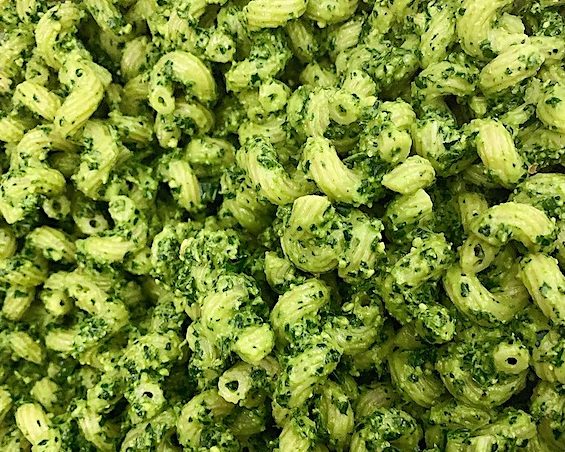 There are some meals that require no recipes and can be pulled directly from the freezer or pantry. Frozen salmon burgers with kimchi, vegetable dumplings with dipping sauce and a shredded cabbage salad, grilled cheese sandwiches with baby carrots and mushroom ravioli with a little butter and any green left in the fridge as well as the above mentioned pasta or rice. Dried fruit will make a tasty compote as well as take the place of fresh fruit in yogurt and smoothies (soaked first to reconstitute) if need be. And although I love to cook most days, I am perfectly happy to take a break with a grilled cheese sandwich or quesadilla, yogurt with nuts and fruit, some crackers with almond butter or some hummus or guacamole and a bowl of baby carrots for an easy meal.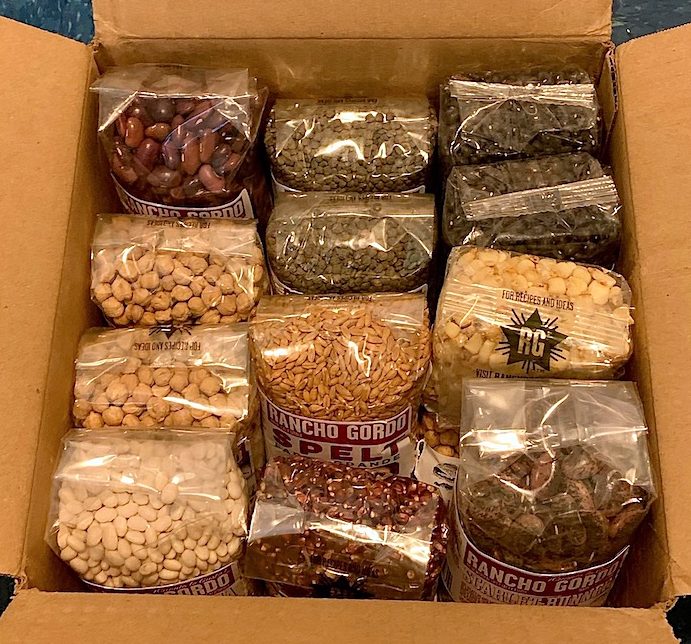 Friends have told me they are doing more cooking and baking while staying put. My pal Dale, in Maine, just sent photos of her delicious looking sheet pan pizza while my neighbor, Reva, told me her family was tackling pot pie. In Brooklyn, my friend Esther has been baking banana and pumpkin breads. Anne, in DC, made the above mentioned lentil soup recipe and loved it so much she sent it to me. Not only do we have more time now to cook but cooking can be very grounding and comforting. What are you eating while home bound? Share your favorites with the rest of us! It is a very strange moment we find ourselves in right now but perhaps we can use the time to try a new recipe or prepare an old favorite to nurture our families and ourselves. Please, please stay home if at all possible (if you have to go out, take isolation and distance from others seriously) and please stay well in this new unfamiliar world.
Emily Schroeder Willis is a member of the cooperative Objective Clay. Since the NCECA conference was cancelled for health safety, many potters who would have sold pots there are holding online sales. This is a good way to support artists who would have held sales at the conference. The Objective Clay online sale runs through March 27th.