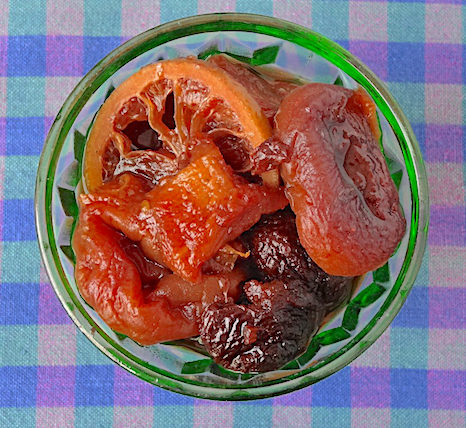 Spring is lovely for many reasons – fresh breezes, blooming flowers, fresh green vegetables. But it isn't a season of much locally fresh fruit, at least not here in the northeast. Apples and pears have been in cold storage so long they really aren't crisp anymore and it is even nearing the end of citrus season. Sure we can get kiwi from Italy and pineapple from Costa Rica but until local strawberries come into their own, our fruit is being shipped in from far away. I'm not sure if rhubarb counts – I think it is a vegetable and requires large amounts of sugar to taste good.
For smoothies or baking, frozen fruit can be a good solution, available year round and fine for blending or muffins. But for a more substantial breakfast serving or for dessert, I recommend cooking dried fruit – easier and more delicious than you might guess if you haven't tried it. Basically all you do is add water or juice and spices, boil, simmer and soak for a few hours or overnight. The name "stewed fruit" may conjure up elderly, apron-clad grannies trying to regulate their systems but these homemade apricots, cherries and pineapple are not your grandmother's jar of sugary prunes. Don't let your misconceptions about "stewed" fruit get in your way. Let's call it simmered fruit, since stewed implies long cooking under a lid and this isn't, and change its image.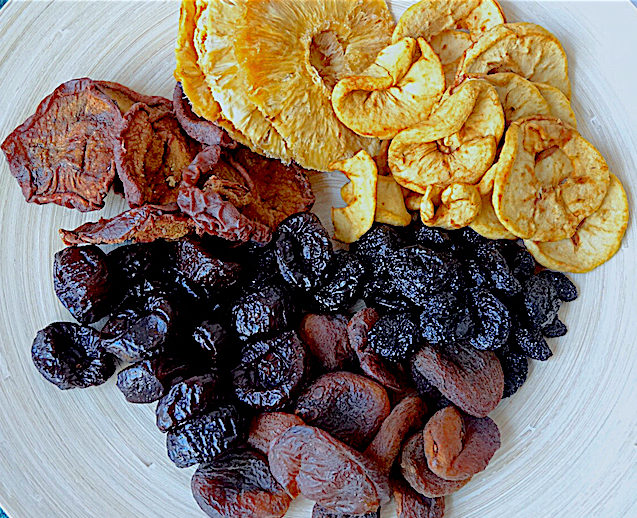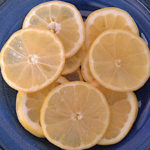 Organic, or at least non-sulfate, dried fruit is pretty easy to find in stores and re-hydrates into a tasty, old-fashioned kind of dessert. Choose from unsweetened plums (a/k/a prunes), peaches, pears, apricots, apples, raisins, pineapple, cherries or berries. I use lots of sliced lemons (I tried lime but it was too tart – if you use it, add some honey or maple syrup) or oranges plus cinnamon and ginger but you could use cardamom, nutmeg, a piece of vanilla bean, allspice, even some lemongrass. A little citrus zest or tiny shake of cayenne before serving helps add zing. Simmered fruit becomes thicker and more flavorful when it sits for a day so it is best made ahead. As a bonus, it keeps well for several days in the refrigerator so you can use it more than once.
Simmered fruit, by itself, is a satisfying dessert but you can gussy it up by adding whipped cream, liquor (a splash of brandy, creme de cassis or ruby port might be good) and nuts or serve it over ice cream or yogurt or even lady fingers or pound cake. I've read that some people like it on hot cereal, waffles and pancakes – could be good. I've been out of new breakfast ideas lately so I tried some simmered apricots and prunes with lemons, oranges and cinnamon on plain yogurt and topped it with walnuts, almonds and chia seeds. It was more delicious than I expected! Plate your simmered fruit in a pretty compote dish or ice cream bowl with a cookie alongside it and no one will complain you didn't bake.
SIMMERED FRUIT
In a small saucepan, place 2-3 cups (or big handfuls) of dried fruit of your choosing. For an example, let us say 1 cup each of prunes, apricots and cherries. Add 1-2 pieces of cinnamon sticks, 1 thinly sliced lemon, a few thin slices of a navel orange, 1/2 tsp cinnamon, 1/4 tsp ginger powder, 1/4 tsp cardamom powder, a shake of cayenne and water to cover it all by an inch. If you want it to be very sweet, substitute orange or apple juice for some of the water. Bring to a boil and then lower to a simmer and cook for half an hour. Let sit in the pot until cool and the liquid has thickened and then put in a glass jar and refrigerate until ready to use.
Serve the fruit by itself topped with a little lemon or orange zest and a cookie or two or as a kind of sundae on top of ice cream with nuts and whipped cream or with plain yogurt and nuts and seeds for breakfast. Or reheat and serve over a piece of sponge or pound cake or lady fingers. I like it solo when I want a sweet that isn't sugary. The serving size will depend on how you use it but about 1/2-3/4 cup is about right – a little goes a long way. It is tasty any time of year.